Established in 2017, Liberty Home Guard has made a name for itself in the industry quickly. In a few years, the company has managed to expand its presence in 49 states of the country. Liberty Home Guard has received positive responses from many of its customers, making it one of the most highly-rated companies on our platform.
LHG offers three plans for its customers, starting from $49.99. They have a plan each for systems and appliances and one combo plan that consists of both. The company also boasts of  a contractor network of over 10,000 certified and trained technicians. 
After conducting comprehensive research consisting of reading hundreds of user reviews, the company's sample contract, and receiving expert inputs from our editorial team, we have composed a detailed Liberty Home Guard Review to help you with: 
Details on plans and coverage-related information

Details on inclusions, exclusions, and cost of plans

Step-by-step claim process guide
Why Liberty Home Guard?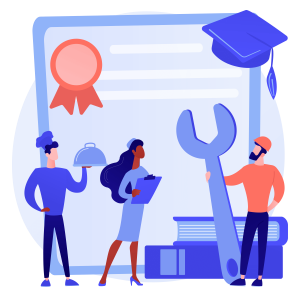 The company has a contractor network of over 10,000 certified technicians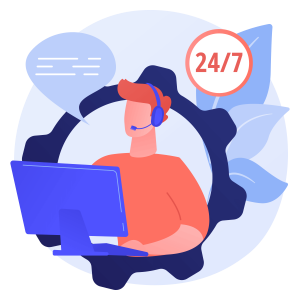 LHG Home Warranty has 24/7 customer service for filing claims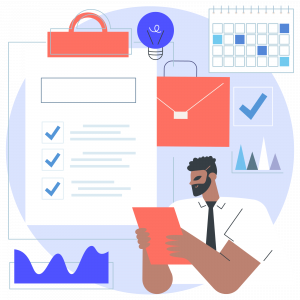 Liberty Home Guard home warranty has over 43 optional items for purchase
Home Warranty Reviews 2023

Sophia Easton , FL, Gainesville
There were a few things regarding my last claim that impressed me. The claim was for my AC system malfunctioning. The customer service agent, Isabel was soothing and acted in a proactive manner. About five minutes after my call with her, I got a text message from their system notifying me that a repairman has been scheduled and should be at my house the next day. The repairman diagnosed the issue and told me that a repair would really only "fix" the issue for six months so his personal recommendation would be to replace the unit. He was very accommodating and genuine. I called Liberty back to consult with them and we together decided to do a light version of the prescribed repair to buy time and then work towards a replacement. The replacement only took 4 days to arrive, which the repairman told me is the quickest he's ever seen by far and usually these orders take more along the lines of 3-4 weeks. Liberty maxed out my coverage, saving me $5,000 out of pocket on both the initial repair and replacement. Both Liberty and the repairman consistently stayed in communication with me. My policy has already paid for itself ten times over. Thank you very much to everyone who worked on this claim on my behalf.

Gareth Green , NY, Brooklyn
Our sump pump wasn't working so I filed a claim online with Liberty Home Guard and I got my first call from them 2 minutes later. They wanted to let me know that a repairman was already assigned and to ask if I was familiar with the claim process, which I was. Overall Liberty did a great job. The issue was resolved in 72 hours and they covered half the work. My only feedback is that I would've liked them to cover it in full but, given the fact that I've saved a couple thousand already 6 months in with them, I can't really knock them on the savings or payouts front. Thank you very much.

Set Thopaz , NY, New York
The technician they sent my way carefully examined the issue with my dryer and fixed it right away. I was so impressed with his professionalism; he was on time, in uniform, very organized with all his tools and parts, which is probably why he was able to fix the issue completely even after taking apart the entire thing. I definitely would recommend them. It's such high quality service for the price.

Raelynn Adams , CA, Los Angeles
Living in an older home, I often faced so many issues with my HVAC system and our ductwork, that we decided to do an entire overhaul of both throughout the home. When I researched the costs myself, I spoke with two contractors and the cheaper of the two quoted me $7,000 to redo the ductwork and $12,000 for the ac system. I then called Liberty who quoted me $14,800 for the entire job. Fast forward 4 weeks later both jobs were done to a high standard and Liberty honored their quote without charging me for overages or anything else. They saved me a fortune. If you're cost conscious and want to save money with home maintenance or improvement, do yourself a big favor and buy a policy with Liberty Home Guard. They do much much more than a traditional Home Warranty Company will.

Isabella Parker , NY, Brooklyn
Our washer started acting strange, vibrating and making crazy noise. At that point I decided to call Liberty Home Guard to see if they could get someone to check it out. 2, and I knew it was time to call LHG. Emilio helped me get my claim placed and my appointment with their contractor was set about 30 minutes later. He came two days later, inspected the unit and told me he needed a few more parts. The subsequent week he came back and made the fixes as promised. Also as promised was Liberty Home Guard's coverage. When I prompted him, the contractor told me that normally he charges $400 for this work but thankfully Liberty Home Guard covered the entire cost of repair here. The program is easy to make use of and the savings are real and not hard to come by. I hope that future claims go as smoothly. Thank you to all who helped me get this fixed.

Geoff Paquette , NY, Brooklyn
Their staff is high quality. I called to file a claim for our dishwasher and Cynthia handled everything efficiently and without missing any details. She was able to schedule our technician appointment for the next Monday, which was fast considering we filed our claim on a Friday. Technician came on time, and was able to fix the unit then and there. We were only charged for the deductible and the cost of the job was handled completely by Liberty. All things considered, they did a great job handling our claim.
Pros & cons of Liberty Home Guard
Pros
Offers workmanship guarantee of 60-days
Provides extensive add-on coverage
Offers live chat option
Cons
Does not offer services in all U.S. states
Comparatively new in the market; low in experience
Liberty Home Guard Covered States
Liberty Home Guard offers services in 49 states, excluding Wisconsin.
Enquire For Cost-effective home warranty plans
Protect Your Home Appliances And Systems Starting As Low As $1.5/Day
Liberty Home Guard Plans & Coverage
Liberty Home Guard offers three plans to homeowners- Systems Guard, Appliance Guard, and Total Home Guard. As the name of the plans suggests, Systems Guard covers essential home systems, and Appliances Guard covers necessary household appliances. 
Total Home Guard is a combo plan comprising all the systems and appliances covered in the individual plans. Apart from the regular plans, you can purchase items from an extensive list of 43 add-ons.
Systems Guard covers six major home systems
Appliance Guard covers nine primary kitchen and general home appliances 
Total Home Guard is a combo plan that includes everything from systems and appliance plans
The table below contains the coverage details of LHG's three main plans:
| | | | |
| --- | --- | --- | --- |
| Plans  | Systems Guard | Appliance Guard | Total Home Guard  |
| Air Conditioning | ✓ | | ✓ |
| Heating  | ✓ | | ✓ |
| Ductwork  | ✓ | | ✓ |
| Plumbing  | ✓ | | ✓ |
| Electrical  | ✓ | | ✓ |
| Water Heaters | ✓ | | ✓ |
| Clothes Washer | | ✓ | ✓ |
| Clothes Dryer | | ✓ | ✓ |
| Refrigerator  | | ✓ | ✓ |
| Built-In Microwave Ovens | | ✓ | ✓ |
| Dishwashers | | ✓ | ✓ |
| Ranges/ Ovens/ Cooktops | | ✓ | ✓ |
| Garbage Disposals | | ✓ | ✓ |
| Ceiling And Exhaust Fans | | ✓ | ✓ |
| Garage Door Openers | | ✓ | ✓ |
Optional Coverage
You can select from Liberty's widest range of add-on options to increase your coverage. The limit can range between $4.20–$35.99 monthly:
 Pool And/Or Spa Equipment
Stand Alone Freezer
Additional Spa
Trash Compactor
Ice Maker (In-Fridge)
Plumbing Fixtures
Pro-Series Refrigerator Coverage
Pro-Series Clothes Dryer
Septic System Pumping
Second Refrigerator
Lighting Fixtures
Lawn Sprinkler System
Freestanding Ice Maker
Grinder Pump
Pro-Series Range/Oven/Cooktop Coverage
Window Washing/Cleaning
Well Pump
Limited Roof Leak
Gutter Cleaning
Electronics Protection
Wine Cooler/Fridge
Water Dispenser Water Line
Pro-Series Dishwasher Coverage
Casita Guest Unit
Sump Pump
Water Softener
Pest Control
Swamp Cooler
Salt Water Pool
Instant Hot Water Dispenser
Pro-Series Microwave
Central Vacuum
Re-Key
Carpet Cleaning
Ejector Pump
Generator
Reverse Osmosis Water Filter System
Pro-Series Washing Machine
Find out more about the inclusions of the plans below: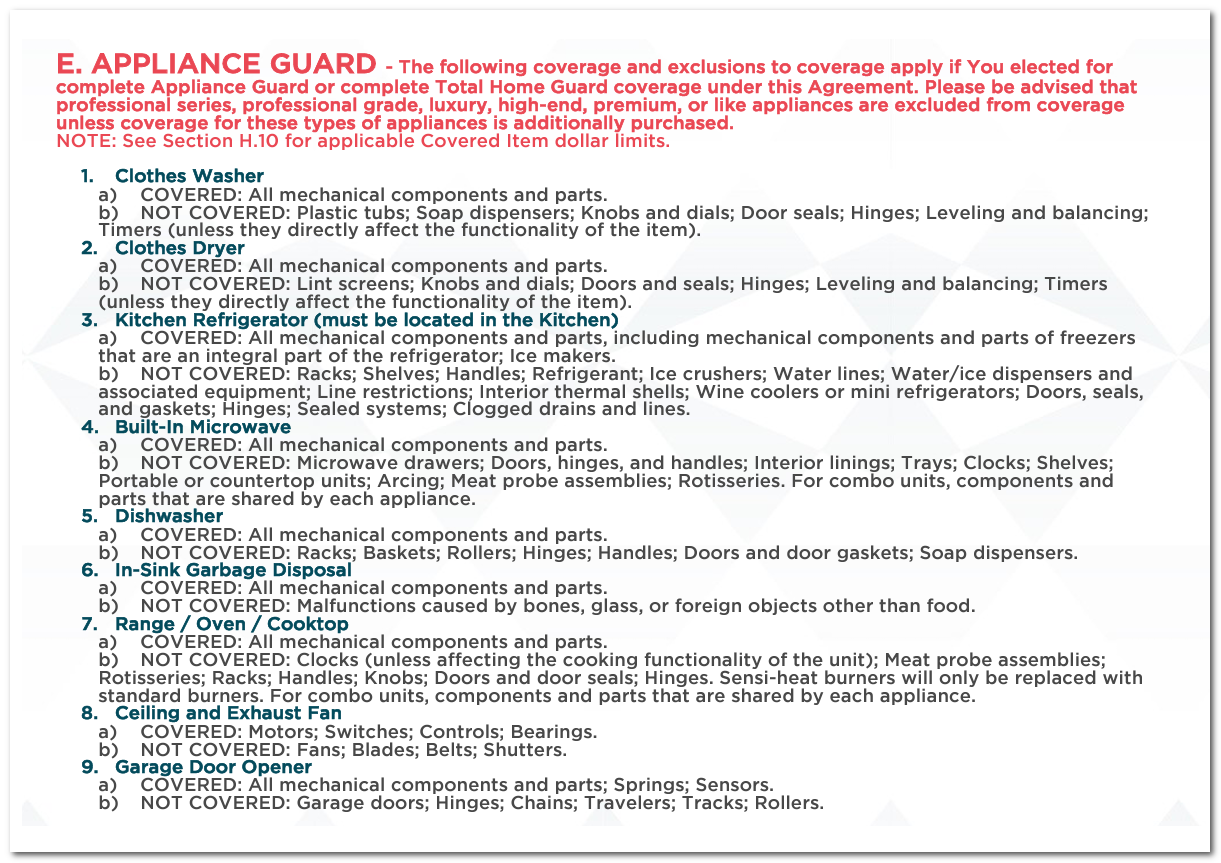 Image description: Liberty Home Warranty Plans From LHG Sample Contract
Liberty Home Guard Exclusions
Your Liberty Home Guard agreement has some exclusions. It does not cover:
Electronic, computerized, or internet-based parts

Remote receiving or transmitting devices

Vents, chimneys, and exhaust lines included with any covered Item

Cosmetic defects and installation

Accidents, fire, floods, subsidence, water damage, and electrical failure

Defective manufacturing, construction, or production
Additionally, your Liberty Home Warranty includes yearly coverage limitations or dollar limits. These are: 
In the first 90 days, the coverage limit for electrical, plumbing, and optional items is $250. After that, limits will climb to $500. 

Coverage for R-410A refrigerant is limited to $10 per pound of refrigerant.
NOTE: There may be other exclusions and limitations to your LHG contract. We recommend you read the sample contract thoroughly before purchasing the warranty.
Find out the limitations and exclusions of Liberty Home Guard in detail here: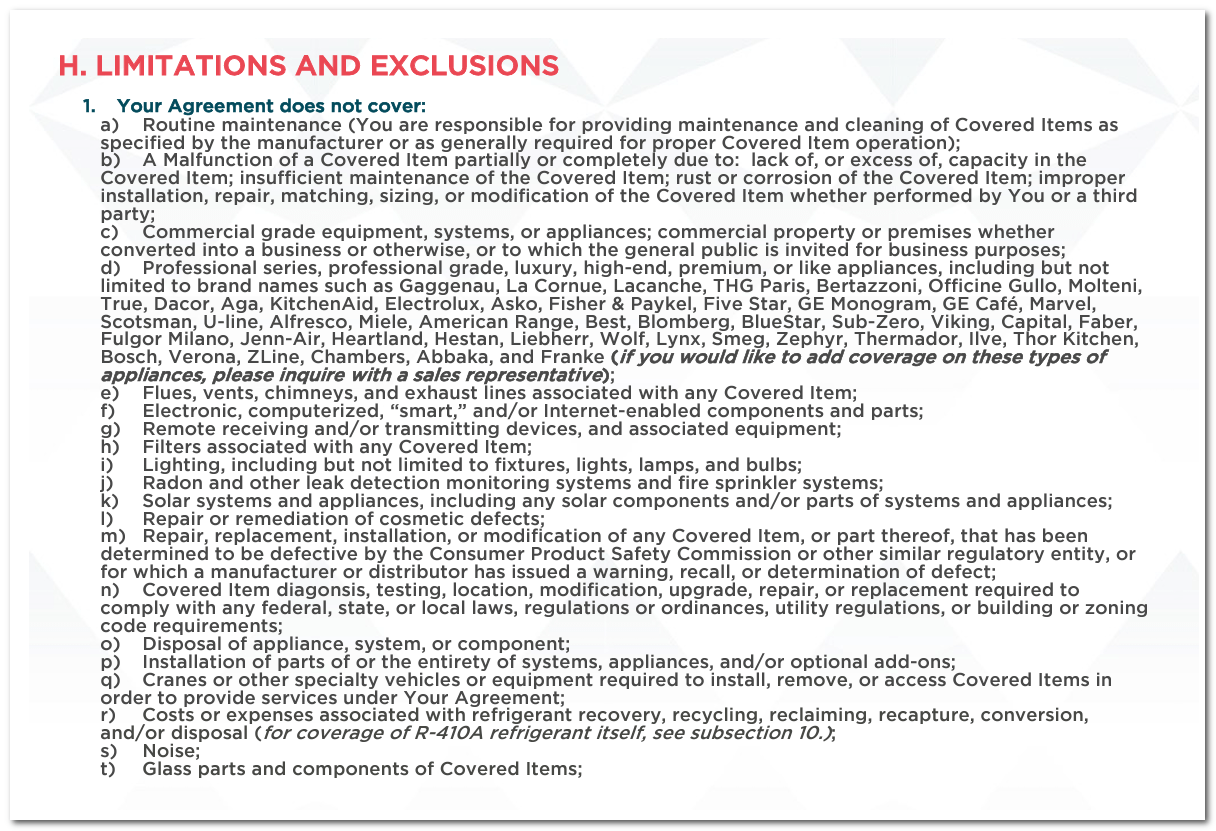 Image description: Liberty Home Guard Exclusions From LHG Policy
Liberty Home Guard Cost
Appliances Guard, which is its most affordable plan, starts at $42 per month on the annual plan or $49.99 per month on the monthly plan. Similarly, the Systems Guard Plan comes up to nearly $46 per month on the annual plan and is $54.99 monthly.
Compared to the market standards, the cost of these plans is slightly above the market average. On the other hand, Total Home Guard is priced more reasonably, starting from nearly $50 per month on the annual plan and $59.99 per month on the monthly plan.  
The total cost of your Liberty Home Guard warranty services will depend on the selected plan, your area of residence, and the added optional coverage. The deductible of the company is $90. 
The average costs of Liberty Home Guard plans are as follows:
 

Appliances Guard

Systems Guard

Total Home Guard

Single Family Home/Condominium/Other

$49.99/Month

$54.99/Month

$59.99/Month

$499.99/Annum

$549.99/Annum

$599.99/Annum

Duplex Apartment

$99.98/Month

$109.98/Month

$119.98/Month

$999.98/Annum

$1099.98/Annum

$1199.98/Annum

Triplex Apartment

$149.97/Month

$164.97/Annum

$179.97/Annum

$1499.97/Annum

$1649.97/Annum

$1799.97/Annum

Service Fee: $90
Liberty Home Guard Discounts 
Liberty Home Guard offers $200 off with two free bonus months and free roof leak protection with all of its annual subscriptions.
Trustworthiness & Customer Service Of Liberty Home Guard
Liberty Home Guard is one of the few home warranty companies that have received positive customer feedback on most platforms. Hundreds of reviews on our platform also indicate that the company has served its customers well, as suggested by its rating of 4.5 on 5. 
Liberty Home Guard also has positive ratings from BBB and Google Reviews. It has received an accreditation of A- on BBB and has a rating of 4.7/5 on Google Reviews. Customers have particularly appreciated LHG's onboarding team and claims-related services. 
Although one of the new entrants to the market, LHG's ratings show that the company has created a commendable track record of good customer service. Amidst a vast pool of positive reviews, some customers have written about slightly expensive plans and claim rejections, which is comparatively much less than most companies.
How To Buy A Home Warranty From Liberty Home Guard?
You can purchase a Liberty Home Guard warranty plan directly on the LHG website. You can quickly get a free quote from its website and decide on your home warranty purchased by reading the fine print thoroughly and ensuring you understand Liberty's offerings.
Although, a homeowner must be aware of some factors influencing a purchase choice. Check those out in our post on how to buy a home warranty.
Liberty Home Guard Claims Filing Procedure
To request a service from Liberty Home Guard, you need to keep the following in mind:
You can file a claim 24/7 by logging into your account on Liberty's website. You can file a

Liberty Home Warranty

claim through this portal, view the claim status and history, and renew or upgrade your policy. You can also keep track of your payment history.

You can also call LHG's phone number (866) 912-0471.

During normal circumstances, the technician will arrive within two business days of receiving your service request.

Liberty Home Guard can schedule the service technician for repairs and replacements. You cannot call your technician.

If any repair or replacement fails within 60 days, the

company

will send another technician to fix the issue. You will not be required to pay for that service. 
NOTE: Liberty Home Guard will not provide services until any due "per claim fees" or deductibles and premiums are paid.
Methodology
At HomeWarrantyReviews.com, we are dedicated to providing in-depth home warranty reviews so you can choose the best home warranty company & make the most out of it. We examine, compare, and analyze the companies on the following factors:
Cost-effective

: We compare the

costs of home warranty plans

and determine if those are cost-effective. The pricing includes monthly/annual premiums, deductibles, and customer discounts. 

Coverage:

We compare the plans offered by different home warranty companies. The coverage includes systems, appliances, and additional offerings.

Claims:

We look at customer reviews and determine their satisfaction with the

claims process

, settlement, and response times.

Transparency

: We verify if the home warranty company is licensed within the appropriate industry and offer details on the CEOs,

contractors

, and several settled claims.

Uniqueness:

We examine whether the company offers additional services, advantages, or coverage alternatives that set them apart.

Customer Engagement

: We assess home warranty companies' determination to respond to consumer problems in our Complaint Resolution Program.
Editorial Note On Liberty Home Guard 
The editorial team of HomeWarrantyReviews.com opines that Liberty Home Guard is one of the most customer-friendly companies, as suggested by its overwhelmingly positive reviews. It is suitable for customers looking for basic coverage of home systems and appliances.
Customers looking for comprehensive coverage might find LHG's plans a bit restrictive. Also, the cost gets higher for plans covering duplexes and triplexes. Therefore, we advise customers to double-check that their appliances and systems are covered in their selected plan and its price point. 
Final Words 
Liberty Home Guard is one of the companies that is going well in the market and is surely is worthy of consideration. However, thoroughly read about their plans, cost, and exclusion details before making the final commitment.  
Quick Details About The Company
Here are some details about the Liberty Home Guard:
| | |
| --- | --- |
| Founder | Ben Joseph |
| Year Of Establishment | 2017 |
| CEO | Ben Joseph |
| Address | 1101 Avenue U, Suite 1,Brooklyn, New York 11223, US |
| Type Of Company | Private  |
Why Should You Trust HomeWarrantyReviews?
We are America's first independent Home Warranty Research and Review platform and have been in existence for 14+ years

More than 80+ companies are listed with us

We have over 100,000 genuine & verified customer

reviews

We use a two-step verification process to maintain the authenticities of reviews 

We have a unique

Complaint Resolution Program
Liberty Home Guard FAQs
Q.
Is Liberty Home Guard Part Of Liberty Mutual?
A.
Liberty Home Guard is not associated with Liberty Mutual, the insurer. They are a New York-based home warranty provider.
Q.
How Long Has Liberty Home Guard Been In Business?
A.
Liberty Home Guard was established in 2017, making it less than half a decade old.
Q.
Is Liberty Home Guard A Reputable Company?
A.
The Liberty Home Guard BBB rating and the good list of positive Google reviews continue to impress clients. Reviews on our site also indicate the popularity the company enjoys among homeowners.
Q.
How Does Liberty Home Guard Work?
A.
After reviewing the contract and plan offerings, you can buy from Liberty Home Guard. You can file a claim once 30 days have passed. To be eligible for repairs and replacements, you must maintain the items as directed by the user manuals.
Q.
Liberty Home Guard Vs. American Home Shield: Which Is The Better Home Warranty?
A.
Considering American Home Shield coverage caps and market experience, we recommend choosing them over Liberty Home Guard. The two companies are not too different in pricing, though the plan coverage is better for critical devices in AHS.
Q.
What Is The Deductible For Liberty Home Guard?
A.
The Liberty Home Guard deductibles vary from $60-$125 based on the residence, home type, etc.
Q.
Who Owns Liberty Home Guard LLC?
A.
Benjamin Joseph is the co-founder and CEO of Liberty Home Guard LLC.
Q.
Has The American Home Guard Rebranded Themselves As The Liberty Home Guard Now?
A.
It appears that the two companies are different. American Home Guard was a Pennsylvania-based company that shut down in 2018. Liberty Home Guard, the New York-based company, began operations the year before.
Q.
Does Liberty Home Guard Cover Roof Leaks?
A.
Yes, Liberty Home Guard Warranty covers limited roof leaks. Specifically, roof leak patching over the occupied living area of single-family homes. They don't cover patios, metal roofs, shingles, cracked or missing material, tiles, tar and gravel, flat or built-up roofs, etc.
Q.
Is A Home Warranty Different From Homeowners Insurance?
A.
Yes, the two policies differ. Home insurance is not a service contract for repairs and replacements of worn-out systems and appliances. Homeowners' insurance covers property against liabilities due to thefts, property damage, fire, natural calamities, etc. They are complementary, not interchangeable.
Q.
How Long Does My Liberty Home Guard Contract Last?
A.
Liberty Home Guard offers its customers monthly, annual, and multi-year plans. You can choose any of these terms to fit your needs.
Q.
Does Liberty Home Guard Provide Coverage In The Event Of A Natural Disaster?
A.
No, if your appliance or system breaks down due to a natural disaster, Liberty Home Guard is not liable to provide coverage. Home warranties do not cover damage caused by a natural disaster, acts of God, or wilful neglect or misuse of home appliances and systems.
Q.
Do I Need A Home Inspection Before Purchasing A Home Warranty From Liberty Home Guard?
A.
You are not required to undertake a home inspection or provide maintenance records to purchase any plan from Liberty Home Guard. However, we recommend getting one anyway to minimize the chances of claim denial for pre-existing conditions.
Q.
Does Liberty Home Guard Have An Age Limit On What It Will Cover?
A.
No, Liberty Home Guard does not refuse coverage based on the age of your home's systems and appliances. So, you can purchase any of Liberty's home warranty plans irrespective of your covered items' age.
Q.
Can I Cancel My Liberty Home Guard Coverage If I'm Not Satisfied?
A.
You can cancel your policy anytime if you are unsatisfied with your Liberty Home Guard coverage plan. If you cancel your warranty within the first 30 days, LHG will refund your contract fees minus a small cancellation fee of $50 and the cost of claims paid. So, you essentially have a 30-day money-back guarantee.
Q.
Is Liberty Home Guard Any Good?
A.
Yes, Liberty Home Guard is one of the affordable home warranty providers for homeowners looking to invest in an inclusive home warranty plan. The reason behind it is their plans are affordable and come with regular discounts. The company offers separate plans for systems and appliances, along with a plan inclusive of both of them. 
Q.
What Is The Liberty Home Guard Waiting Period?
A.
Once the homeowner purchases the policy, Liberty Home Guard requires a 30-day waiting period before the service begins.
You May Also Be Interested In
| | | | |
| --- | --- | --- | --- |
| | | View More | View More |
Liberty Home Guard reviews