Things To Check When Hiring An Appliance Repair Company
PUBLISHED: June 13, 2020
•
4 MINS READ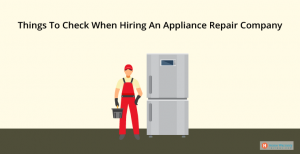 Buying appliances and home systems bring ease in your daily life, but they come at a huge price (literally). They are a huge investment and also incur huge expenses if damaged. An appliance repair company comes to the rescue of your distressed appliances. But you need to be careful before you choose one. Here are a few things to check when hiring an appliance repair company to fix your home devices.    
Check the Licenses and Certifications of the Appliance Repair Company
One of the things to check when hiring an appliance repair company is to verify whether they possess the required licenses and certifications to perform the repair work. They should have permission to service customers in a particular state, and their services should comply with all state and federal laws. 
Also, the most important prerequisite for an appliance repair company is to have qualified technicians who provide an A-grade level of services. If you have narrowed down to a company with the right certifications and licenses, you can be assured that things might go on smoothly. 
Another option when your appliances and home systems fail is to avail of the services of home warranty companies. Home warranty companies provide repair and component replacement services of appliances for a monthly premium and deductible-a cost that is comparatively lower than appliance repair providers.
Just like the appliance repair companies, these home warranty companies have valid licenses and certifications for the particular state, and they do hire skilled service contractors who provide quality repair services. Here is a list of home warranty companies you can rely on.
Ensure the Appliance Repair Company Provides 24/7 Availability
Choose appliance repair companies that provide services 24/7 for the greatest convenience. There will be no need for you to take a day off of work or cancel your weekend plans to accommodate for appliance repair work. 
You can just schedule the repair service during evening hours much to your convenience. Also, if your refrigerator fails on a Friday evening, it won't be easy to put it off until Monday. In such instances, it is better to go for a company that provides repair services all seven days of the week. 
Some home warranty companies also provide repair and component replacement services even over the weekends. Do go through some of the home warranty company reviews and choose the best plan for your damaged appliances. 
Ensure that the Company Provides Prior Notice for a Home Visit 
Don't pick companies where technicians drop in on unexpected visits at any time of the day. You will have to waste your entire day waiting for them. Instead, choose a company that provides a 2-hour window period within which they reach your home. 
This keeps you informed about the visit, and you can make yourself available at the scheduled timing, instead of waiting the whole day. 
Similarly, the best home warranty companies usually follow such etiquettes, allowing you a better home warranty experience. 
Enquire the Appliance Repair Provider About the Cost of Repairs
There are no set standards regarding the price of appliance repairs, and so appliance repair companies can charge how much ever they want to. As a customer, you should compare the prices of various companies and choose the one that offers the most reasonable rates. 
Comparing the prices of different companies lets you be aware of whether you are being overcharged or not. Likewise, you can also find quotes of different home warranty companies before you settle for the one that suits your budget. 
Do a Proper Background Check of the Appliance Repair Company
It is best to conduct a thorough background check of the appliance company before zeroing in on one. Nowadays, appliance repair companies have an online presence, and so it is advisable to go through ratings and reviews uploaded by their customers. 
You should also read up on the kinds and quality of their services. At times, a website wouldn't disclose information, and in such cases, it is recommended to contact them directly for enquiry. 
Home warranty companies also come up with reviews and ratings, enabling you to decide on the one that meets your requirements. Aggregator websites like homewarrantyreviews.com have a compilation of authentic ratings and reviews of home warranty companies in America.  
Conclusion
There are many appliance repair companies in America, but you can get the best one by doing a background check, enquiring about the cost of repairs and prior notification, and verifying their licenses and certifications. These are the things to check when hiring an appliance repair company.