Can you buy a home warranty anytime?
PUBLISHED: March 30, 2020
•
4 MINS READ
Appliances and systems work round the clock due to which they may break down or malfunction. As a homeowner, you wouldn't want to spend frequently on expensive repairs or replacements and would wish to purchase a home warranty plan. But can you buy a home warranty anytime? 
The answer is YES. Whether you are staying in your home for a month or 5 years, you can buy a home warranty plan without having to compromise with the coverage options. Typically, a home warranty covers appliances such as a refrigerator, built-in microwave oven, clothes dryer, stove, etc. and systems such as a water heater, air conditioners, water dispensers, garbage disposal, and many more.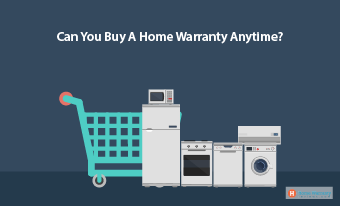 When can you buy a home warranty plan?
Home warranties can be purchased anytime. Some of the circumstances in which you can buy a home warranty plan are: 
Buying a new home
If you are purchasing a newly constructed home, a builders' warranty likely protects your home. Along with the builders' warranty, you can buy a home warranty from a third-party as the builders' warranty covers all your new appliances and systems only for a certain period of time. Post builders' warranty expiration, your home warranty will protect your systems and appliances. 
You can also buy a home warranty post the expiry of the builders' warranty. The warranty, whether purchased along with the builders' warranty or post their expiry, will offer the same type of coverage and have the same terms & conditions. 
Buying an older home
You can buy a home warranty when you are purchasing an older home. However, prior to buying a warranty, check if there is an existing warranty that can be transferred to your name. 
If you are buying a new home warranty, get your home inspected by the warranty provider to make sure all the appliances & systems are working. Because home warranties do not cover equipment that has pre-existing conditions.
Living in an older home
Every appliance and system has a definite lifespan. They begin to malfunction when they reach the end of the lifespan. If you are living in an older home, the higher the chances that your old appliances and systems will break down. By buying a home warranty, you can protect yourself from costly repairs or replacements. 
Note that your home warranty provider will not consider the age or make of the appliance or system, and will offer the same type of warranty plans as provided to the new homeowners. 
Own a rental property
You can purchase a home warranty if you own a rental property. Buying a home warranty plan can add value to your home as well as protect tenants from costly bills. But before purchasing a warranty plan, consider the age and condition of the systems and appliances. If the home & equipment is relatively new, manufacturers' warranty might cover the appliances, but if you have older appliances that are likely to fail, it is wiser to buy a home warranty plan. 
Moving into a rental property
Most often, landlords, before renting their home, buy a home warranty to avoid undesired expenses. Before shifting into the rental property, check if the home is covered as you wouldn't want to pay both rental bills as well as a warranty plan.
How to evaluate a home warranty plan?
Before Purchasing a home warranty, several factors need to be considered. These include: 
Coverages and exclusions
Determine if the warranty plan covers all the major home appliances and systems. Know if the warranty provider offers partial coverage or complete protection. 
Claims process
Figure out if the claiming is straightforward, and the time taken to initiate the claim. Also, determine if the customer representatives offer 24/7 unconditional support.
Monthly or annual payment
Some companies require you to pay annual premiums, and others would let you pay monthly. The home warranty companies may also need you to pay service call fees. Check the amount of service call fee and deductibles, if any.
Customized plan 
Check with the warranty company if you can choose the appliances & systems you want to cover. The price and policy of the tailor-made plan may differ from the regular warranty plans.
Final words
You can buy a home warranty anytime. But before purchasing, go through the warranty plans to make sure they are worth your investment. Some of the top home warranty companies that you can opt for are American Home Shield, Choice Home Warranty, and ServicePlus Home Warranty.