Should I Build a New Home or Buy an Existing One?
PUBLISHED: March 15, 2019
•
6 MINS READ
There is a disparity in the idea of buying versus building a new home when it comes to more luxurious homes. From a report of the National Association of Home Builders, you will know that the median price of a new home in the US was $301,400 and the median price for an existing home was $212,300. So, should you build a new home or buy a pre-owned home?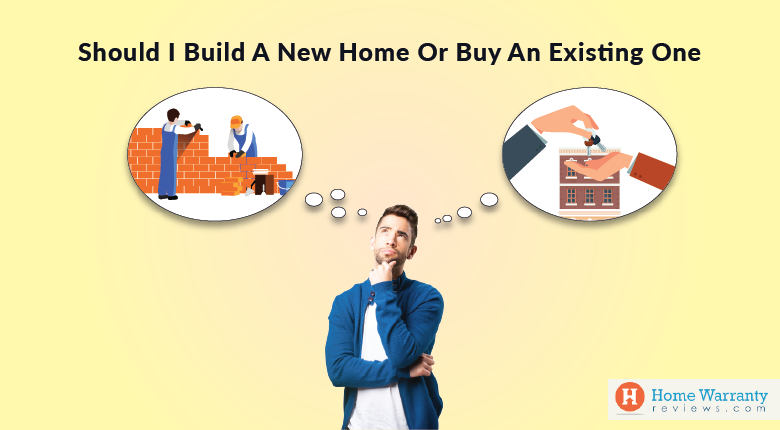 Costs of Building a New Home
Builder profits

If there is any new build, this would include some expectation for profit which is part of the reason building a home costs more than buying an existing one.
Energy policies or building codes

Another reason why building a new home can cost more is based on codes and rules that have changed over the years. But investing in an energy-friendly home could do a lot of good in the long run.

Cost of land
If you buy an existing home, the land comes with it. But buying a new home, on the other hand, would mean that you need to find the perfect plot. This can be expensive. This includes the rising costs of materials. The cost of materials would cost much more then if it was purchased long ago. New homes need new materials and this could be much more expensive.
Hidden Costs of Building a New Home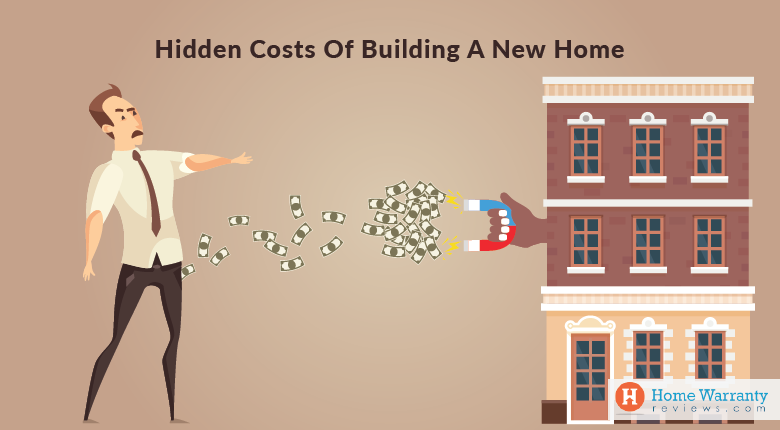 There are several costs that come with a new home and this makes it an expensive proposition and would drive up the costs of the building. While some of these expenses are obvious, there are also some that can catch you off guard and can spiral your building budget.
Here are some of the hidden costs:
Window coverings: These usually come as a part of the existing home and quickly add up if you have a lot of windows and if they are of a custom size.
Landscaping: When it comes to new builds there would be no landscaping or include only front landscaping. This could cost thousands of dollars based on the size of your lawn and detail of landscaping.

Random incidentals: There are always unexpected costs. These extras can include things like picture hanging supplies, additional cable, decorating items and electric outlets. Other things could include extra keys and garage door openers. There could be small expenses which prop up and if you add them together it can be a sizable expenditure. These may be overlooked given that these expenses happen at different times.

Furniture: If you're building a bigger house, you might be surprised at how much more furniture you need. And whether you really need more furniture or not, you might find that your old pieces don't work that well in your new place.
Upgraded finishes: The most expensive things are usually with custom upgrades. This is why builders put in the least expensive paint, plumbing and flooring at first. If you want to upgrade them then it will cost you a pretty penny.

Driveways: One of the common unexpected expenses is a road or a driveway build. This usually costs more than what the buyer anticipates and is taken for granted.

Fences: If you are a homeowner, then you would like your privacy, especially if you have close neighbors. This makes building a fence a necessity. Based on the type and size of the fence, this can add several thousand dollars or more to the cost of the building a new home.
Home Guarantee
Homes that come with a National Home Builders Registration Council five year guarantee have a one year guarantee for their roof. This guarantee covers:

Within three months, instruct the builder to rectify non-compliance or deviation from the terms, plans, and specifications of your mutually binding agreement.

In 12 months, instruct the builder to repair roof leaks attributable to workmanship, design or materials.

Within five years, instruct the builder to rectify major structural defects caused by non-compliance with technical building standards.
Usually, the type of buyers that prefer a new home is first-time buyers, retired people, and holiday-home buyers, whereas creative people, middle-aged buyers, and renovators tend to favor existing homes.
If you inspect the property before buying or get it surveyed, you will eliminate the costs of having to deal with defects that will become evident in a later stage which will result in greater expenditure.
Risks Buyers Should Know
Although buying off-plan would have several advantages, there are are several risks as follows:

Though you would not be able to visualize the end product from architectural drawings and plans, the final product may not be what you expected. This is why you need to check the specifications and finishes in the end product to ensure that its the way you wanted to come out.

Although you do not pay transfer duty, you would still have to pay VAT.

Building from scratch can be stressful, expensive and time-consuming and its worse if there are delays.

In case you buy into a development then you will need to compromise on the date of occupation and transfer based on the nature and circumstances of the development.

If you are building your own home then you be in lesser control. This is why you should investigate the quality of the workmanship, financial stability, reliability, and integrity.
Building vs Buying a Home
Cost Considerations
The biggest concern for all home buyers is the cost. This makes a sizable gap between the price of a new home and a resale property. On average, the cost of a new home is around $300,000 without the cost of the acreage.
If you are sticking with the basic model and not looking at unnecessary upgrades in which the cost would be significantly higher. New construction remains at an all-time low, making competition to build homes. This could also have an impact on the new construction and in areas where builds do not keep up with local demand.
On the other hand, the average sale price of an existing home is roughly $278,000 which is nearly $60,000 cheaper than the cost of a new home. Based on the terms of the mortgage, you can save over the life of the loan. This is a great opportunity for negotiation when purchasing an existing property which results in low sticker price. If you have something to move into then you would not have to juggle with making several payments.
Repairs And Renovations
Usually, there are more costs than just the sticker price and this is important to consider when it comes to repairs and renovations to the property. While new properties are unlikely to have a repair for at least seven years, the minimal appliance and system repairs can be covered by a home warranty. If there is a need to customize your home through the building process then it eliminates the need for major renovations.
When it comes to older homes, there is a need for repairs and renovations which will increase the cost of purchase. Though these costs are minimal, buyers should be able to address them from time to time. Based on the age of the property, you should get it inspected to ensure that you are not buying a home where there are too many renovations and repairs needed. Older homes have a unique architectural theme that you would rarely find in new homes.
Additional Costs Of Ownership
Apart from the price of purchase is the costs of ownership. This means that new homes are typically more energy efficient than older homes. These have newer building materials, state of the art technology and better insulation. Also, energy costs should be lesser than that of a resale property.
Older homes are usually less energy efficient and this leads to higher monthly expenditures for new homeowners. On an old home, you never know what appliance or system needs to be replaced. 50-year-old pipes could be clogged and this could cause the plunged toilet water to start coming back up through the bathtub. The maintenance fees would increase significantly after the building has been in place for 5 to 10 years as repairs would increase the cost of maintenance.
When it comes to insurance, it would have a definite impact on the cost of ownership. Homeowner's insurance on newer homes would cost lesser than older properties. Insurance is based on the location and the condition of the property which may be more difficult to secure.
When it comes to property taxes, older homes are typically less expensive and this falls into a different tax base than newer homes. In several cases, older homes come with a lower tax burden to the owner. This should not be deciding factor as to whether you should construct a new house or by a resale home but you can get a sense of rate change over time.
Ease Of Purchase
When it comes to financial consideration when buying a home it is easy to qualify for a mortgage. After the financial crisis of 2008, lenders have imposed several restrictions on lending practices and this makes it difficult to get it approved for new loans. This being said, banks and lenders are losing their purse strings and there is more circumspect when it comes to underwriting new mortgages. Whether you want to buy a new home or a resale property, buyers should expect a few hiccups before qualifying for a mortgage. You should know that a strong credit score and a sizable down payment is the best way to secure a home loan from a traditional lender and this makes it favorable to the borrower.
The Need for a Home Warranty
When you come to think of it, the best way to ensure that your home is protected from damage caused by wear and tear is by getting a home warranty. It's just what you need to protect your appliance and systems that need constant repair and replacement. If you do not have a home warranty, then you should have one to save yourself both time and money, Time from running around looking for the right technician and money saved every time something breaks down as compared to just paying for a home warranty and have a technician come over and fix the issues. Some of the top home warranty companies are American Home Shield, The Home Service Club, Select Home Warranty, and Choice Home Warranty. You can start by requesting a free home warranty quote. Then you will be in touch with the home warranty company and you can sign up for the best possible plan.
Mortgage Calculator and How it Works
If you are a home buyer and not care about your mortgage, then the interest could simply eat into your savings. This is why the all-important need to do some number crunching will ensure that you know exactly what you are paying for. This would help you get out of a situation where the mortgage is not favorable. This takes us to the point that there is a one-of-a-kind interactive mortgage calculator that would help you understand exactly what you are signing up for. You need to determine if you have signed up for the right mortgage and whether you are paying an interest that works for you.
Using The Mortgage Calculator
The main intention of the mortgage calculator is to determine the interest that is payable. To achieve this you should enter the three fields which are the loan amount, interest and the loan term. After you fill in the term or period desired to pay back the loan amount and the scales would tip in your favor if the interest is viable. Here, you can figure out the total interest payable and the total payable amount. Also, you will arrive at the monthly payments based on the monthly payment on the schedule calendar. There are several ways to determine if the mortgage is suitable for you. It can be determined by the interactive see-saw, pie-chart, and the payment schedule. What's amazing is that if you already have a mortgage and payments have been made then you can select the month that payments have to be made from and take a print out to know the payment schedule going forward. You should also determine the benefits of this mortgage calculator before you go ahead with signing up for a mortgage.