Why Should You Consider Buying A Home Warranty In New Jersey?
PUBLISHED: June 19, 2020
•
4 MINS READ
Buying a new home in the garden state is an exciting prospect since there are several appealing properties that you can consider as your new residence. You could opt for a duplex, single-family home, townhome, modular home, or even a condominium.
But when buying a property, one should be aware of the important aspects that must be looked into. Critical details like mortgage, taxes, protection of your new home's devices, location, budget, etc. must be analyzed thoroughly before going ahead with the purchase.
One of the primary aspects that should be considered while investing in a new home is protecting its systems and appliances. Since repairing these devices in the state is a costly affair, and the hassle of finding a technician can also be really challenging, home warranties are definitely your best bet. This post will help you understand why you should consider a home warranty when buying a new home in the state.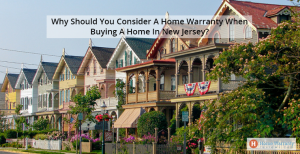 Lets First Help You Understand More About Home Warranties
What is a Home Warranty?
A home warranty is a service contract that either repairs or replaces your devices if they start malfunctioning due to normal wear and tear. Warranties usually last for a period of one year and cover major systems and appliances in one's home.
What Type of Home Warranty Can a New Home Buyer Purchase?
New Homebuyers must buy a homebuyers' home warranty. This warranty is outlined to only meet the necessities of customers buying a new home. It only covers those devices that were repaired before the home purchase deal had been completed. Customers must note that this warranty can only be bought within 30-90 days of the deal being finalized.
Now that you know more about home warranties, let's look into some aspects on why you should buy a home warranty for your new home in the state.
Advantages of Home Warranties For New Homeowners
1. Custom Tailored Plans
As a new homeowner, you may not want to cover all your systems and appliances. Home warranty companies offer the option to only cover the devices that you want protection for. This is extremely convenient for you and does not burn a deep hole in your pocket.
2. Top Class Technicians
Home warranty companies only send experienced technicians to repair or replace your devices. Warranty companies have large contractor networks which makes it extremely easy for them to send a technician to fix your devices as soon as you file a claim. These technicians come with the necessary skills and tools needed to do a thorough job.
3. Older Devices are Protected
If you are moving into a home with older systems and appliances, they too are covered. Top Home warranty companies do provide coverage for pre-existing conditions. This saves you from expensive repairs that could cost you thousands of dollars just for a single item.
4. Flexibility
If you are not happy with anything regarding your home warranty policy, you have the option to cancel the policy and get a refund. Customers can also transfer their policy to anyone if need be. Since different warranty companies have varying terms and conditions, it is important that you read the fine print of your contract before signing up.
5. Helpful Customer Care Representatives
If you are facing any difficulties pertaining to your devices you can reach out to the customer care team of the company. Most of the customer service teams operate 24/7 and will be more than happy to assist you with any of your problems related to your devices.
Top Home Warranty Companies Operating in New Jersey
Many warranty companies provide services in the state. To help you choose the best, we have listed out the top companies.
It is important that you compare plans, pricing, and coverage offered before selecting the company of your preference.
Conclusion
To help you understand other intricate details about warranty companies in New Jersey you can also read other homeowner's reviews, to make sure you choose the best. Now that you know a lot more about home warranties in the state and its benefits, go ahead and get your free home warranty quote today.