Why Should You Consider Buying A Home Warranty In South Carolina?
PUBLISHED: June 25, 2020
•
4 MINS READ
The real estate market in South Carolina has a lot to offer for anybody looking out to buy a new home. Depending on your budget, location, and family size, you could opt for a plantation-style, low country cottage style, coastal style, or a single charleston home. Once you have finalized your new asset, it is crucial to protect its vital systems and appliances. To protect these devices, you can consider buying a home warranty for your new home in South Carolina.
Home warranties plans are very beneficial for all new homeowners in the state. They are inexpensive and come with a lot of other services, especially at the time of purchasing a new home. You should know many top home warranty companies also operate in the state, making it a lot easier for a new homeowner to buy a warranty package.
This detailed post will take you through the several advantages of home warranties for new homeowners in South Carolina.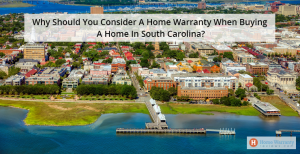 Reasons Why Home Warranties are Worth It
Home warranty plans cover not just one device but a range of systems and appliances. They also have large contractor networks to make sure you receive the best repair and replacements.
Home Warranties Offer Customer Support
Most home warranty companies in the state offer 24/7 customer support, making it very easy for you to claim services when you need them. Here are some beneficial points new homeowners should know about customer care teams:
You can file a claim through customer support or online
Customer care representatives are very helpful and will go the extra mile to help you
If you are not happy with an assigned technician, you can reach out to customer care and ask for a new specialist
Several Plans Available
Home warranty companies in South Carolina offer different plans, that can be chosen depending on one's needs. Here are some key points you should know about these plans:
Home warranty plans cover both your systems and appliances
Plans are categorized into basic, moderate and comprehensive (Though it varies from company to company)
Companies also provide the option to add on coverage option for other important items
Always opt for a plan that suits your home's needs and budget. If your appliances are new, you could opt for fairly basic coverage. Later on, you could switch to moderate or comprehensive coverage.
Well Trained Technicians
All home warranty companies have a set of well-trained technicians who can do a thorough job. Let's take a look at some key points you should know about these professionals:
The technicians come with the best tools to fix all your devices
The specialists are licensed and aware of the different intricacies relating to your devices
If you are not happy with the job done do make sure it is looked into immediately by the technician
You should know each time a technician comes home, you must pay a service call fee or deductible. Read your contract to know the exact amount you need to pay.
No Hidden Charges
Home Warranty companies only charge for what is stated in the contract. Let's look at some key points about these contracts:
Usually, customers need to pay only the annual premium and deductible
You can get a refund if you are not happy with the services (May depend on the company)
The estimated system and appliance coverage amount will be mentioned in the contract
If you are charged for something you deem not necessary, you can reach out to customer care to file a complaint. The customer care team will look into it, and resolve it ASAP.
 Top Home Warranty Companies in South Carolina
Many companies operate in the state, making it difficult for you to choose the perfect one. To help you cut to the chase we have listed out some of the best companies for you.
American Home Shield
Choice Home warranty
The Home Service Club
ServicePlus Home Warranty
You can read several customer reviews to get a better understanding of the plans and services offered. Once you have made up your mind, go ahead and get your free home warranty quote.
The Final Word
A home warranty is worth it for new home buyers in the state. If you are happy with the services of the company, you could also opt to continue with it for the years to come. Plus they keep your mind at peace and don't burn a deep hole in your pocket.