Why Should You Consider a Home Warranty When Buying a Home in Utah?
PUBLISHED: April 27, 2020
•
4 MINS READ
Buying a home can be an exciting time especially if you find the perfect deal. A potential buyer scouts around and compares different homes before finalizing their dream home.  While buying a home one must look into various aspects, like the house layout, the backyard, electrical wiring, and plumbing, etc. If you are lucky enough, you may just come across a deal where a seller is gifting you a free home warranty when buying a home. 
If you don't come across one of these deals, a Homebuyers Home Warranty can be bought while purchasing a new home. These warranties are designed to meet the needs of new homeowners. They only cover appliances and systems that were fixed before closing the home's purchase deal. Buyers should also note that this warranty should be bought within 30-90 days after finalizing the deal.
There are many home warranty companies in Utah that offer tailor-made plans to suit one's needs. You can choose a plan that suits your budget while buying a new home in the state.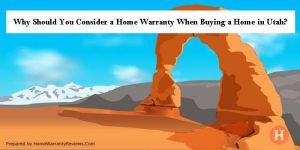 Advantages of a Home Warranty in Utah
Peace of Mind
Utah's climate is generally warm in summers and cold in winters. This means that systems and appliances such as the air conditioner and HVAC systems should be well maintained. If any of these appliances start malfunctioning they can be expensive to repair. In addition, there is the hassle of finding a technician to fix the devices. 
A warranty package that covers these items, will help you save money from expensive repairs, and guarantee you peace of mind.
No Added Expenses
While buying a home in Utah there can be several hidden expenses such as origination fees, title insurance, recording fees, surveys, notary fees, etc. But while buying a home warranty package you only pay for what is mentioned in the contract.
Many Plans with Different Coverage Options
Many home warranty companies operating in Utah, have come up with different plans to suit a broad customer base. Customers can choose a basic plan that covers a limited number of devices or go for enhanced coverage which protects many devices. The additional coverage option is also something Utahnas can look into while buying a new home. 
Fixed Service Call Fee
Each time a device needs repairing in Utah, customers are required to pay a fixed service call fee to the technician. This fee is between $50 – $125.  But, on the other hand, if you are not protected with a home warranty, there is no fixed fee for repairing or replacing your devices. The fee could spike up to thousands of dollars for specific repairs of systems and appliances.
Here are a Few Critical Aspects You Should Know About Home Warranties
Home Warranty- What Does it Cover?
Warranties in Utah cover regular systems and appliances such as your refrigerator, dishwasher, ceiling fans, smoke detectors, doorbells, washers, dryers, freestanding ice makers, and built-in microwave ovens, etc. As there are several warranty companies offering services in Utah today, customers should choose a plan that suits their home's needs.
How To Find Your Home Warranty?
Research is the key to finding the perfect warranty since there are numerous companies providing services in the state. To find the perfect company that fits your home's needs, you can read reviews about other people's experiences of these companies right here.  
How Much Are Home Warranty Plans?
Warranty plans in Utah usually cost $299 – $750 annually. Customers are also required to pay a service call fee each time a technician pays a visit. This amount is determined by the warranty company and is not very high.
 Some of the top companies offering services in the state are – American Home Shield, The Home Service Club, Select Home Warranty, etc. 
How Long is a Home Warranty Good for?
Warranty contracts usually last for a period of one year. Customers can renew their contract after one year if they are happy with the services of the company. Homeowners in Utah who live in older homes with overused devices should definitely consider protecting their devices for as long as possible.
Final Words
Buying a home should be a wonderful experience. It can be made sweeter by putting in a little more money into buying a home warranty which will not only give you peace of mind but also protect your devices and appliances.