Professional Plumbing Services: Know Why Plumbers Are Important
PUBLISHED: October 21, 2020
•
6 MINS READ
Plumbing services make sure faulty water passages are repaired for the smooth functioning of your home's systems. The best plumbers in the industry have the proper set of tools required to repair items that need critical assistance. However, today several professional plumbing services offer top-class service, making it difficult to choose the best option.
This post will guide you through the best plumbing services available in the market. Opting for these services will ensure your malfunctioning devices are up and running quickly. But first, you must understand the benefits of plumbing services and contractors.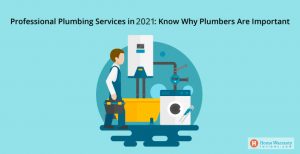 Why Opting For Plumbing Services Are Important?  
Repairing or replacing valves, pipes, washers, and taps is not an easy task and, in most cases, requires professional assistance. To help you fix these critical components of your devices, professional plumbing services are necessary. Listed below are the advantages of these services:
Trained technicians know how to repair your devices without delays

Plumbers can guide you on further steps to prevent  breakdowns of your valuable items 

The restoration of your devices gets conducted safely, and no additional damage occurs

Devices repaired by trained plumbers tend to last longer 

There are several top rated local plumbing services available throughout the country  
Why Home Warranty Plans Have The Best Plumbing Services in The Market
Home warranty plans are a cost-effective method to get any plumbing issues resolved. Plus, you don't have to search for a perfect technician. The warranty company sends a trained professional each time you file a claim for a plumbing issue. It is also very convenient to request service from a warranty company. All you need to do is get in touch with customer care and place a service call. 
What's more, is the cost of a home warranty claim is not at all expensive and ranges between $50-$200 depending on the company you pick. The only other fee that you will be required to pay is your premium amount. It can be paid either annually or monthly, depending on the company's policy. 
What Components Of Plumbing Are Covered Under Home Warranties
Home warranty companies cover several plumbing components that need to be either repaired or replaced. The trained technician decides what particular course of action is needed to fix the problematic devices. Some of the prominent systems covered by top home warranty companies are as follows:
Tankless water heaters (gas or electric)

Toilets and showerheads

Built-in bathtubs and pumps

Showers, stoppages in the toilet

Faucets and gate valves pressure regulators
Be sure to note home warranty companies cover many more plumbing system parts and components under their plans. To know exactly what parts are covered under the policy, read the fine print of your home warranty contract. You must make sure to choose a plan that fits your home's plumbing requirements to get the most out of your warranty plan.
Advantages Of Home Warranty Plans For Plumbing Services in 2021
Home warranty policies can be beneficial in many ways for your plumbing systems. Some of the main advantages that you receive with a home warranty policy are as follows:
Home warranty companies have large contractor networks with the best technicians to fix plumbing problems.

You don't need to buy parts to repair your devices. The trained technician comes with the appropriate set of tools and components required to get your device fixed.

If the particular system is beyond repair, the warranty company replaces it with a new device.

You can opt for a warranty plan even if your systems are having trouble due to pre-existing conditions. However, you must note that not all home warranty companies cover pre-existing conditions.

When you opt for a home warranty plan for plumbing, not only those devices get covered, but a range of several other vital systems and appliances get protected for one year.
Top Home Warranty Companies For Plumbing Service
There are several top companies offering plumbing coverage for homeowners across the country. Some of the best warranty companies for plumbing services are as follows:
American Home Shield (AHS) –AHS offers coverage for plumbing under its Systems Plan and Combo Plan. The company has an extensive contractor network and ensures customer's plumbing claims are resolved on time. 
Choice Home Warranty (CHW) –The company offers plumbing coverage under its Basic Plan and Total Plan. CHW has been in the business for over eleven years and offers customer service 24/7. 
ServicePlus Home Warranty (SPHW) –The Gold Plan and Platinum Plan offered by SPHW cover plumbing issues. The company provides a low deductible amount to get your plumbing devices fixed without burning a hole in your pocket.
Why Professional Plumbing Service Is Better Than DIY
It is always a better option to opt for professional service for plumbing issues rather than going down the DIY route. One of the main reasons why it is safer to opt for trained technicians to fix plumbing issues is because the systems are complicated and require technical knowledge and experience to get resolved.
Another critical aspect to note is that DIY plumbing repairs take a lot of time, and the right equipment is needed. On the other hand, when a plumbing contractor comes over, he/she has the correct set of tools and knows exactly how to pinpoint the problem to get the issues fixed ASAP.   
What More Should You Know About Plumbing Service in 2021
There are several aspects that customers should know about plumbing services and its evolving nature. Some of the crucial elements that are important to comprehend are as follows:
Plumbing repairs are expensive. Choose a service that suits your budget and needs

Read reviews of home warranty companies plumbing service and choose the best option

Ask for recommendations from friends and family of top plumbing service prospects

Question the technician asking whether he/she is going to solve the problem efficiently

Make sure your devices are clean after the item has been fixed or replaced
The Final Word
Opting for a home warranty plan to protect your devices that need plumbing fixes, are a cheaper option as compared to regular service. Today several home warranty companies offer services; the trick is to pick a company that suits your home's plumbing requirements.