When Should You Read Home Warranty Plan Reviews?
PUBLISHED: August 27, 2020
•
5 MINS READ
All your critical systems and appliances in your home can start malfunctioning when they get old. You must protect them to ensure the smooth functioning of all daily activities in your home. For affordable repairs and replacements for all your devices, a home warranty plan is your best bet. However, before choosing a policy, you must read home warranty plan reviews.
If you wonder why you should read home warranty reviews, you have landed on the right page. This detailed post will help you understand why reading home warranty reviews are essential and many other aspects of warranties. But first, you must understand more about the critical elements of a warranty plan.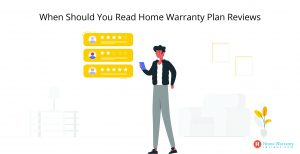 What Should You Know About a Home Warranty Plan?
A home warranty plan can be useful to provide quick repairs and replacements at affordable prices. Also, warranty plans come with the best in class service technicians to take care of all your devices. 
Home warranty plans vary in terms of the company and its coverage. Some warranty plans cover an extensive list of systems and appliances in your home. On the other hand, some plans cover only the essential items in your home. It would be best if you made the classification on which plan to opt for depending on your needs, budget, requirement, etc. Now let us take a look at some crucial aspects you should know about a warranty plan.  
You should know that when a device starts malfunctioning, a home warranty claim must be filed. 

Once your request gets processed, you are required to pay a service call fee or deductible. The amount differs depending on the plan and company you choose. 

Most of the crucial devices in your home are covered under home warranty plans. But customers should note not every single component in a particular device gets covered under the policy.    

Consumers must check what components in each system and appliance are covered under the contract. The process ensures that you are clear on all coverage aspects before your plan is initiated. 

Depending on the company, you pick pre-existing conditions in your systems, and appliances may not get covered. You must check your policy or speak to a customer representative to clarify whether pre-existing conditions are covered in your plan.

If you want coverage for a select few devices, you could opt for American Home Shield, Build- Your- Own- Plan as it covers only the devices you pick.

One of the main benefits of buying a home warranty plan for your older homes is that your property's value automatically increases.

Only after careful research and understanding of your home's needs can you decide which plan to choose.   
How To Use Your Home Warranty Plan Effectively?
Once you have checked all the boxes and selected a plan of your choice, you must know how to use it effectively. The following pointers will help you use your plan effectively. 
If you notice a malfunctioning device file a claim immediately

You can check out the technicians rating before he/she comes over

If you are not happy with the professionals rating, request the company for another one
When is the Right Time to Read Home Warranty Plan Reviews
You must read home warranty plan reviews, depending on your current situation. The indicators mentioned below will help you understand when you should read reviews. 
If you are planning to buy a new home warranty policy reading reviews is a good idea.

If you are unhappy with a company's services, you can read other people's experiences and understand where the company has gone wrong.

If you are planning to switch to a different home warranty company, you must read reviews of the company.

If you are not happy with the particular plan you are using, you can read reviews to understand whether other customers face the same issues. 
Writing Reviews are Equally Important
While reading reviews helps you get a better perspective of home warranty companies' operations and plans. Writing a review helps other customers benefit from your experience with a home warranty company. The steps mentioned below will help you write a useful review to help fellow homeowners.
The review you write should be genuine and give a clear picture of your experience

Make sure your review is not too short or abusive in any way

Don't write fake reviews to promote a particular home warranty company  
Best Home Warranty Company Reviews
Several top home warranty companies have received excellent reviews and ratings from existing customers. The list below gives you an idea of the top warranty companies and the reviews they have received. 
Being the top home warranty company in the market, numerous customers have written positive reviews. These positive reviews describe customer service, quick service repair time, and lots more about the company.  
The company has served many customers across the country. Consumers' reviews from the company's customers are very positive. The reviews describe how good the company service is, quality of the customer service executives' promptness, and much more.
Select Home Warranty provides coverage for major systems and appliances in your home. Customers who have opted for the company's services have written many positive reviews describing its service. 
The Final Word
Once you have read reviews from all the top companies, go ahead and get your free quote immediately. You don't need to provide any credit card details to get your quote, plus we deliver the best quotes in the industry.