Advertisment Disclaimer
We maintain complete transparency with the readers on our website. The company rankings on our site are independent of any marketing relationships that we may hold with a home warranty company. We may receive compensation for receiving quotes or placing advertisements. However, this does not affect a company's rankings. Companies are ranked solely on the basis of consumer reviews and ratings received from home warranty users.
A Better Home Warranty Company
A Better Home Warranty Company (BHW) was established in 2009 and is headquartered in Texas. The company only caters to the needs of homeowners in the Dallas / Fort Worth area. The company claims that their warranty plans covers all major systems and appliances irrespective of age, make or model.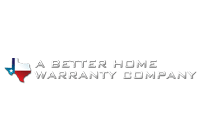 N/A
Estimated Appliance Coverage
N/A
Estimated System Coverage
No
Complaint Resolution Program
A Better Home Warranty Company REVIEWS
Ready to share your home warranty experience with A Better Home Warranty Company? Click here to write your own review
https://www.homewarrantyreviews.com/wp-content/themes/HWR-2020