American Residential Warranty
Headquartered in Florida, American Residential Warranty (ARW) was started in 2009. The company claims that their primary focus has always been on providing exceptional customer service. American Residential Warranty provides services in 47 states across the nation excluding Iowa, California and North Carolina. It considers themselves industry leaders and innovators. ARW is a partner of The Warranty Group (TWG), who are the owners of The Virginia Surety. The company's services are backed and administered by the TWG who have over 50 years of industry experience and a staff count of over 1,800.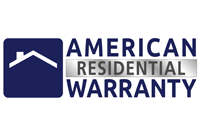 N/A
Estimated Appliance Coverage
N/A
Estimated System Coverage
No
Complaint Resolution Program
American Residential Warranty Plans
American Residential Warranty provides homeowners with four plans– Platinum Premier, Platinum, Heating & Cooling, and Kitchen Plus. Their prices start from $29 per month and go up to $54+ depending on the plan selected. The Platinum Premier offers advanced coverage for 17 items (systems and appliances). The Platinum plan provides coverage for 11 important systems and appliances only.
The Heating and Cooling plan covers the central air conditioning system, central home heating system, humidifier and interior electrical system. Kitchen Plus offers coverage for refrigerator, range/ oven/ cooktop, dishwasher, built-in microwave, garbage disposal, kitchen exhaust fan and water heater. Washer and dryer are offered as part of optional coverage. View and compare the coverage offered by American Residential Warranty's different plans in the table below.
American Residential Warranty CLAIMS
American Residential Warranty provides contractors and technical support that is on par with the best in the business, it is currently rated for repair quality.
American Residential Warranty REVIEWS
Ready to share your home warranty experience with American Residential Warranty? Click here to write your own review
https://www.homewarrantyreviews.com/wp-content/themes/HWR-2020