Key Information Before Buying from Lowe's
PUBLISHED: August 19, 2018
•
6 MINS READ
Lowe's is a renowned home improvement and utility provider that also provides warranties and protection plans. While most of Lowe's customers are satisfied with the services provided by Lowe's, some of the consumers beg to differ. This may be because of denial of the claim by Lowe's to the consumer since they did not read the fine print.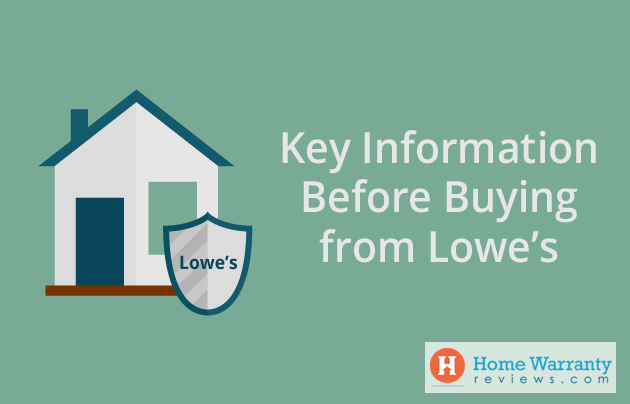 While Lowe's offers outstanding services at reasonable rates, there's usually a limit to how much they can provide. This is because a company cannot offer all its services at low rates and remain sustainable. There are many clauses and exceptions in the protection plans provided by Lowe's. This ensures that they do not exceed paying for more than its true value. This may involve reimbursement and services on appliances that normally include exorbitant costs. It's better that consumers know what they can and cannot expect to be availed for service when it comes to purchasing a protection or replacement plan.
Also, because Lowe's operates better than other protection plans and extended warranty services, they tend to offer several services that are unavailable by other services. A simple example is how Lowe's has no deductibles for their services. Also, their protection and replacement plans are also considered in a case of normal wear and tear of a product. Such features make Lowe's more unique than the rest and also more concerned about their consumers.
So here are a few pointers you need to consider when planning to buy or opt for a warranty, protection plan and replacement plan from Lowe's.
Lowe's does not give out extended warranty and protection plans for its commercial products. However, if the product is commercial grade but is only being used in a single-family dwelling, then yes, you can cover it with a Lowe's protection plan. This goes the same for its replacement plans as well.

Lowe's Protection Plans do not cover accidental damage or abuse, routine maintenance, and consumables, cosmetic damage unless otherwise specified. This implies that Lowe's will not be held accountable or be asked to cover a routine check or maintenance of the product/appliance/utility purchases. You will not be able to avail protection plan services for checking up on your home or appliance. Only when your appliance is damaged or non-functional, will you be able to avail the services from Lowe's.

The damage that occurs during a move is considered accidental damage. A Lowe's Protection Plan doesn't cover accidental damage, abuse, routine maintenance, consumables or accessories unless otherwise specified. This implies that any product under protection by Lowe's is not eligible for service, repair, replacement if it has been damaged due to poor maintenance or handling of the poor product. This includes cosmetic damage, which affects the visual appeal of your product or appliance.

You have up to 30 days after the original product was purchased to cover it with a Lowe's Protection Plan. Failing to do so will make your product ineligible to be covered by Lowe's protection and replacement plans

It is recommended to visit or call your local store with the receipt containing the original product purchase. We recommend that you register your plan so our Service Center can assist you as quickly as possible. The more you delay contacting the local store from where you purchased your product, the harder it becomes to register the product. This is because the procedure for securing a protection or replacement plan takes time and is passed through various circles. With most of Lowe's customers opting for a protection plan, taking your time to apply for a plan will leave you waiting for a long time. If you delay as long as 30 days, you will no longer be eligible to sign up for a protection plan at Lowe's.

When your contract expires and if you never made a service claim requiring a repair on your major appliance, you will be reimbursed for 30% of the Major Appliance Protection Plan cost. Usage of the 50% preventative maintenance benefit does not qualify as a service claim, so you are still eligible for the 30% reimbursement. Keep in mind this reimbursement is only applicable to the Major Appliance Protection plan and is unavailable in the lower end of the protection plan spectrum provided by Lowe's.

Lowe's does not collaborate with a third party company in regards to communication and services. All communication with the consumer is done with their own personnel. Lowe's will leverage regional and local repair professionals that can best address your product needs.

When buying a protection/ replacement plan for an appliance like a refrigerator. You are completely insured whenever the appliance breaks down or is faulty when it comes to food loss. Lowe's will reimburse you the amount of money spent on the food that has gone waste. This is done when the company personnel or local contractor visits to inspect the extent of damage to the appliance. The contractor will also observe and gauge the food and calculate the value of the food loss.

Failure or damage of an appliance or product due to a power surge is covered right from the date the product was purchased. However, power surge protection is not applicable to the replacement plan.


Also, whenever you sign up for a protection plan or replacement plan from lowe's, it is absolutely paramount that you have your plan registered onto the Lowe's database. This ensures that their service center will be able to identify you quickly and can help you utilize their services faster. To contact and register your protection plan, call the Lowe's Service Center today. Text 704-313-1818 or call 1-888-77-LOWES. Messaging and data rates may apply.

Replacement plans by Lowe are not the same as Protection plans. A replacement plan by Lowe's covers only certain aspects as to what's covered in a protection plan service at Lowe's. Getting a replacement plan is not equivalent to a protection plan with the added bonus of replacement. Please do not purchase a replacement plan with the idea that all of the benefits of protection plans are viable for your purchased product/appliance.