Choice Home Warranty CEO Opinion On COVID-19 And Other Issues Of 2020
PUBLISHED: October 23, 2020
•
3 MINS READ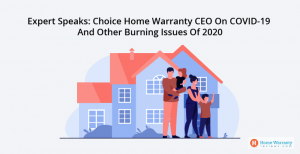 HomeWarrantyReviews.com recently reached out to the executives at Choice Home Warranty, in an endeavor to get a few answers to common queries that our patrons have for home warranty companies. Choice Home Warranty has been in business since 2005 and is a leading home warranty provider with a network of over 15,000 contractors. They offer services nationwide.
The year 2020 threw up new challenges for all sectors and forced people to reevaluate their necessities and luxuries. Home warranty policies are proving to be very beneficial as per the reviews we have received over the last few months. Choice Home Warranty has received favorable feedback from our users and has kindly provided responses to a few burning questions.
Our questions were answered by Mr. Victor Hakim, Choice Home Warranty CEO. He speaks about how the company is prioritizing customer satisfaction in 2020.
How has the ongoing pandemic challenged Choice Home Warranty in serving its customer base across the country? How is the company planning to take care of its technicians' and customers' safety in these challenging times?
During the pandemic-induced lockdown, Choice Home Warranty expanded coverage to help our consumers.  When people are home all day, every day, they use their systems and appliances more than usual.  With all the anxiety caused by the spread of this virus, people should not have to worry about what will happen if these essential household items stop working.  We don't cover everything, but we are doing what we can to give our customers peace of mind and to protect their budget.  We are all in this together.   Further, Choice Home Warranty is proud to support local communities across the country by ensuring the repairs are handled by local contractors, master craftsmen/tradesmen, and small business owners.
We see many new companies entering the home warranty sector, but little has changed in the nature of services offered to the customers. How do you think Choice Home Warranty sets its self apart from the other companies in the sector?
By leveraging technology, it has hundreds of dedicated employees across three states working in partnership with its network of over 15,000 service technicians to provide outstanding service.
Home warranty companies have sometimes struggled to understand and make space for the consumers' requirements, as evidenced by many consumer reviews. What steps does Choice home warranty take to ensure maximum satisfaction to its customer?
Choice listens to our consumers' voices by asking for feedback after every claim.  This feedback proves to be invaluable.  It allows us to focus on the specific system upgrades and process changes that are required to continue to deliver award-winning service.
How do you know if your efforts are meeting consumers' goals and trust?
Choice Home Warranty is proud to have won multiple consumer-focused awards in 2020, including "Best Claims Service", "Consumers Choice Award" & "People's Choice Award" by  HomeWarrantyReviews.com.
As the home warranty sector is becoming increasingly competitive, what do you think will be the role of review platforms such as HomeWarrantyReviews.com, and how important will the review platforms be in shaping consumer preferences?
We are proud to be partnered with HomeWarrantyReviews.com. They ensure the consumer's voice is heard and drive us to exceed our consumers' expectations.