How To Clean Your Freestanding Ice Maker
PUBLISHED: March 6, 2020
•
3 MINS READ
Quite often, you may overlook the maintenance and cleaning of the appliances in your kitchen. An ice-maker is one such appliance that gets neglected when it comes to cleaning and maintenance. Many malfunctions can be traced back to such carelessness leading to avoidable complications.
The two main culprits that cause your ice-maker to malfunction are the accumulation of dust and rust. Over time your machine produces poor quality ice which can negatively affect your health. 
Cleaning the device often will prolong its life and it will produce high-quality ice. We have listed down a few steps you can follow to keep your device in good shape: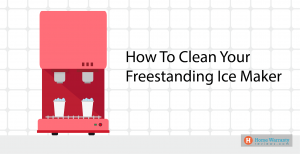 Clean the Interior Components of Your Device
Parts of your ice maker consists of items like your ice scoop holder, cutter grid, and ice storage bin. To clean these items, you will need a sponge, household bleach, and water. Add the household bleach and a little water on the sponge and scrub the components till they look clean. If you have not used your device for a long time, the necessity of cleaning these components only increases. Always remember to keep your device in the power-off mode before cleaning.
Clean the Condensor Coil Using a Vacuum
Your ice-makers condenser coil is positioned behind your device. You can use an old toothbrush or a mini vacuum cleaner to remove the dirt and lint which accumulates on your condenser coil over time. You should it once in every three months for optimal functioning. 
Clean Your Filters With Water
Your Ice makers water filter is one of the most important parts of the device. If the filters get clogged with dust or debris, it blocks the passage of water. This impacts the device's performance. To clean the filter, all you need to do is rinse it with water every couple of months. Though each ice maker manufacturer installs a different water filter in place and depending on the durability, it may last for a longer or shorter period. Usually, you need to replace the water filter every six months.
Wipe The Exterior
  You should wipe the exterior of your appliance with a dry cloth. You can use a mild detergent solution to eliminate grease build-ups. Make sure not to use any harmful substances such as chlorine bleach.
When Should You Clean Your Ice Maker?
If you see any of the following signs in your ice cubes, your appliance needs cleaning:
Your ice cubes taste strange 

The cubes are smaller than they should be

They melt faster than usual
Regular maintenance by following the above techniques will keep your ice maker in good shape for years to come.
How Home Warranties Play an Important Role?
If you own an ice-maker or any system or appliance for that matter, a home warranty plan is a useful investment. It not only assures you peace of mind but also repairs your systems and appliances when needed. Some of the top home warranty companies offering coverage for ice makers are American Home Shield, The Home Service Club, etc.