Homeowner: To Be or Not To Be?
PUBLISHED: October 3, 2016
•
5 MINS READ
Home: The Lifelong Dream
Buying your own home is a dream that many of us cherish and wish to realize one day, but with increasing property prices and taxes, it is becoming increasingly difficult to become a homeowner. While the real estate market is booming with hot options, and extensive marketing to push people to buy a new home over renting, potential American homeowners are more skeptical of the costs and potential return on investment than in past years.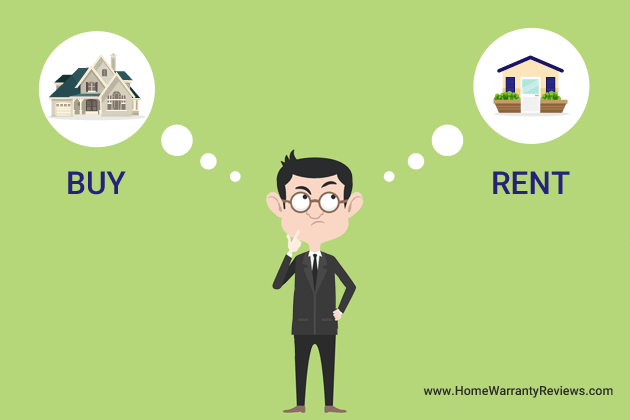 Important Factors In Decision-Making Of A Homeowner
1. Tenure Of Living
Buying a home is profitable as long as one can commit to living in the home for a longer period, thus avoiding any extra rental expenditure. But with today's work culture, it has become considerably uncertain to live in the same city forever and hence may put one in a dicey situation to pay for a mortgage as well as rent while moving to a new city for work or studies.
2.  Mortgage Terms
The mortgage terms should be read through and well understood before buying a home as the value appreciation by buying a home could cause loss, if the home maintenance cost like replacing the heaters or repairing a ceiling or water bills and the actual amount of money going into the principal is considered. In such a scenario, you can opt for a home warranty plan to cut down on the maintenance cost.
3. Overall Stability
Overall stability is a factor that dominates each one of your financial decisions. Stability, in terms of job, relationships, promotion, savings, and family plans determine the amount of money that could be needed for future expenditure and can hence allow you to buy a home or not.
Pre-Requisites And Risks Of Buying A New Home
While buying a home can get you some tax deductions, there is a lot of added pressure as well, in terms of an assured amount that's needed to pay-off the mortgage, unless you wish to lose your assets to the bank. Also, as per figures, value appreciation in property rates since 1975 has been disappointing and not earned much profit to the homeowners in comparison to other investment options available in the market.
Apart from paying for a mortgage, savings for future and sufficient planning for family expansion is also important as the place should meet all your requirements without piling you with a burden, for life.
Benefits Of Being A Homeowner
Owning a home gives people the benefit to painting it the way they desire, or, make a small basketball court in the backyard and add tons of elements that define your personal space, but the fact that it also adds to a lot of responsibility cannot be overlooked. It is suggested that one should be able to pay at least 20% of the sum as down payment while planning to buy a home but at the same time what is more important is to maintain a constant cash inflow for a good 30-yr time until the mortgage is waved off and the property is entirely owned by you.
Also, it is the great freedom to make or change a carpet or any other thing in the home that comes in as a pleasant surprise while owning a home, where people are free to make their own decisions and not worry about a second opinion for changes that they make.
History of Real Estate Market
But the property market has been quite misleading and unforgivable to many, in terms of considering a new home as an investment for future as factors like selling off a home and at an escalated price which is at par with homeowners' expectations, may not be the case every time. Realtors charge up to 6% of the property price and finding a deal that land you in profit is not guaranteed while making the purchase, as a homeowner. In the case of an emergency, selling a beloved property at loss may come as a shock to many homeowners. Also, dealing without a realtor may close doors to the best possible price for the property.
Perks Of Renting A Home
Rented properties, on the other hand, come with a bag full of its own positives and negatives. For e.g., living in a rented home lets one move to a new place without worrying about anything, unlike owning a home. But there is also a possibility of the owner escalating the rent, or, willing to discontinue the tenant once the lease is over.
Homeowner: Making The Decision
All in all, there is no better feeling that creating a place that's a representation of one's personality, beliefs and ideologies. But leaving the emotional part of it, if planned carefully, one can afford to buy a place with a lesser mortgage and lower interest rates and proudly become a homeowner. Also, one may cut down on extra expenses by availing home warranty plans and similar saving options. As long as that takes the time to be realized, living in a rented home away from the hassle of repair and maintenance is a good idea in order to live life freely, and save enough till one can actually afford to buy a home that they can call their own!