How to Prevent Ceiling Fans from Making Noise?
PUBLISHED: January 23, 2020
•
4 MINS READ
Have you ever wondered why ceiling fans make noise? A Strange Noise from ceiling fans can get extremely annoying and, if you ignore the noise for too long, it can get worse with time. To understand what causes the noise in your ceiling fan, you have to identify the root cause of the problem.  
Always make sure the fan is switched off before you do anything, wipe the blades with a wet cloth before beginning your inspection. Make sure you use a ladder to identify the problem, or even a stool is good enough to reach the fan.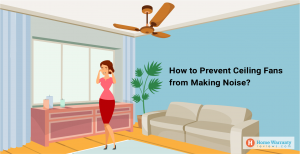 Reasons Why Ceiling Fans Make Noise?
The blades of your ceiling fan may be bent; this is when you will hear a rumbling or rattling noise

If any of the screws which hold the fan together is loose, you will hear a clicking sound

If any of the blades of the fan is hitting the roof, you will hear a soft ticking sound

A lot of ceiling fans have lights attached to them, and if the lights are loose they can make a slight rattling sound

If by any chance you have replaced the blades of your fan and they don't fit properly, it can cause a rumbling noise
Noise from your ceiling fan can get irritating and can even disturb your sleep. If you have kids or pets in your home, this can cause them irritation as they are sensitive to noise. You should always take specific steps to maintain your ceiling fan to prevent that irritating noise.
How to Eliminate Ceiling Fans Noise?
Regular Cleaning of Blades
If the blades of your ceiling fan are dusty, they do tend to wobble and create a ruckus. All you need to do is take a wet cloth and wipe the blades of the ceiling fans once a month. This keeps the fan clean and will avoid the fan from making any impulsive noise.
Make Sure the Blades are Tight
When mounting the blades to the brackets, you need to check whether the screws have been fitted tightly. The edges of a fan are attached to the bracket with things like screws, pins or studs. You will need to use a screwdriver to tighten the bolts wherever required. 
The Light of the Fan Should be Attached Tightly 
The lights on your fan, such as bulbs, shades, and globes, should be attached tightly to the fan. You can tighten the lights of your fan directly with your hand; you can also use a screwdriver to tighten the lights on your fan as it will be more comfortable. 
The Blades of The Fan Should Be Equally Balanced
Balancing the blades of your fan would require a simple balancing kit. Usually, when you purchase a new fan, a balancing kit is included. If you have an old fan, buy a new balancing kit, which will not cost you a lot.
All you need to do is fit the clip, which will be available in your balancing kit onto the blade, and the wobble is gone. 
Do Home Warranties Protect Your Ceiling Fans?
Yes, home warranty plans do protect your ceiling fans. If you have a home warranty plan with you, the ceiling fan would be repaired or replaced. Just imagine your ceiling fan conks out one fine day, and you have no idea whats the next step. Not having a home warranty plan in this situation can be hurtful, you would have to spend a lot on repairing or replacing the ceiling fan whereas a home warranty plan would save you a lot. 
Homewarrantyreviews.com has listed out the top ten home warranty companies that can repair or replace your ceiling fan. Purchasing a home warranty plan will help you save a lot of money in the long run.