Advertisment Disclaimer
We maintain complete transparency with the readers on our website. The company rankings on our site are independent of any marketing relationships that we may hold with a home warranty company. We may receive compensation for receiving quotes or placing advertisements. However, this does not affect a company's rankings. Companies are ranked solely on the basis of consumer reviews and ratings received from home warranty users.
National Home Guaranteed
National Home Guaranteed (NHG) was established in 2013 with the idea of finding a company that has a "local feeling" and old fashioned values. The company was founded in the Rocky Mountains of Utah and was set to serve the growing warranty needs of America. The company claims that they have a combined staff experience of 40+ years in the home warranty industry and sufficient funds, which makes them a well equipped provider of home warranty services. Initially founded as National Home Assurance, the name was then changed to National Home Advantage and finally to National Home Guaranteed. The company is currently headquartered in Salt City Lake, Utah. The company is a member of NHSCA.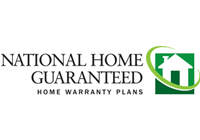 N/A
Estimated Appliance Coverage
N/A
Estimated System Coverage
No
Complaint Resolution Program
National Home Guaranteed REVIEWS
Ready to share your home warranty experience with National Home Guaranteed? Click here to write your own review
https://www.homewarrantyreviews.com/wp-content/themes/HWR-2020