Top 5 Home Warranty Companies in Connecticut
PUBLISHED: April 27, 2020
•
4 MINS READ
Connecticut has a total of 1,385,975 homes in the state, with 1 unit attached homes topping the list. This simply means that homeownership is on the higher side of the graph in Connecticut. Homeowners should consider protecting their homes and devices especially in these times of uncertainty and economic distress. This is where a home warranty plan comes in and saves you thousands of dollars on expensive repairs and maintenance of your systems and appliances. To help you choose the right plan we have listed out the top five home warranty companies in Connecticut.
But before finding out about the top home warranty companies in the state, it is essential that one knows about the intricacies of warranty companies. There are several aspects of home warranties that customers should know about.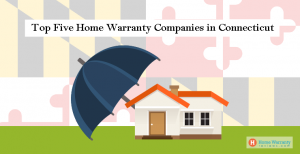 We have Listed out a few Q and A just for you:
What is a Home Warranty?
A home warranty is a simple contract that assures to repair or replace your home's systems and appliances, and they usually last for a period of one year. Home warranties cover regular systems and appliances such as your refrigerator, dishwasher, doorbells, ceiling fan, garbage disposal, trash compactor, and lots more.
Customers must understand that there are several warranty companies operating in the state, and only after thorough research online should one choose a company's services. Only choose a plan that fits your budget and needs.
How Much Does a Home Warranty Cost?
Different home warranty companies charge varying rates in Connecticut. Annually, a home warranty will cost you between $299-$500+, depending on the plan you choose. The only additional cost customers are required to pay is a service call fee, which simply means that it is required to pay a fee each time a technician comes over to repair or replace a device. This fee is usually $50-$100 depending on the plan and company.
How Does a Home Warranty Work?
Once you sign up with a home warranty plan in the state, and a device breaks down or is giving trouble, you must call up the company. Explain to the customer support staff, the problem your device is facing and after a thorough assessment, the company sends a representative over. The technician will then either repair or replace the product.
What are The Different Types of Home Warranties? 
There are three different types of home warranties, which are as follows:
Homeowners Home Warranty – This is a general warranty that homeowners can buy at any time. It covers regular systems and appliances in any home.
Homebuyers Home Warranty – This warranty can be bought if customers are planning to buy a new home in the state. It can only be bought within 30-90 days after closing the new home deal with the seller.
Sellers Home Warranty – Can be bought by sellers who are planning to sell their properties. The advantage of this warranty is that it takes care of any devices that were giving trouble before a home inspection. The Sellers Home Warranty can be transferred to a buyer once the home is sold. This is an advantage for sellers planning to sell their home.
 Let's Take a Look at The Top 5 companies.
American Home Shield (AHS) – Has a network of 15,000 professionals, and also pioneered the industry back in 1971. AHS has a wide range of plans to choose from covering an array of systems and appliances in Connecticut. 
The Home Service Club (HSC) – Founded in 2008, and has a staff of local service providers. All HSC plans cover essential devices in a Connecticut home.
Select Home Warranty (SHW)- Is one of the only companies to provide coverage for mobile homes. SHW covers all major systems and appliances for homeowners in the state. 
Choice Home Warranty (CHW) – Comes with 11+ years of experience in the industry and 24/7 customer support to all homeowners in the state. CHW provides different plans that fit diverse customer needs.
ServicePlus Home Warranty (SPHW) – Charges a very low trade service call fee, and also has many top class service technicians working with them. Customers can choose any of the SPHW plans that fit their needs. 
Final Words
You can get a free home warranty quote from any of these companies right here. Make sure to always choose a company that fits your needs and budget. It is also important to note that home warranties save you a lot of time and money in the long run.