American Home Shield to Separate From ServiceMaster
PUBLISHED: July 28, 2017
•
4 MINS READ
ServiceMaster Global Holdings, Inc., widely known as ServiceMaster, America's dominant provider of residential and commercial services, has declared its intention to spin off American Home Shield (AHS) from its Termix and Franchise Services Group (FSG) businesses. AHS will function as a separate publicly traded company. Nikhil Varty will appointed as the Chief Executive Officer and a member of Board replacing Mr. Rob Gillette, effective immediately. The transition is expected to be completed by the third quarter of 2018 (3Q18). Post spin-off American Home Shield will be the nation's leader in home warranties offering replacements and repairs to home systems, household components, and appliances.
ServiceMaster is expected to file initial Form 10 over the next several months. The company will disclose additional information with regard to the separation including historical financial and capitalization expenses. The transition is expected to be tax-free. Both, ServiceMaster and American Home Shield continue to remain committed to having their headquarters in Memphis, Tennessee.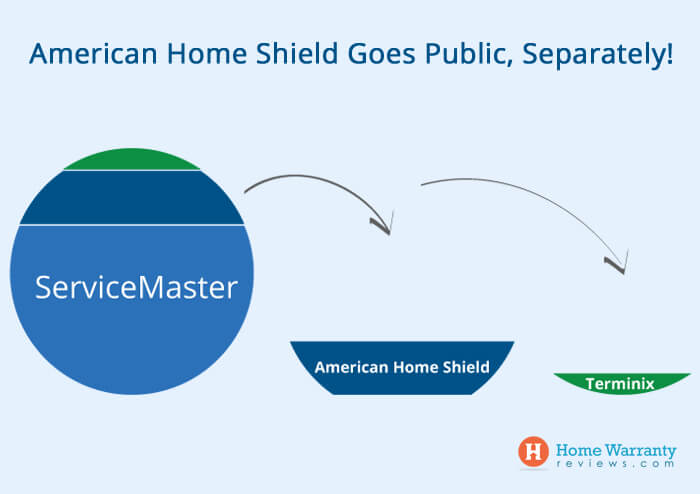 The Spin-off Rationale
ServiceMaster and AHS will both focus on their individual long-term growth strategy and with greater clarity on market positioning. The separation will further position both companies to individually access capital markets and target long-term growth and profitability.
For ServiceMaster, the spin-off is predicted to accelerate the pace of organic growth in the ongoing strategic reinvestment of Terminix's field operations as well as the sales force. Currently, the company holds 21% of the share in the $8 billion pest control market service in the US. As Franchise Services Group will continue to leverage its brand as a trusted partner, it will additionally act as a driving force for growth in the customer base.
American Home Shield has a stable customer base that is complemented by a growing market share in the home warranty industry. The transition would grant AHS with a wide range of flexibility to strategically invest capital in its operational infrastructure in addition to a boost in its customer service, marketing and lead generation capacity. The separation would further push American Home Shield to consolidate its already significant base and brand recognition in the fragmented home warranty market, thereby creating value for its investors.
Overview of American Home Shield
AHS being the national leader in home warranties covers the repair and replacement of major home systems like heating and cooling systems, along with components, and appliances reported revenues of $1.02 billion in 2016.
AHS provides quality home services with the assistance of service professionals. The company has a significant scale of brand recognition is the home warranty market with a customer base of nearly 2 million all across the 50 states in the US. AHS provides its services to nearly 75,000 homes and businesses every day with the help of its nationwide network that roughly consists of 14,000 pre-qualified contractors.
Glimpse of ServiceMaster
ServiceMaster Global Holdings, Inc. (SERV) is one of the key providers of essential commercial and residential services in the US. It operates in three segments – Franchise Services Group, Terminix and American Home Shield. It has the proficiency to solve the homeowner's dilemma. ServiceMaster has an excellent brand portfolio that includes Furniture Medic, ServiceMaster Clean, Terminix, ServiceMaster Restore, AmeriSpec, Merry Maids and American Home Shield.
The Bottom Line
The bottom line is that both the companies will benefit and gain an added advantage in the market.
Distinct Investment Identity: Investors will be able to assess and invest in ServiceMaster and AHS with more clarity depending on individual prospects.
Augmented Focus of Management: The management will be able to dedicate their entire focus on the growth and development of each company independently.
Enhanced Access to Capital Markets: American Home Shield And ServiceMaster can independently access capital markets and capitalize on its individual growth prospects.
Efficient Allocation of Resources and Capital: This enables both the companies' to concentrate its financial resources solely on its own operations and gain the flexibility to invest in its unique opportunities.
HomeWarrantyReviews.com and American Home Shield
Home Warranty Reviews provides a platform to assist common man in comparing and choosing the best home warranty policy for his/her home. The website has been collecting reviews from home warranty users all across the United States since the past 11 years in order to help you choose the best policy from a reliable company that provides home warranty in your city. The website provides positive, neutral and negative reviews for all the companies listed to help you make a wise investment.
Out of 80+ companies on HomeWarrantyReviews.com, American Home Shield was awarded the 2017 Top Rated Company based on the customer reviews we received in 2016. We also provide the feature of getting a free home warranty quote. If you are looking for an accurate estimate of what your home warranty would cost you, you can use the Home Maintenance Calculator. We wish you the best for your home warranty shopping.