How To Cancel A Home Warranty Policy And Get A New One?
PUBLISHED: June 14, 2017
•
6 MINS READ
Functioning along similar lines as an insurance policy does, a Home Warranty is a policy put down in order to supplement existing warranties on your appliances and home systems. Most often we tend to use appliances much after their manufacturer's warranty runs out, and the chances of our wiring and plumbing coming with a concrete warranty are slim. This is where a Home Warranty policy comes in.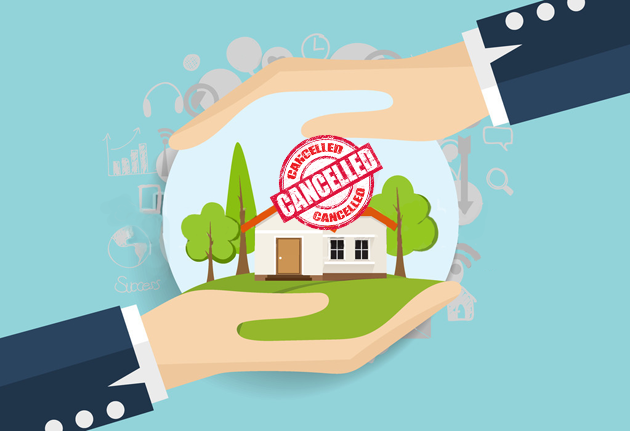 Functioning most often as an annually renewable policy, Home Warranty by most companies in the US require the homeowner to pay a standard rate for each service they require, excluding a yearly policy fee. Some slightly more expensive policies cut out the service fee altogether, taking care of repair, maintenance, and replacement as and when required.
Often such home warranty service contracts are included in the price of the home when you buy it, used as an incentive by realtors and sellers. This not only assures that there is trust between both parties when it comes to the condition of the house but also excuses the seller and realtor from any liability in the future.
In deals where you purchase Home Warranty for a house that is over a decade or more, it is important to note that Home Warranty policies never cover pre-existing conditions and flaws. If you are purchasing a home with appliances inbuilt, then there is a pressing need for you to have a house inspection not only before you buy the house but also before you invest in a home warranty service contract.
Furthermore, most of the home warranty companies ask for a 3-year period of maintenance schedule for the home warranty company to honor your claim when once the appliance breaks down. So if you've recently purchased a home which is 3 or more years old then asking the previous homeowner to furnish all the details pertaining to maintenance schedules can save you from a lot of troubles down the line.
No wonder, it's advisable to have the maintenance schedules handy when making claims to your home warranty policy!
Most home warranty companies choose to charge cancellation fees to homeowners that terminate warranties prior to the completion of the contract term. To avoid excessive fees, homeowners need to cancel the contract 60 days prior to the end of the term which is before the contracts renewal date.
While there is little debate that a Home Warranty policy can be beneficial in terms of both monetary gain and hassle free handling of repairs, often a homeowner can feel that the yearly payments are more than they can afford or that the policy is no longer beneficial.
This often happens when you choose to renovate your home and its systems or upgrade your appliances to entirely new ones which already have a manufacturer's warranty. It may also be a grievance you have with them or with the way the policy has turned out. In fact, in cases specific to issues between the parties involved, HomeWarrantyReviews.com has set up a Complaint Resolution Program, for both the home warranty company and the customer to amicably solve the issue.
There are several steps to the cancellation of a Home Warranty which a homeowner has to go through. Usually, it requires you to give the company a call, get the details of how their cancellation process works and go through the steps.
Step 1 – Get the Details
Call or mail the customer service department of the company you currently have a Home Warranty policy with and inform them of wanting to call off the policy. It may be a good idea to tell them why you are choosing to terminate the policy, especially if the reason is a grievance or issue you have faced.
Ask them for details on how their termination process usually functions, specifically about any refunds or cancellation fees that may due by either party. Four questions you need answering before diving into the process are:
     

Is there any prorated premium refund you can expect back?

     

Does the warranty terminate immediately or run out for the year that you have paid the premium for?

     

Is there a cancellation fee?

     

How long will the process of termination take once you send in the request?
Make a note of the representative you speak to so that you have a name and number to reference when you send an official mail or notice to start the termination process. Also, in the case of wanting a changed or improved home warranty plan, is there a way of upgrading or altering the present policy without cancellation? Do enquire that bit too. 
Step 2 – Issue an Official Letter
Most companies ask for an official termination request from the homeowner either as a hard-copy mailed to the company or by email. In both cases, it is essential that you get the ball rolling as soon as possible as the process does take a few days (maybe even a week) to become official.
Put down your request along with the date it has been issued, details of the policy type and number, the date from when the coverage started and when it was to end or be renewed through subscription, and your own contact details.
If the representative you spoke to specified any details regarding a refund, rebate or cancellation fee, it's a good idea to put that down as well, with reference to him or her.
Sign at the bottom and send it to the company, and the rest is their responsibility! Make sure you have a copy or receipt as proof of the concrete warranty letter and look out for a letter of acknowledgment.
Step 3 – Sealing the Deal
While your task is done, the warranty has not been terminated until and unless you get a letter of acknowledgment from the company itself.
In case you are expecting a refund, follow up and wait for a check from the company with your prorated premium refund. If you aren't liable for a refund but are expected to pay cancellation fees, it's a good idea to send in your check soon after you get an acknowledgment of your letter of termination.
Getting a New Home Warranty Policy Set-Up
Now that you have wrapped up the policy that you had, here is how you go about getting a new one. Assuming that you terminated the old one because of a flaw in the system or a change of needs, it is a good idea to start by addressing the issue at hand.
Narrow down the flaw in the previous policy and start by finding a policy that addresses that concern. For example, if the premium you were paying was too high in accordance with the work you needed to be done, then it is a good idea to get in touch with the company and ask them for policies that better suit your needs.
You may consider looking for options in other companies' policies as well – a wider variety may give you exactly what you need.
If you happen to face an issue in relation to claims and terms of the policy you had or even servicing and customer support, start by looking at consumer review panels on websites such as HomeWarrantyReviews.com. There may be others facing the same problem and there are chances that they have found hacks to work around them or dug out policies which are better structured.
 

Have your house inspected beforehand by a third party, to assess the need and its extent for a Home Warranty policy itself. If you are still doubtful, the

Home Maintenance Calculator

is a great way for you to get a comparison of prices when it comes to self-maintenance and Home Warranty policies.
That being done, it is time to get in touch with companies which you have narrowed down to (ideally at least three) and get quotations based on your home, its appliances and systems, the age of the structure and how much it usually costs to keep it maintained. A pre-inspection is usually required by companies to estimate the condition of the home.
Make sure you find a company that is reputed not only in the US as a whole but also specifically in your locality, as state laws often require tailor-made policies. It is also often a plus point when the company is smaller and more local as they will know the lay of the land. Not to mention a smaller customer base can also translate to more personalized and prompt services.
Once you get your quotations you can pick the one that works best, and then the sealing of the deals pretty much sums up paperwork. Try your best to have a point of contact in the company and have all negotiations with only them so as to minimize confusion. Make sure all perks and terms are clearly jotted down on the paper and keep a close tab on the fine print. In Home Warranty policies, it is essential that the extent of claims is non-negotiable once the paperwork is signed as that can cause a lot of grief later on.
If you choose to cancel and renew a home warranty plan with the same company, talk to them about working in the premium refund and the cancellation fees into the new policy or cutting them out of the deal altogether. Most often a shift of plan within the company is easily negotiable and does not require much paperwork or hassle.
Now how about getting a free home warranty quote from HomeWarrantyReviews.com?
You can cancel your First American home warranty by calling 800-992-3400 or emailing them a cancellation request at cancellationsupport@firstam.com.
You can get a Choice Home Warranty cancellation within the first 30 days of the order to ensure that you get your refund less a $50 administrative fee and service costs incurred. You can cancel your policy with Choice Home Warranty by calling 888-531-5403
Is it possible to cancel at any time? Yes, you can cancel your contract within 30 days of coverage by calling 800-858-1922 and there will be a refund of contract fees minus any service or claims incurred by American Home Shield (AHS)
Basic home warranty or one ranging about $350 to $500 a year or more covers several items. These include kitchen appliances, plumbing, water heater, heating and electrical system components, sump pump, whirlpool tub, and ceiling and exhaust fans.
No Home Warranty company would cover Known pre-existing conditions. But to find out unknown pre-existing conditions, a home inspection is required. If the problem is evident in the home inspection report then it will be considered as a Known pre-existing condition.