Home Warranty and Homeowners Insurance
While home insurance and home warranty products look alike, they are completely different types of products and offer different services to the home owner. A homeowners insurance policy covers the structures and most contents of the home resulting from natural disasters. A home warranty covers home systems and appliances that stop working due to normal usage.
Home insurance and home warranties are actually planned to help you in the event that undergo a loss or damages to your home and/or your possessions. While coverage could in some cases overlap, both policies for the most part provide different coverage.
Difference between Home Warranty and Homeowners Insurance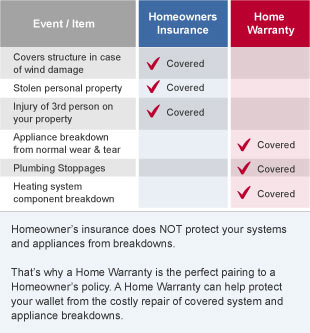 If you are out to procure a home, an important aspect you have to include in your costs is a homeowner's policy. You might inquire why!
Although you certainly don't anticipate seeing your house on fire or being thrashed by the Katrina, such an event just might occur. Since these "just in case" disasters might put your priceless asset (home) at risk, you must be prepared to defend yourself from every such threats. To give enough protection from these potential risks homeowners insurance is just the ideal solution at hand.
A homeowner's insurance provides cover for personal stuffs as well as your entire house in case of theft, fire, lightning, wind storm, falling of tree, vandalism and many other damages. However, such insurance does not provide you cover for regular repair cost and maintenance.
For repair works and maintenance of your home and home accessories such as the electrical wiring, plumbing system, tiles and floorings you have home warranty at your disposal. Home warranty provides cover on the price of the usual wear and tear acquired by the homeowner such as heater, electrical systems, A.C unit and plumbing.
What do Homeowners Insurance and Home Warranty Cover?
Hom Insurance policy coverage:
Personal property, furniture, clothing, jewelry etc. up to certain value.
Structure and contents of the home.
Your living expenses if the home is not in a living condition due to natural disasters.
Appliances are covered as well, but only in the event of natural hazard or special circumstances.
Third party Injuries – If someone visiting your house gets injured while in your property (slipping on the icy drive way for example) and if you are sued, you are covered by homeowners insurance.
Damages to your house from a variety of events, including fire, lightning, tree-fall, burglary, storms.
Home warranty (also called home service contract, appliance warranty etc.) coverage:
Basic coverage includes the repair and replacement of major appliances such as Heating/Cooling system, Water Heater, Refrigerator, Dishwasher, Range, Oven etc. Plumbing and electrical system are also covered.
Optional coverage varies across insurance companies. Some companies cover Clothes Washer, Drier, Microwave Oven, and Roof Maintenance in the basic coverage, but other companies charge extra.
Coverage is generally effective 30 days from the date of buying the policy. But please be aware that claims can be denied by insurance companies for various reasons, including what they call as "maintenance negligence".
If you are considering home warranty that protects you from expensive repairs, click here to get a free price quote.
Benefits of These Policies
Homeowners insurance provides insurance for personal property (already mentioned earlier) e.g. furniture, clothing, jewelry, etc however, only up to a definite value. You can also get cover on the structure and contents of the house. The insurance is claimed in events of calamities and disasters while you are still residing in the house and it faces losses due to any disaster. Particularly, the appliances present in your house can likely be covered only in times of natural catastrophes such as flood or storm or in certain particular conditions. At times a neighbor coming into your house might fall down and get hurt, and he decides to sue you. What is your probable rescue in such situations? Now here's some good news, your home insurance can provide you cover if your neighbor aims to file a suit against you.
A home warranty is not just like any other insurance policy; rather it looks like a service contract, which is sold to cover certain appliances and systems in the house. Your home warranty coverage can take in systems such as heating, plumbing, and other vital electrical appliances. The fundamental policy swallows up the maintenance or repair and replacement of some significant appliances including oven, water heater, dishwasher, refrigerator and heating/cooling system. Your world be pushed to discover a company which provides you the best coverage at the minimum possible cost. One of the easy fact to bear in mind is that every company basically will not provide you the same clauses. Just as some companies might cover microwave oven, drier and washing machine, others might not cover these items. Similarly, a company might include roof maintenance in the fundamental coverage.
Unlike home insurance which is required by your mortgage company, a home warranty is optional. It is not needed since it is entirely possible to pay for repairs out of your own pocket. There are different levels of coverage that you can acquire. The most basic will cover only the major systems in your home but you can get a policy that will cover things like heating, plumbing and even wiring. Since these can be major expenses it may be a better idea to get a home warranty.
Home Warranty Costs
A home warranty can vary in price from a little as a $200 to as much as $700 a year, based on the amount of coverage you obtain. You will also have to pay a service fees that a repairman is at your home. This cost generally ranges from $50 to $100.
For an accurate price estimate, please click here to get a free price quote on home warranty.
Home Insurance Costs
The cost of home insurance differs to a great extent; many things are taken into consideration, together with the value of your home and its contents, the location of your home, the loan amount of your home and the amount of your deductible.
How to Choose a Home Warranty?
When you are considering spending in a home warranty, make sure to shop around. Check our home warranty comparison section that proides pricing, reviews, quotes and consumer reviews on all major companies. When you are getting price quotes, inquire to look over a sample policy. Bear in mind to understand the entire policy, together with the fine print.
How to Choose Home Insurance?
As with any kind of insurance, it is always a good idea to shop around and evaluate benefits and prices as most insurance companies will provide you a policy discount. Ensure you read the policy before writing a check and ask any queries that you have.
Another major difference with a home warranty policy it is moveable with the home. That means that when you sell the house the warranty would be passed to the new owner. This has proved to be a well-liked feature amongst home buyers as homes having home warranties are selling at increased prices and in much shorter times. This in itself could make it sensible to get a home warranty policy.
Many people bear both types of protection on their home as a safeguard for all unforeseen events!
---
Prev Post:Home Maintenance Tips
Next Post:Annoyances with Home Warranty Policies

Five Types of Warranties that Cover Home Appliances and Electronics on 02/15/12. Rate this review: 2 0

[...] that we do not cover home owners insurance here but you can refer to the article that talks about home insurance and home warranty differencesHome WarrantyHome warranty is a service contract on your home appliances and it covers repairs and [...]