Things Covered and Not Covered in a Home Warranty
PUBLISHED: July 3, 2012
•
6 MINS READ
A home warranty serves as monetary security against unexpected expensive home repairs, such as covering any pool repairs or damage, etc. The most important thing is to know what a home warranty policy actually consists of and what is covered in a standard service contract. 
When it comes to buying a home, you should ensure that your seller provides you with a home warranty. Most people assume that a home warranty plan covers all repairs in your home, but you should know that some items are NOT covered in your home appliance insurance.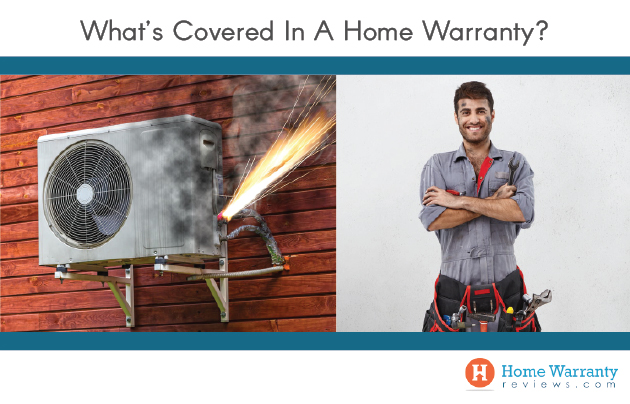 What Does a Home Warranty Cover?
What do home warranty policies cover? Here, you will be able to determine what a standard home warranty plan covers.
The basic appliance and system coverage includes:
Plumbing stoppages
Plumbing System
Sump pump (permanently installed)
Toilets
Hot water pump
Bathroom whirlpool motor pump
Water heater
Ceiling fans
Smoke detectors
Built-in dishwasher
Built-in microwave
Attic and exhaust fans
Heating and duct-work
Telephone system
Electrical system (interior)
Instant hot water dispenser
Built-in trash compactor
Oven
Cooktops
Doorbells
Air conditioning
Garbage disposal
Range and oven
Telephone wiring
Central heating system
Range Hood
Humidifier
Fridge and ice maker
Washer and dryer
Trash Compactor
Ductwork
AC refrigerants and coils
Plumbing faucets and fixtures
Freestanding ice makers
Improper appliance installation
Mismatched systems
Coverage differs from one policy to another. This is based on the state and this is why you should read through the policy before you commit. The sample copy would state the items that are covered under the home warranty. 
Watch this video on home appliance insurance basics:
What is Not Covered in a Standard Plan?
Contracts only cover specific parts, appliances, and systems while all the rest is excluded. You may opt to pay an extra premium to cover any items that are not already in a standard plan before you sign the contract. Learn more about how to include these items under the 'Types of Coverage' section.
Faucet repairs (unless otherwise stated in the policy)
Spa or pools (you can request/add this coverage in some cases)
Hot tubs (you can request/add this coverage in some cases)

Sump pump (you can request to add this in some cases or unless it's stated otherwise)

Washers and dryers or garage door openers are not included in all plans. These come under "Enhanced Coverage"

Outdoor items such as sprinklers

Whirlpool bathtub (you can request/add this coverage in some cases)

Haul away debris
Hauling away old appliances
Outdoor water systems
Combo ceiling fans
Second air conditioner
Second fridge/freezer
Food spoilage

Wet bar fridge

Well Pump

Booster pump

Central Vacuum
Limited Roof Leak
Septic system
Septic Tank Pumping
Stand Alone Freezer
Home entertainment
Office package
Central AC unit
Wine cooler
Additional spa
Washing machine

Extended pipe leak coverage
There is an extra fee for items like:
Washer/dryer
Fridge
Air- Conditioner
Spa
Pool
Roof Leak
Make sure to verify coverage before signing any contract.
Basics of Home Appliance Insurance
A home warranty is not a replacement for homeowners' insurance. Homeowners insurance policies cover natural disasters, fires, property crimes, water damage, and theft. This has an effect on the homeowner's possessions and the home as a whole. Any structural aspect of your home would be covered by homeowners' insurance.
A home warranty does not cover these hazards but it covers particular components of the home, such as regular wear and tear defects on systems and appliances. This would include things like an older air conditioner break down or requiring certain parts changed.
In short, a home warranty is an additional coverage for the items in your home that might initially have been covered by a builder's warranty.
When you purchase a home warranty, you are principally signing a service contract. The contract provides for low-priced repair and replacement service on a number of major home appliances. Most plans have a basic component that covers appliances and systems with standard coverage.
The contract will specify which appliances will be covered. The contact will also state information pertaining to cost per repair.
If your water heater leaks, the water heater would be covered by a home warranty but the consequent water damage would be a homeowners' insurance issue. Homeowners are also allowed to procure one or more optional components that give additional coverage at additional cost.
How Much Does a Home Warranty Cost?
They are quite inexpensive, usually ranging from $350 to $600 based on the coverage. Home warranty companies usually have discount policy prices, special sales, or may even give you additional coverage for the same price.
These policies are prepaid for a year in advance and can be renewed. Companies provide you with the option of breaking up the premium into monthly payments. This will reduce the burden of making a one time upfront payment.
Home warranty plans offer specific and definite types of coverage and operate in a similar manner.
If a home appliance or a system breaks down, the homeowner calls the home warranty firm

The home warranty company calls a service provider to examine the problem

The provider then calls the homeowner to make an appointment

If the provider agrees that the required replacement or repair is covered by the warranty, they will complete the work. The home warranty firm will pay to put back and set up an appliance that cannot be repaired.

The homeowner only pays a small trade service fee or a deductible ($50 to $100). Plus, the money they have spent to buy the warranty
Watch this video to know how the home warranty works:
Types of Home Warranty Coverage
As all home warranty plans differ, you are required to ask specifically what is covered under your plan. Inquire with your real estate agent to find out if upgrades are available. Verify whether or not the home warranty company will cover the cost repairs.
This is based on certain types of appliances or systems compliant with new regulations. Pay close attention and read the home warranty coverage contract cautiously to know the coverage, limitations, and exclusions.
Home warranty companies have three types of coverage – basic coverage, enhanced coverage, and optional coverage. Some companies may not have basic coverage but have a standard policy instead.
Home Warranty Coverage
A basic home warranty coverage includes major systems and everyday use appliances. The items covered in a home warranty coverage differ from state to state. The list of everyday use of appliances varies depending on climate conditions and other factors. For example, the plumbing system, built-in microwave, ceiling fans, etc
Not all companies include the same list of items in their standard policy. What one home warranty company may include in its home warranty coverage, another company may list under
Enhanced Coverage
The enhanced coverage includes certain systems and appliances that are not included in a basic plan but are commonly used. An enhanced coverage costs slightly higher than basic coverage. In certain home warranty policies, your HVAC, fridge, washer/dryer, etc, are not included in the basic coverage.
Optional Coverage
Optional coverage includes those items that are not covered under a basic or enhanced coverage. This coverage gives you the option of adding your pool, spa, wine cooler, well pump, etc, to your home warranty policy. You need to pay a fixed extra premium to add an optional item to your home warranty policy.
Most home warranty company websites have a sample policy. It states what items are included in a basic, enhanced and optional coverage. Make sure to read through the document to gain a clear understanding of the items included under each policy.
What to Expect in a New Home Warranty?
Home warranties may be procured when purchasing a new or used home by a landowner, and sellers or investors. Each company's coverage is decided by the terms of its contract. But, basic home warranties usually cover the parts and labor on or replacement of chief home systems and equipment.
What is Covered?
Most home warranty firms provide a variety of plans. These offer different levels of coverage, so be sure to study the details of any contract before purchasing. Even if you decide to renew the contract from year-to-year, double-check the details of your plan. This is because the coverage can change every year.
If the policy does not cover some of your appliances, you can check with the company's customer support, whether you can opt to include additional appliances in your plan by paying a slightly higher premium.
The Bottom Line
A home warranty provides a cushion for unknown issues that homeowners might face throughout the year. Before you buy, you should ensure that you read the home warranty contract.
Ensure that most of the appliances and systems that are actively used are covered. Home sellers that would like to provide a home warranty to buyers and homeowners. This will make them feel reassured that any repairs or replacement would be covered with a home warranty.
You should do extensive research to get a reputable home warranty company. This will pay for genuine repairs when they are required.
Watch this video on more home warranty tips:
A home warranty will cover repairs and replacements on appliances and systems due to normal wear and tear. A home warranty covers items like electrical systems, plumbing and kitchen appliances such as oven, range and garbage disposal.
If you have recently purchased a home then you would have received it along with a home warranty. However, most consumers expect more from these plans than they usually deliver. Home warranties are not insurance policies and home warranty costs about $350 to $500 per year.
Home warranty cost in terms of home warranty coverage, plans would average from $350 to $500 per year. Extended coverage warranties would be $100 to $500 more per year based on the number and types of items. The best part is that companies charge the same warranty premium for newer and older homes.
Whether a seller or buyers pay for a home protection plan is based on the local customs. In several areas, it is normal that the seller pays for coverage as it is a seller's benefit.
Builder warranty policies last 10 years based on structural defects. One year for coverage of stucco, drywall and paint and two years for HVAC, plumbing and electrical. Appliances usually have a coverage of 6 months only. Home warranties usually last up to one year for covered appliances and systems.