How Much Does A Home Warranty Cost?
PUBLISHED: March 24, 2020
•
4 MINS READ
At times devices in your home can start malfunctioning without warning you. Repairing them costs you thousands of dollars or even more, but if you protect them with a home warranty, you are bound to save a lot of money. This assures your peace of mind as there would generally not be any hidden expenses and everything is clearly stated in your contract. But have you ever wondered how much does a home warranty cost?
Most home warranty plans will cost you an average of about $350 to $700 annually. You would also be required to pay a deductible each time you need to repair or replace a device. It usually costs you anywhere between $50-$200 depending on the extent of repair or replacement.
If you would like to get add-ons to your plan, you would need to pay anywhere between $100-$500. This amount depends on the company and the number of items you add on. 
You must also take into consideration the estimated system and appliance coverage the company offers you. If your repairs or replacements exceed this coverage, you need to pay the remaining amount required out of your pocket. You should also know home warranty costs may vary from state-to-state. 
Customers should know a lot more about home warranties before going ahead and purchasing one. We've listed out some critical questions and answers you should read before buying the ideal plan.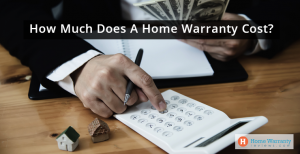 Heres a Look At Those Question and Answers
How To Buy A Home Warranty?
Home warranties can be bought online or through realtors. Do a little research online or ask your friends and neighbors which plan they have and whether they are happy with it. You can also check out homewarrantyreviews.com and read other's experiences and then make your decision. 
How To Use Home Warranty?
Using a home warranty is simple. If there is a problem with a system or appliance in your home call up, the company and tell them to send a technician over. Once the technician arrives, pay the necessary deductible agreed upon in your contract, and your device will be repaired or replaced depending on how severe the problem is.   
What Is Covered In A Home Warranty?
 They cover a variety of systems and appliances in your home, which include air conditioning and ductwork, heating and ductwork, water heater, rekey, doorbells, central vacuum, refrigerator, garage door opener, and lots more. Customers should know different companies offer different coverage plans and options. Always choose a plan that suits your home's needs the best. 
Who Pays For A Home Warranty?
If you are the owner of the home, you pay for it. If you decide to sell your home with an existing plan it is upon the buyer to pay for it. If the buyer does not want to continue with it, they must inform the seller beforehand. 
Do you Really Need a Home Warranty?
Make a note of which systems and appliances are old in your home. If there are many old devices, chances are they have gone through significant wear and tear. Repairing them will cost you a lot of money. This is the right time when you should purchase a plan. 
On the other hand, if you own a new home, your devices will be relatively new, and chances of them needing repairs are less. You need not purchase a plan if your home is new, but if you would like to protect these items for the future, it's wise to protect them as early as possible. 
Closing Words
Now that you know a lot more about home warranty companies and its intricacies. You should also know some of the top companies in the market. They are American Home Shield, Choice Home Warranty, The Home Service Club, and Select Home Warranty. Do a quick research about these companies and see which fits your budget best. 
Once you decide on which one to go for, pay the annual premium, and you are protected for a year. If you are not too happy with the services you also have the option of switching companies. This does not take a lot of time however you should make sure you do not lose money in the process.