Does a Home Warranty Cover a Septic Tank?
PUBLISHED: NOV , 08 2021 • 6 MINS READ
The septic system is a vital component that should always be in working order to treat wastewater. However, over time, the septic tank can be affected by many problems. Some issues like build-up of solids in the septic tank, tree roots getting in the tank through cracks, or a broken drain can reduce the age of your septic system by 10-20 years.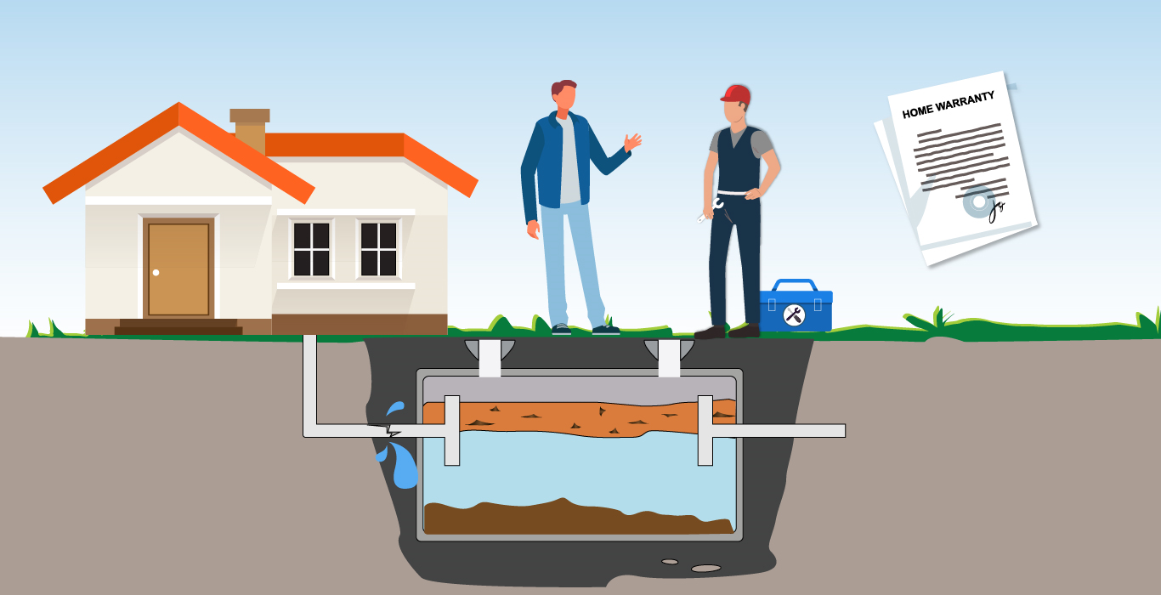 A home warranty plan can help with resolving such issues by providing septic system coverage. It is a service contract that covers the repair and replacement costs of major home systems and appliances. Most home warranty providers allow you to add the septic system as an optional item at some extra cost.
If you want to invest in a home warranty to cover your septic system, this article lists the top companies, coverage, cost, and much more. Keep reading!
What is the most common cause of septic system failure?
The septic system can be expensive to fix and sometimes even hazardous. However, if you know the warning signs beforehand, you can take steps to prevent system failure.
The following are some common causes of septic system failure:
Sewage backup
Hydraulic overload
Poor construction or installation of the septic tank
Inadequate pumping and maintenance
Despite your best efforts, you may find yourself facing more issues with your septic system as it ages. The average septic tank repairs could cost you anywhere between $750 to $3000. If you want to get your septic tank pumped, it will cost you about $360. The replacement of the septic tank could cost you $6000 to $15000. In such cases, enlisting the services of a home warranty company can help you resolve the problem at a lower cost.
Best Home Warranties For Septic Systems
To help you select among the many choices available, we have listed some top-rated home warranty companies and what they cover in septic systems. These companies have affordable premiums, deductibles, and 24/7 customer service.
Home warranty for septic systems: How does it work?
If any of the covered parts of your septic system stops working, follow these steps to make a claim:
Contact the service provider by following the guidelines mentioned in your service contract.

Once you put in a service request, the company will schedule an appointment. A service technician will be at your home to check if the broken part is covered by the home warranty.

The technician then informs the company about the repair or replacement. If the company approves the repair, they will fix the problem. You would also be required to pay a small deductible for the service visit.
Septic System Coverage and Costs
Before deciding on a home warranty plan, be sure to ask about the issues, and repairs that are included. Here we have mentioned the most common parts of septic systems that are covered by a home warranty and the average costs of the plans. Have a look:
Coverage
The septic system coverage provided by different protection plans may vary slightly. However, the basic coverage usually includes:
Jet pump
Septic tank
Sewer lines
Aerobic pump
Sewage ejector/grinder pump
Some home warranty companies may offer additional items that you can add to your basic coverage at an extra cost.
Cost
The average cost of home warranty plans range between $25 – $60 a month, adding to which cost for septic systems could be $5 – $10 per month. For each service visit, you are required to pay a deductible to the technician. This amount usually ranges between $60 to $150 depending upon the company you've selected. However, the total cost of your plan will depend on the coverage of the septic system, add-on items, area of residence, and other factors.
Find the right septic tank warranty
To find the best septic tank coverage for your specific needs, you can consider the following approach:
Choose a suitable plan:
Every home warranty company provides various plans covering systems, appliances, or a combination of both. For septic tank coverage, you can select any plan that suits your requirements and add septic systems to it.
Compare the costs:
Once you have shortlisted the plans you are interested in, compare its costs. Septic tanks are usually listed as additional coverage. So, compare the add-on prices too.
Check with credible sources:
Talk to your near and dear ones who have bought home warranty coverage for septic systems. You can also read what other customers have said about the plans on platforms like Home Warranty Reviews, BBB, etc. Their experience may help you figure out your best fit.
Check for limits and exclusions:
Most home warranty companies don't cover pre-existing conditions, regular maintenance pumping, replacement of drain/leach field pipe, or septic tank waste disposal. Home warranty policies also exclude coverage for wilful or accidental damage of covered items. So if your septic tank or any of its parts like the lid or pipes get damaged due to neglect or by accident, they won't be covered. Be sure to check the service agreement for more details.
Is a home warranty for septic systems worth it?
A home warranty can be worth it for your septic system. While you may have to buy coverage for septic systems at an extra cost, the standard coverage for the repair and replacement of all your major household appliances and systems comes at a nominal monthly or annual fee. Before investing in a home warranty, however, it is important to understand its coverage and exclusions in detail. We recommend you read the service contract carefully before making the final call.
FREQUENTLY ASKED QUESTIONS (FAQs)
Q.
Does homeowners insurance cover septic tank damage?
A.
Damage to the septic tank itself is not covered by homeowners insurance. However, it does cover the damage that happened due to a faulty septic tank or overflow in your house.
Q.
How often should you replace a septic tank?
A.
A well-maintained septic tank can last for upto 40 years, after which, replacement may be necessary.
Q.
What is the average life of a septic system?
A.
A well-built concrete septic system lasts for at least 40 years. Some good quality plastic tanks work for 30 – 40 years and steel tanks tend to fail in about 20 years. You can extend the life of your septic tank with regular maintenance, pumping, and water conservation.
Q.
What kind of warranty comes when you purchase a septic tank and for how long does it work?
A.
Your septic tank may be covered with a manufacturer's warranty when you purchase it. This warranty covers the repair and replacement of your septic tank and lasts for a year. You may require a home warranty after that to protect your septic system. Home warranties too usually work for a year but you can renew them at the end of the contract term.
Q.
Do Home Warranties Cover Septic System Replacement?
A.
Yes, home warranties do cover the replacement of septic systems. However, the company will not replace the whole system, only the covered parts will be replaced.
Q.
How soon can I use a home warranty for septic systems after purchase?
A.
There is a waiting period of mostly 30 days. Once it is over, you can start using your home warranty and file a claim. However, the waiting period may vary depending on the company you choose. So, make sure you read the contract carefully.
Q.
Should I buy an extended warranty on a septic tank?
A.
If you are the original buyer, you can opt for extended warranties for the parts. However, To avoid item-by-item spending, you can purchase a home warranty for your septic system, when the manufacturer warranty ends. If you already have one, you can just add a septic system as an optional item.
Q.
How do I protect my septic system?
A.
To prevent any expensive damages, take good care of the septic system regularly. Check the pump and dispose of the waste from your septic system once every three to five years. Additionally, be careful with the cleaning liquids that you use. Avoid using bleach, and drain cleaners that can damage the tank itself.
Q.
What else does a home warranty cover?
A.
A home warranty covers the costs of repair and replacement of your major home systems and appliances, such as air conditioner, refrigerator, plumbing, electrical, etc. If any of your covered items break down due to normal wear and tear, the company will bear its expenses up to a certain limit.
Q.
What happens when a septic tank backs up?
A.
You may experience any of the following situations if your septic tank backs up:
Strange odor from toilet or drains
Slow draining toilets
Wet spots near your property or in your lawn