Why Your Dishwasher Is Not Draining?
PUBLISHED: February 12, 2020
•
3 MINS READ
The whole point of a dishwasher is to avoid getting your hands dirty and let the machine do its job. When your dishwasher is not draining it can cause a lot of trouble, as the dishes in the kitchen pile up. 
What you need to do is stay calm and not worry; every problem has a solution. Let's kill the suspense and dwell right into understanding the various reasons why your dishwasher is not draining.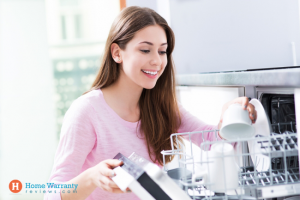 No Water In Your Pump Seal 
If there is no water in your pump seal, your dishwasher will not drain. You need to make sure there is a little water at the bottom of your pump seal for it to stay moist and run effectively. Maintaining and having regular checkups for your pump seal is also a good idea.
Dishwasher Door Not Closed
If you have not closed your dishwasher door properly, It can be a problem as your dishwasher won't drain. All you need to do is check if the door is closed and latched properly for it to function properly. 
Cycle Not Complete
If there is an interruption in your dishwasher cycle, it will not drain. To fix this, what you need to do is press the drain button or reset button on your dishwasher. This will make sure the draining process is complete as soon as possible.
Problem With the Electricals
Every dishwasher has an electrical outlet. You need to make sure your dishwasher is plugged into the electrical outlet. At times there could be a loose connection or the power source could be switched off. Make sure your power source is switched on when you are running your dishwasher. 
Issue With Your Garbage Disposal and Drain 
Your dishwasher will not function properly if the garbage disposal or the drain has a blockage. Due to this accumulation, of standing water in the dishwasher can take place To fix this, what you need to do is get a handyman or technician to check your garbage disposal and drain it to check for any possible blockages. If you are not too keen on getting a handyman or technician, you can check for obstructions by yourself. 
Performing Regular Maintenance is the Key   
Implementing the following will help your dishwasher last longer and drain better:
Use soapy water which is hot to clean the filters and the trap. The filters and the trap are located at the bottom of your dishwasher

Use a wire brush to clean the spray armhole. Also, make sure to remove the debris that has collected over time

Make sure the drain hose clamps are attached to your dishwasher, and this will ensure your dishwasher drains properly

If you find any leaks in your door seal, call a technician right away 
Closing Thoughts
For optimal performance of your regular dishwasher maintenance is the key. You could also call in a technician or handyman just in case there is a problem with your dishwasher, and it is not draining.  
If you want to save a lot of money and avoid the headache of calling in a technical or handyman, invest in a home warranty plan. If your dishwasher needs maintenance or needs to be replaced, a home warranty plan does all that for you with minimal expenses. Check out all the top ten home warranty companies, and get your free home warranty quote right away.