Top 5 Home Warranties in Alabama
PUBLISHED: August 1, 2019
•
4 MINS READ
Looking for a one-stop solution to home appliances and systems break-downs? Then you should ensure that you sign up for a home warranty and save on out-of-pocket expenses.
A home warranty not only assures discounted repairs for your appliances but also offers a replacement for non-repairable goods. All you have to do is submit a few details for a free home warranty quote and a company executive will connect with you based on plans and pricing.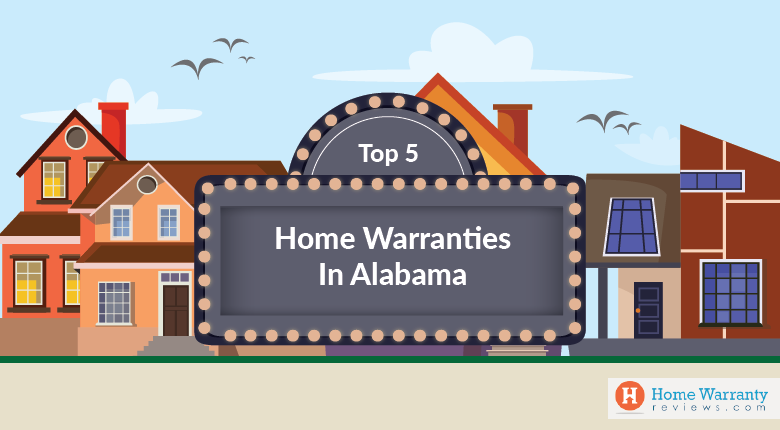 Best Home Warranties in Alabama
If you live in Alabama, then you should definitely check out these top-rated home warranty companies and get your home insured by choosing the best plan. Here are the top 5 home warranty companies:  
This top-rated home warranty company handles over 2.5 million service requests each year. Established in 1971, American Home Shield serves 49 states across the US. AHS home warranty policies have had a high customer renewal rate for the past 20 years.
Offering varied plans to fit every budget, they also promise to take effect within 30 Days with a recall period of 60 days. But, they only accept contractors from within their network to perform service requests. 
With a motto; less worry, less hassle, and lower expenses, The Home Services Club provides a 24/7 online service request system that also ensures completion of the service request during business hours. You should know that the company thrives on completing their work in a time-bound manner.
With the highest customer's rating of 4.9 on 5, HSC has also won several awards for its services provided in 49 states. 
Established in 2008, Choice Home Warranty provides services in 48 states with their knowledgeable, dedicated team network of 25,000 contractors and technicians. You can claim your request 24/7  through an online service call. The contract comes into effect within 30 days. Their recall service period is for 30 days. 
Apart from making the plans affordable to the masses, Choice Home Warranty offers several services in its basic plan. CHW is one of the few companies to also offer coverage for roof leakage and mobile homes. They have been nominated twice for Editor's Choice Award consecutively in 2018 and 2019. 
APHW has been providing services since 1999 and is a one-of-a-kind service that allows you to choose your own contractor.
With a rating of 4.7 on 5, APHW is also awarded as Best Regional Company consecutively in 2017 and 2018. They have an online requesting system and their home warranty plan takes effect within 30 days.  
Select Home Warranty is the only top-rated company to provide a mobile home warranty. They are also regarded as the Best in Service to their customers for a few years now. Select Home Warranty is reviewed as top-notch by its customers in terms of their high-quality services and reliability. 
Select Home Warranty is the winner of the Annual Home Warranty Awards consecutively for the past 3 years and promises to rectify the appliance within 30 days. 
Final Verdict 
A home warranty will ensure that you save your time, money and enjoy peace of mind. But before you go ahead with buying a home warranty plan, you need to do a lot of research and read through the reviews.
The good news is that on HomeWarrantyReviews, you can compare over 80 companies and read through over 77,000 unique reviews written by customers like you. Additionally, you can look through our knowledge base of articles, news and much more. We even have several free tools that will help ensure that you make a wise decision.
Check all the details and read the contract on home warranty companies, plans, and pricing before signing a contract. Get your free home warranty quote to ensure that you start the ball rolling. Once you get a home warranty, you can renew it monthly or yearly and all you have to pay for is the service call fee and the home warranty company will take care of the rest.