Why Should You Consider Buying A Home Warranty In Michigan?
PUBLISHED: June 24, 2020
•
4 MINS READ
Whether you live in Detroit, Lansing, Ann Arbor, Bay City, or Grand Rapids, you are in for a great experience if you are thinking of buying a new home. The state offers exquisite properties, and depending on your location, price, and budget, you could opt for a ranch, bungalow, or colonial home. Once you have bought your new asset, an important aspect all new homeowners must look into is system and appliance maintenance. To protect the expensive devices in your new settlement, you should consider getting a home warranty when buying a home in Michigan.
Owing to the fact that properties are quite expensive in the state, a home warranty plan can be a real boon helping save thousands of dollars in the long run. Plus, new homeowners receive a lot of other advantages with home warranties.
This post will guide you through the benefits of home warranties for new homeowners in the State of the Great Lakes.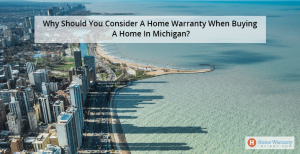 Pro's of Home Warranties for New Homeowners in Michigan
There are several advantages that home warranties provide to new homeowners. Let's take a look at some of them.
1. Affordability
Home warranties are remarkably cheap, and all customers need to pay are premiums and a service call fee. Generally, the premium amount is between $300-$700, which should be paid monthly or annually (depending on your contract). A deductible or service call fee will be charged each time a technician comes in to repair or replace your device.
This amount ranges between $50-$125, depending on the company. The premium amount may also vary depending on the plan and company you choose but usually does not exceed the amount mentioned.
2. Superior Technicians
Home warranty companies in Michigan have large contractor networks that make sure top class technicians are assigned to fix or replace your devices. These technicians are well-versed in the different intricacies of systems and appliances.
They come with years of experience and have access to the best tools available in the market. New homeowners should rest assured that a thorough and complete job gets done on any device you file a claim for.
3. Cancel Your Policy Anytime
You can cancel your package if you are not happy with the service offered. You may also receive a full refund if you cancel the policy within 30-days of the purchase date, though the compensation varies from company to company as per their contracts. A pro tip for new homeowners is that they should always make sure to read their agreement to know the exact details in the policy.
4. Pick and Choose Your Coverage
Another vital advantage that warranty companies in Michigan offer is the option to only include the devices that you deem worthy of coverage in your new home. This is a great way to save money and put it to good use on something you require for your new home.
5. Customer Support
Many home warranty companies offer customer care that is available 24/7. Customer support takes care of troubles that you are facing when it comes to repairing or replacing your devices, such as scheduling service visits, follow-ups, etc. This makes it extremely easy for you to get your problems solved.
Other Reasons Why Home Warranties are Needed for New Homeowners
There are a couple of other reasons why new homeowners should also consider a home warranty. We've listed them right here.
1. Weather
The temperature in the state can go below zero in the winter. Your HVAC and microwave are the only devices that can help you get through the harsh climate in the colder months of the year.
With a home warranty plan, you know that these devices will be repaired or replaced ASAP. Not only will you save a lot of money in the process, but will also be assured of guaranteed service.
2. Cost of Living is High
It is a known fact that household items can get expensive in Michigan. But if you buy a home warranty when buying a home in Michigan, you are saving a lot of money in the long run. Depending on your needs, you can put that saved money on something you deem necessary for your new home.
Conclusion
Some of the top home warranty companies in Michigan are American Home Shield, Choice Home Warranty, The Home Service Club, and ServicePlus Home Warranty. Make sure to compare what these companies offer in terms of premiums, deductibles, contractor network, and coverage before choosing the ideal company to protect your devices.