Why Should You Consider A Home Warranty When Buying A Home In Nevada?
PUBLISHED: June 24, 2020
•
4 MINS READ
New homes in Nevada are exciting prospects for people looking to shift into contemporary properties. According to your requirements, you could opt for a ranch, Italian villa, multi-story home, or Spanish-style home that is typical to the state's architecture. To protect the important devices in your new property, you should also consider buying a home warranty for your home.
Home warranties are policies that protect all your essential systems and appliances when they get damaged due to normal wear and tear. They are especially important for new home buyers considering that they don't burn a deep hole in your pocket. Plus home warranties only send trained technicians to repair or replace vital devices in your new home, which makes the whole experience hassle-free.
This post will dig deeper and help you understand the importance of home warranties when buying a home in Nevada.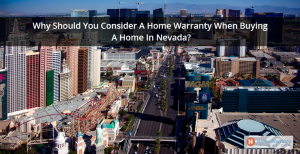 Top Reasons Why You Should Buy a Home Warranty
Home warranties will help keep your mind at peace and also provide a convenient experience. These are essential attributes that one needs in the exciting time of new homeownership.
1. Reduce Your Repair Costs After a Big Purchase
If the new home you move into has a lot of older devices, they will need repairing or replacements soon. With home warranty policies, you can save a lot of money on fixing these systems and appliances.
Home warranties are not at all expensive, and the amount you pay for a single device to get serviced or replaced is relatively cheaper than fixing devices without a warranty.
2. Weather Conditions
The hot weather in the state means your air conditioner is subject to a hard grind in the summers. This can cause it to start malfunctioning due to normal wear and tear. A home warranty protects this device and a lot of other systems under a single plan.
Home warranty companies send experienced, and well-trained technicians to take care of your devices.
3. The Best Companies Operate In The State
Some of the best home warranties in Nevada are American Home Shield, Choice Home Warranty, and The Home Service Club. With these companies' functioning, you are sure to receive top-notch service regarding all aspects of your warranty.
But before going ahead with the services of any of these companies, always compare their premium, deductibles, contractor network, and coverage offered.
4. Discounts Throughout The Year
Home warranty companies in Nevada also provide discounts at different times of the year. You can get a discount where the first month of coverage is free, or you could save a particular amount on a specific plan. These discounts save you a lot of money, which in turn helps you invest in something essential for your new home.
5. Don't Like the Policy or Service? Cancel It
If you are not happy with the service you are receiving, you can cancel the policy and get a refund. Make sure to read the fine print of your contract to know how much you ought to receive. You can also transfer your policy to someone else if you plan to move.
6. Different Plans According To Different Home's Needs
Every new homeowner may have a different requirement as per their needs. This is why home warranty companies have come up with different plans. You could opt for a systems plan if you want coverage only for these devices. If you would like something much more comprehensive, you could choose a complete protection plan.
7. Option To Add Items
If your new home consists of a pool, spa, well pump, sump pump, etc., you could choose to protect these systems and appliances also. These units come under the add-on coverage that warranty companies provide. Though you should know you will be charged an extra amount for the add-on coverage.
The Final Word
New homeowners should buy only a homebuyer's home warranty to protect their major devices. These warranties cover your refrigerator, dishwasher, garbage disposal, ceiling fans, washers, dryers, and lots more.
Another important tip is to read reviews concerning other customer's experiences to help you make the right decision. This enables you to understand the quality of services the company provides to a greater extent. You should also know buying a home warranty for your home will be a really important decision for you in the near future.