Must-Know Home Improvement Trends
PUBLISHED: January 18, 2018
•
6 MINS READ
Looking to make a few home improvements that would set your home apart from the rest? With a little planning and execution, you could adopt a few of these home improvement trends and live in style. Not only does this help in improving the aesthetics of your home, but in the long run, this can increase the value of your home. If done right with a little home improvement tricks, your home would look brand new!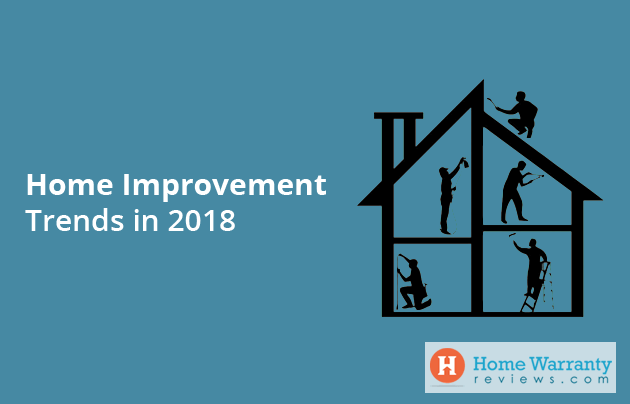 These tips are sure to help you make your home look stylish, chic, and improves the resale value of your home. This makes it important to determine if you need to take drastic steps of make minute changes that can be done on your own. A few Do-It-Yourself kits can make this work in your favor. Follow these home improvement trends and give your home a makeover.
Before A Major Home Makeover
Select Home Improvements With the Most Value
Just imagine you won the lottery and you could make home improvements. What would you choose to do? There are probably a ton of changes that you would have in mind from changing the hardwood floors to building a new bathroom. There are a ton of home improvements that are more likely to increase your home's value than others. Don't think of it as an investment but as funds to improve your funds. But it would be great to find out if your project has a great return on investment.
Work on Quick Projects in a Timely Manner
If winter is on its way then you should consider completing projects before it sets in or start the project in another season. Some home improvements are more important than others and should be done in stages as working on one may be counter-productive on the others. This can help in saving you money on projects that need to be tended to. There are times that a can be fixed in ten minutes and these simple changes can boost your living space.
Should You Go With DIY?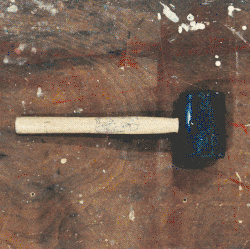 You should know your limits when it comes to working with Do-It-Yourself items. Whether you have enough material that is well stocked or all the tools at your disposal you should know whether it is worth your while.
Improve Your Home Improvement Skills
Whether it is a big or small project, you should learn home repair and improvement skills. You can learn these skills in time by volunteering at villa projects or free clinics. Also turn to reading resources and ask home improvement experts.
Find Inspiration in Other Home Projects
Take to Pinterest, Houzz, Zillow, and Diggs like a fish to water to learn about different projects, cost estimates, and contractors. You can also do this by binge-watching home improvement series on television.
Use the Right Tools
Most home improvements cannot be done with your bare hands. You should equip your toolbox for all minor and major repairs. Your smartphone could be your friend and the best DIY tool among all in your kit.
Find Ways to Finance Your Dreams
When it comes to home improvements, it comes with a price tag. If you cannot finance the entire project then you should find other ways to finance it from bank loans or borrowing from friends. Leaving your project hanging can cost you considerably. You should also find out about the tax breaks you get for home improvements and how you can recover some money back from the project. In the same manner, you can pay private mortgage insurance, make home improvements that increase the value of your home, and can eliminate costs. Though you cannot raise funds this way it can reduce housing expenses altogether.
Determine the Best Contractor
When you go about your home repairs and improvement, you should consider only the best in the business. This means that you should choose a responsible handyman and contractor for the job. Also, this will ensure that you will not be scammed for bad work that would cost you a lot of money. This means that you should ask for recommendations and do your homework. Review complaints on contractors online and meet contractors. Get quotations and check with references to determine if they are suitable for the job.
Find Ways to Save Money
If you can save money on one project then you can allocate those funds to remodel others. This will make you accountable and as the days move on it would be wise to be smart with money. In the closing stages, this could be handy in the event of damage or unforeseen costs. Items like bath fittings, faucets can be replaced as you save on flooring tiles and other unnecessary changes.
Stick to the Plan
You should make sure you have a plan in place before you start your home improvements. This would mean that all details big and small are covered. From the cost, time, materials and design, you should have an idea as to what would be covered. This will give you an idea about the costs on actuals and how you can divide your funds towards the successful completion of the project so that you do not overshoot on some expenses and have to lose out on making further changes. A mock-up 3D model can be conceptualized and help you visualize the changes moving forward without giving you unwarranted surprises.
21 Home Improvement Trends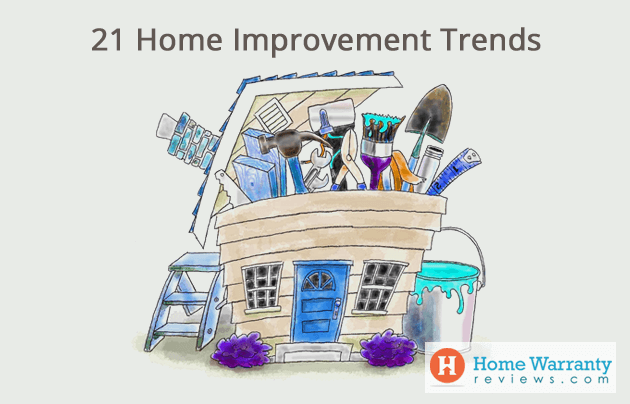 Looking to catch up on the latest home improvement trends? Here's a list of modern choices that will help you reap the benefits of a home of a higher value and enjoy the benefits of a swanky new home. The best part is that you can pay towards these home improvements, get tax cuts and gain on selling your home in the near future.
Bright Colored Kitchens
Wouldn't it be great to walk into a room that resonates energy? From bright colored cabinets, fixtures, and appliances, it will make your home a stark contrast from anything ordinary. This gives homeowners the personal touch and helps restrict boundaries that are usually created with unconventional patterns, colors, and design. Earlier designs and colors were limited to muted grays and whites. Experts suggest that you should add a touch of bright and cheery hues to update your kitchen.
Connected Home
With Smart homes becoming a reality, you should not be left behind and keep up with technology trends. This means that you should upgrade to better safety and review if everything is secure with your smart device. Home automation is a trend fast catching on with homeowners across the country. It is now accessible and affordable for all homeowners. Additionally, you can connect voice-activated devices like the Amazon Alexa that allow homeowners to give out commands when to dim the lights or play one of your favorite songs from Spotify or Youtube. With these gadgets, you are sure to have a lower electric bill with every passing month.
Marble Sets The Tone
Marble has made a comeback in the market today with a lot of people looking to add them as countertops and replace hall, bedroom, shower interiors and powder rooms with shining marble floors. The best part is marble adds a touch of finesse with a touch of class and timeless beauty to your redesign.
Matte Appliances
Look for a bold look with matte finish appliances that are simply not in your face. This is the perfect mix of old meets new with a subtle but noticeable touch that will catch your eye with its minimalist style. If you are looking for a more modern muted look then matte appliances are the way to go.
Mudrooms with a Difference
Mudrooms are great for adding storage and shelving space in this mudroom and they are getting popular. Why is this a great option? This is because building these mud cubicles is great to add coat racks to store outerwear without having to work if you have enough space elsewhere indoors.
Cerused Wood
Cerused wood shows you great texture and finishes in the unique grain of the wood. This is making a comeback after over five hundred years. This is a high-end trend that has come about in the last few years and you will find this finish on chairs, cabinets, and tables.
Brass Accents
Anything metal in brass as this shiny metal is making a major comeback. This is one of those metals that can add a zing to any dull room and this works well with mirrors, fixtures or even something like brass legs.

Broader Hallways and Doorways
Since there are a lot of people growing older each year, there is a need to have practical solutions for seniors. One way to help them is to widen doors and hallways to accommodate their scooters and wheelchairs. You can also opt for pocket doors for those that choose to age in place or a swinging door.

Open Kitchen Shelves
Why hide your dish collection when you can you can show it all off on open kitchen shelves. The open-shelf home design is sure to increase your storage space and solve those storage problems. All items that are large and bulky would not be a problem plus it's the perfect storage solution for a modern and rustic kitchen.
White Flooring
If you come to think of it, it could be really hard to maintain white flooring but it's all the rage in 2018. So when it comes to bathrooms, kitchens, and wood flooring, think white in all living areas! It is great as it brightens up even the darkest corners of the house and matches with all color combos.

Smart Lighting Controls
There are several automatic controls that have come into the market and one of the biggest includes lighting. Smart lighting control systems help you save energy and lighting need different power consumption based on intensity based on the year, user, and time of day.
Roof Deck
Residential homes have distinctive roof decks like apartments and they are becoming a hot amenity for most homes. This is because they are similar to a traditional deck or a backyard patio by simply adding chairs, table, and an umbrella with a view to die for.
Tankless Water Heaters
Most homeowners look to save on energy and money and what better way than to switch over to a tankless water heater that provides hot water only when needed. This would be done at a rate of 2 to 5 gallon a minute and this can be done through gas-fired or electric models. They are smaller than the traditional water heaters and is perfect if space is an issue.
Rustic Bathrooms
Sometimes a little rustic look is great and among the major trends in 2018. From old claw-foot tub, well-placed rustic accents or a shiplap wall, you can blend modern with this look and it is turning heads over the last few years.
Additions and Alterations
There are several people that choose to stay in their homes, homeowners need to look at major additions to their homes like creating a dream kitchen or accommodating a larger family.

Water Colors
Water-inspired hues will be go-to paint colors, especially for bathrooms and kitchens. And think turquoise which pairs well with both white and wood accents.
Repurposed Items
Refurbishing furniture and making the most of old items have been hot all these years. In 2018, home trends look at new ways of trying to use a child's LEGO table or making a wheelbarrow into a comfortable chair.
Textured, Patterned Wallcoverings
Look for a fresh look, whether its patterned wallpaper or a large 3D artwork with textured and patterned walls. Choose things like abstract patterns, large floral designs or paisley to make a statement.
Over-sized Furniture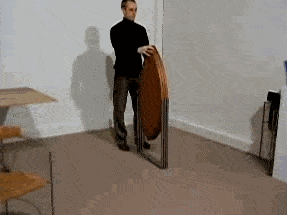 Make the change and swap your casual furniture for some over-sized sofas and chairs that make its way to the living room. Similarly, you can choose large, open living areas, make over-sized pieces whether it's old or not it should help fill space.
Black Walls
Choose deep colors as you decorate your designer walls. Try black flames and make combinations with black and indigo to mix things up. You can also try versatile colors like accent walls, cabinets, doors or ceilings.
Add Some Greens
Lastly, do not forget to add houseplants as they never seem to go out of style and add a ton of value to your home. Plants are ideal when you want to design your home on a budget and you need to add splashes of color. Add colorful plants to a window or hang flowering pots.
Home Improvement and HomeWarrantyReviews
Home improvement trends is all about keeping up with the times and ensuring that you make the most of modern developments and see the value of your home improving. This makes you wonder why you didn't do some renovation earlier but there's no need to worry as it's a given that change is inevitable. Change is good and you would enjoy this all-the-more with tax breaks and if you look out for large discounts. If you want to receive constant updates on the topic, here are some of the best home improvement trends blogs for you to follow.
HomeWarrantyReviews.com has been informing its readers about all that they need to know about a home for the past 11 years. This includes the latest trends in homes, home maintenance tips, guides on home warranty, information and reviews about home warranty companies, the top realtors in the real estate market, and a lot more. You can find this information under articles. We also have created a few tools like the home maintenance calculator to help homeowners calculate whether or not they require a home warranty for their home and the mortgage calculator to help home buyers choose the best mortgage available out there.