22 Tips to Safeguard Your Home from Intrusion
PUBLISHED: December 12, 2017
•
6 MINS READ
In the United States, there are burglaries that happen every 15 seconds. What's more worrying is that 73 percent of all these robberies are done on residential properties. 
This is quite worrying given the fact that there are so many neighborhoods where security systems and personnel are deployed around the clock. To ensure that your home is free from threats, you must register with the local law enforcement agency and tie up with the neighborhood watch if required.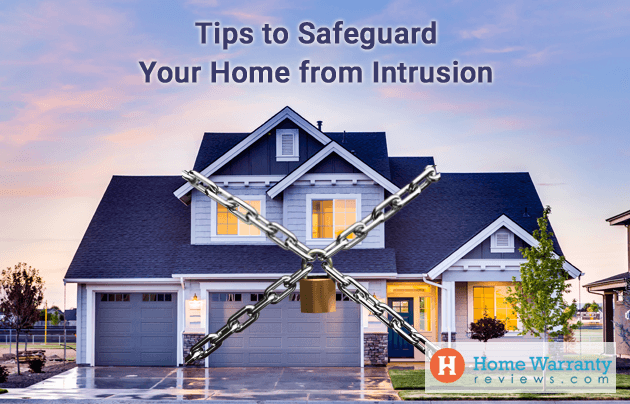 The FBI has also stated that the majority of these burglaries happen during the day which is most likely when you are at work. 
Another frightening statistic is that 33 percent of burglars choose to enter via the front door. Also, a typical homeowner is said to lose at least nearly $2,000 in stolen goods or in terms of damage to property.
You should understand that home safety should be your top priority before you move into a house. Therefore you should take several steps to ensure that you secure your new home. To outline this, we have suggested methods to protect your house from outside and indoors as well.
This will ensure that you are completely secure and well guarded. Here are tips to safeguard your home from intrusion and outside threats:
Safeguarding Your Home From the Outside
1. Look out for potential places of weakness
Take a walk all around the exterior of your home and check for any points of entry. Here you can be the best judge and figure out if a window can be pulled open, a portion of the wall seems weak and can be broken into. Additionally, you can check with your local law enforcement to keep a watch on your area and your home in particular. Once you figure out which regions are vulnerable then you should take note and figure out if there are expensive electronics, furniture or art that can be easily seen through windows. This way you can make small adjustments and ensure that you do not tempt thieves in the process.

2. Add shrubs at entrances and trim walkways
By keeping your shrubs and walkways well kept, you can ensure that thieves find it hard to hide. This will help eliminate hiding spots. If they need just a few minutes to break in and out of your home, then this would be tough if you put them at a disadvantage. Most of them are less likely to try. Also, you can plant thorny shrubs at your windows so that it will make it difficult to break in.
3. Put up a fence
In case you do not have one already then you should have a fence in place to keep unwanted visitors away from your property. Use an open chain link or an ornamental metal fencing that is secured in concrete. Unlike solid fences that are easy to climb, these can be quite tricky. But homeowners put these up for privacy and noise reduction. Similarly, you can secure your house with fences with pointed tops or by adding rough barbed wire fencing.
4. Keep expensive items in the garage
At times you may feel that it is a hassle to pull out the grill every time or to simply leave your cycles outdoors. This could tempt a lot of thieves into the neighborhood and by leaving them outside makes them easy targets. Here you are leaving it to them to simply take away and if these items have wheels then it's as good as gone. Make sure you lock the doors of your car and park it in a well-lit area and a car alarm would be handy here.
5. Fix curtains on basement and garage windows
In most cases, these areas would not require sunlight and therefore by adding blinds or curtains, you can have a certain degree of protection. You should also stow away outdoor valuables when it needs to be kept safe.
6. Add motion sensor lighting all around your home
The idea behind motion sensor lighting is to stun thieves and to catch them out before they enter the doors or windows. This can be done by adding motion detectors at entrances or dark corners around your home. Also, if you live in an apartment then you should install sufficient lighting in all halls and walkways.

7. Meet the neighbors
There is a higher chance that crime is lower in tight-knit neighborhoods as people tend to look out for each other. Neighbors are one of your best assets if you reach out to them. They help in crime prevention as they are usually an extra set of eyes in the matter. Similarly, if you have a different school or work schedule they could be around when you are at work and let you know of any suspicious activity that they notice when you are not around.
8. Clear your yard
Make sure that you do not litter your yard with toys or tools or even a ladder. Toys could send out the wrong message that there are several game consoles, laptops or tablets that could be robbed. If you leave a toolbox or ladder, then you are giving the thieves a great opportunity to gain access to your home.
9. Increase lighting on your streets
You should connect with your neighborhood and request them to increase lighting on your street. Most thieves prefer to have a go at something in the dark of night. In case your area is well-lit then the chances of this happening would decrease as it would be difficult for them to slip away undetected.
10. Prune trees
In order to ensure that a crook does not scale a tree and enter your home, you should cut trees and branches that are long that give them access. By cutting the branches, you can prevent a burglar from breaking into houses above the ground.
11. Start a neighborhood watch
Get to know your neighbors better and create awareness and drive a steady association to ward off crime in your area. By speaking to the police department on giving your group a lecture and insight on the problem you can help identify suspicious people. This will help you recognize a burglary in progress and what to do in an emergency. With your local police department, you can be recognized, given free literature on home safety and given window stickers and ID cards.

12. Clean up the neighborhood
Work with an association or the neighborhood to clean up the areas around your home. This will send a message to criminals that you care about your neighborhood. In the process, it will make your location less viable to conduct a robbery. In contrast, you can connect with a local body to assist with the clean-up. In time you can bond with your neighbors and make it a lovely place to live in.
13. Lock all fences, garage doors and gates
You should invest in a padlock for all entrances, even if you lock it at night. Even if there are a number of friends and family that visit, you should make sure that it's locked and only open it when they are visiting. Make sure that your garage door is not left open when you are away or outside.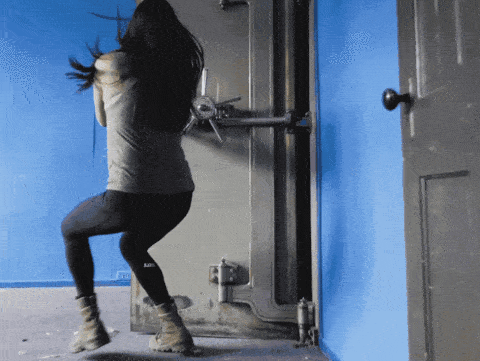 14. Add large reflective numbers on your house
By doing this, you make it easier for the police to identify your home in case of an emergency. Most burglars look for dark houses and places that cannot be easily identified. This can buy them crucial moments so that they are not caught.
15. Protect your car
Ensure that your car is parked in a well-lit street and that you bring all your valuables inside. These include your cell phone, purse, satellite radio, GPS devices. Do not leave anything of value in plain sight and definitely not in an unlocked car. Also, remember not to leave a spare key in the visor or anywhere else inside especially if the car is locked.
Safeguarding Your Home from the Inside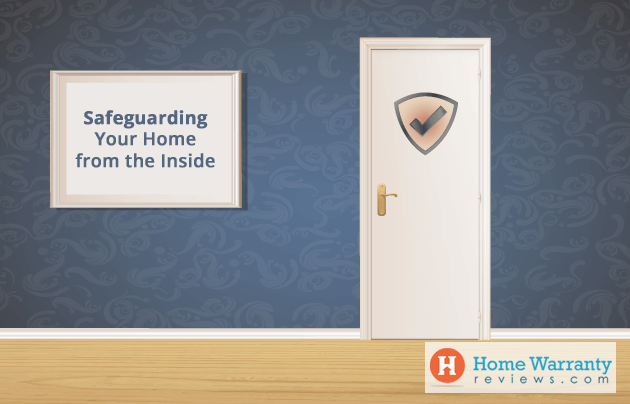 1. Lock Doors and Windows
It is quite easy for burglars to enter your home if doors and windows are not properly secured. Make sure all the doors and windows are secured with strong locks so that they cannot force it open easily. Also, you can use deadbolts to lock down exterior doors. Get vertical bolts for sliding doors and this can be done with a metal or wooden rod in the track to stop these doors from being forced open. Remember not to leave your home without locking the front door even if you are going out for a brief trip. Whether it is raining or a simple drizzle, you should not forget to lock up before venturing out. Remember the door on the side of the garage should be locked shut. You should not always depend on your automatic garage doors for full security.

2. Change the locks on your new home
Check with the landlord if the locks are changed or just do them if you have not already. Just remember that even if a tenant gave you all the keys that were originally made there is no way of determining if copies were made. The best thing to do in this situation is to change locks so that no stranger can walk into your home.
3. Store all valuables in safes
Some people have small and not mounted safes, then you should have it bolted to the floor as there are many burglars that would take it. Ensure that you give your passcode to only trusted loved ones in case of an emergency and do not leave it anywhere in a written format that it can be accessed by an intruder in the home.
4. Never label keys
Do not mark or label your personal keys as when they get lost or robbed it could be quite worrisome if they have a wallet with your ID and address. Thieves check under mats and in gravel for fake rocks to look for hidden keys. It would be better to leave your keys with a trusted neighbor. In rural areas, you should opt for a combination lockbox in a secure area of your property to ensure that it is safe.
5. Fix privacy film to glass and doors
All glass displays which are stained and decorative glasses should be lined with a privacy film. Though they may seem to add beauty to your entrance, it can be a security issue. With a privacy film, it would distort the view of your house from outside and reduce the chances of alerting unwanted thieves. This is beneficial especially for people that live alone or in a house with just children that cannot be left alone.
6. Buy a security system
This is one of the most secure devices in your home. There many features from an outdoor motion detector, exterior door sensors that can be attached to doors and windows. The best part of outdoor alarms is that it can alert neighbors about an intrusion and the security can stream real-time video clips. A lot of burglars would not be aware that you have fixed a security system in place and so you should display a window sticker to deter them. Learn about the security system and inform your family about the features and how to work the system in case of a false alarm.
7. Reinforce Windows
Burglars spend no time to break through glasses of windows to gain entry. This makes it a must to add safety glass or metal to make it impossible for them to break through and get through the metal bars. You can get aesthetically decorative metal grills in case you are not pleased with the idea. But it is better to be safe than sorry so this installation is a must to keep you and your family well protected and secure.
These tips can go a long way in protecting your household and keeping everyone at home safe and secure. These steps are tried and tested methods from some of the best protection agencies and this will help you keep intrusion to a minimum. By ensuring that you follow as many of these tips as possible, you will keep your mind at ease. 
Make sure that you take measures to not tempt anyone on the streets that could pose a threat to you and your family in the near future. Also, if you need to keep your home well maintained and your systems checked, then you should get a home warranty with a top rated home warranty company. This will help you get the best home warranty plan after you request for a home warranty quote and sign up for a home warranty with a company of your choice.