5 Ways To Cut Kitchen Clutter
PUBLISHED: January 27, 2016
•
4 MINS READ
Nobody likes a cluttered kitchen because there is nothing more unappealing than it. Given how busy everyone gets these days, it is not a surprise that we found ourselves writing this article because, trust us, people are actually looking up ways to declutter their kitchens in the shortest time span possible.
We did some research and we found out that a cluttered kitchen is not only unappealing, it is also unhygienic. God knows how many germs that ignored, uncleaned corner of your kitchen is harboring.
Before you begin, try to harden yourself so that you don't feel guilty about the things you are going to discard. Or the money (and time) you may have to spend so that future clutter is avoided.
So, let's begin!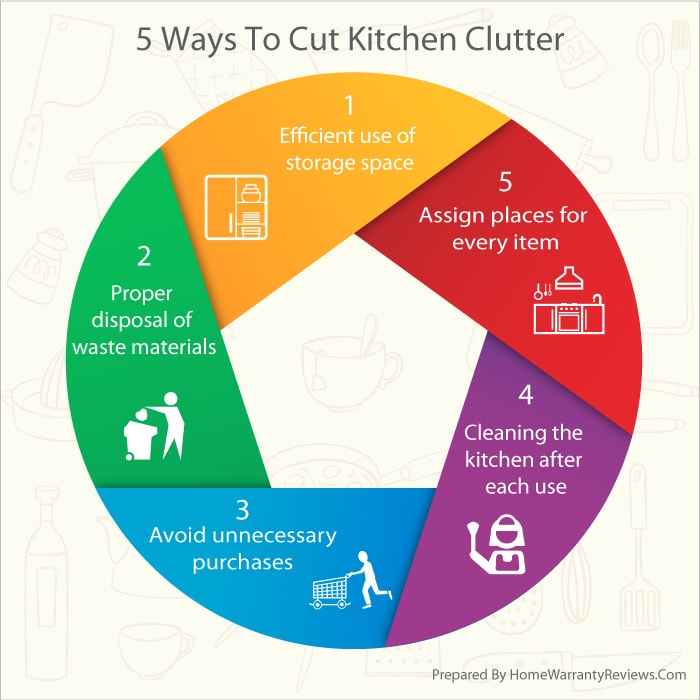 Step 1 – Efficient use of storage space
Not all kitchens are loaded with cabinets and storage spaces, so make the best use of what you have. If you do not have much, make it a point to reduce the number of things you have in your kitchen.
Efficient use does not mean cram everything into the space that you have such that you'll need to move a hundred things before you get your hands on what you need. Neatly arrange everything category wise in your cabinets. Keep the perishable and non-perishable items separate. You may also want to invest in racks or brackets that can be mounted on the walls, if you don't have enough storage space. They are much cheaper than installing more cabinets or drawers.
Step 2 – Proper disposal of waste and unwanted materials
Sometimes, one disposal bin may not be enough for a home that houses a family of 2+. Ideally, have two large bins, one for organic waste and one for everything else. Scan your kitchen and chuck everything that is unnecessary or starting to rot. That applies to expired packed goods too. Dispose old cleaning sponges and washcloths if they look dirty.
Also, try to keep your garbage bins away from the stove/part of the kitchen where you cook or store food.
Step 3 – Shopping smart and avoiding unnecessary purchases
Half the clutter in your kitchen is probably from bulk deals you jumped up at and never paid attention to later. Even if something is on an unbelievably awesome sale, don't buy it unless you are 100% sure that you cannot avoid buying it.
If you are a victim of bulk purchasing syndrome, you may want to scan your kitchen once again and chuck out some things. Trust us, the amount of space you'll end up freeing is enormous!
Step  4 – Cleaning the kitchen before and after each cooking session
Setting aside the task of cleaning will only make you dread it more and increase your chances of putting that task away further. Make it a point to clean your kitchen or arrange your counters before you begin cooking. Once you are done preparing a meal, there is a good chance that everything will become messy or unclean. So repeat the cleaning routine unless your kitchen is spotless.
This step alone can help you save a lot of time clearing accumulated clutter in the future.
Step 5 – Assign a place for everything
If you are the kind of person who crams everything into the first available spot, you'll end up with a very chaotic, disorganized kitchen over time. If your kitchen is already like that, you may want to take everything out and rearrange them back into shelves.
Assign places for everything. Spices together, containers and vessels together, and so on. You may also want to label everything so that it will be easier to find them as and when the need arises.
Do Not Skip De-cluttering
If you found the process tedious, you may be wondering if you could put it away for some other time. We strongly discourage this. The earlier you get it over with, the better you will feel. It may seem difficult at first but if you put on some music and get yourself to start the task, you'll find that it's not that hard.
Once you are done, spray some lemon juice or your favorite essential oil to make your kitchen smell heavenly. We recommend that you avoid room fresheners and chemical fragrances as kitchen is a bad place for them.
If you are a lazy homeowner and if your home is more than four years old, you may want to consider getting a Home Warranty plan to protect your appliances and budget.  While you are at it, we would also recommend that you go through some awesome home maintenance write-ups for some added info. Thanks for reading!