Do Home Warranties Cover HVACs?
PUBLISHED: May 12, 2019
•
5 MINS READ
There is a need to stay cool this summer and if your air-conditioner units stop working then it would be due for repairs. It could be worse, you might have to buy another air-conditioner and this could prove expensive. If you do not have a home warranty then it can be unfortunate as this would cost you several hundreds in repair or several thousands of dollars in replacement cost. But do home warranties cover HVACs?
The answer is Yes. It covers repair or replacement of the HVAC or air-conditioner parts and units.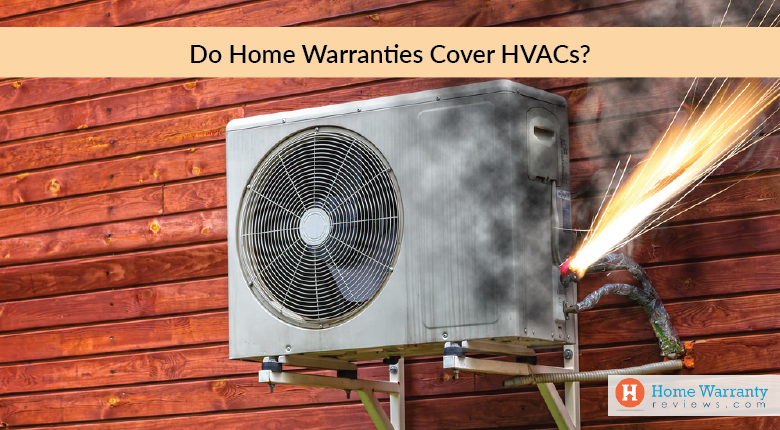 Typically, HVAC systems are covered by home warranties and are included in the basic plan. If not, then you can add it to your contract. This is especially important in the summer months.
HVAC Repair and Replacement Cost
You should know that the costs of repair and replacement can be really high without a home warranty. Homeowners generally spend nearly $500 to repair air-conditioning units, while some can pay upto $1000. When you come to think of it, you would more likely look at a replacement which will cost you anywhere from $4000 to $8000 for a new air conditioner with the installation charges. You can save a ton of money by using a home warranty. And this is just the start, imagine if you have several air-conditioners and if several appliances and systems die at the same time. There are times that your HVAC would also need a freon top-up.
HVAC Repair or Replacement
You can be rest assured that your home warranty contract ensures that all problems relating to your air-conditioner or heater is taken care off. There are trained and licensed technicians that will be sent to do your repairs. This means that any covered appliance and system will be covered. If the repair cannot be done then you will get a similar HVAC for the price of your service call. Usually, you can file claims right through the year at any time. A technician will review the issue and then repair or replace the covered appliance or system. All this is done for a fraction of the cost of repair and replacement. You should also take a look at some of the things that you should and should not do with a HVAC.
HVAC Repair Crisis
If its extremely hot or cold then it can be really tough on your household. This is where home warranties step in and ensure that you have a working HVAC system. You can be certain that you will have a licensed professional come by and sort of the issue within a few minutes.In no time, you will have your HVAC working and you can be at ease.
HVAC Maintenance
HVAC systems work tirelessly to ensure that you live in comfort. At times, you should ensure that it gets the right maintenance in order to keep it running well. You should follow proper maintenance and this would cut down on several repairs.
This way you would not have to see unexpected repairs that could prove expensive. Also, this will ensure that you systems life expectancy increases. Here are some guidelines to ensure that you take care of your HVAC:
HVAC Inspection: You should have a professional inspect your HVAC system. This is because it can prove to be dangerous and cause fires. This is why you should take a look at it at least thrice at different parts of the year.
Change Filters: Ensure that you clean air filters in order to make HVACs more efficient. Remove debris, dirt and bacteria to ensure that your HVAC remains healthy. A dirty air filter will reduce the air flow and put a strain on the system.
Maintain the HVAC: You must use an evaporator coil and duct work to ensure that the dirt is removed. This will make the HVAC work with a lesser strain. You should also clean the evaporator coil and condenser coil from time to time. Make that all debris is removed.
Space for HVAC: Let the HVAC be placed in an area that has clear two feet of space around the outdoor unit. You should remember to remove blockages and keep registers clean.
Energy Efficiency Requirements
When it comes to HVAC systems, they would need to meet the energy requirements. If you have an air-conditioner then it should have a minimum efficiency standard of 13 SEER. A switch from 10 SEER to 13 SEER would increase efficiency by 30%. In simple terms, along with energy efficiency, you would enjoy a cooler home and cheaper bills. All this can be done for the price of a home warranty and the service call.
Do Home Warranties Cover HVACs?
When it comes to a home, heating and air-conditioning are some of the most important elements. This is why you should opt for a plan that offers air-conditioning and heating repairs and replacement. Don't forget to take a look at our HVAC Maintenance Checklist.
With specific plans, you will be totally covered whenever there is an issue. Plus, home warranties cover several appliances and systems apart from the HVAC. This is great for all year round home maintenance and repair. If you need a home warranty, you should start with a Free home warranty quote now!