7 Best Home Appliance Insurance Companies
PUBLISHED: JULY 6, 2021 • 6 MINS READ
It is important to have all of your domestic appliances working properly for your home to run smoothly. Appliances like your refrigerator, dishwasher, and cooktop are indispensable to day-to-day life; however, dealing with their inevitable breakdowns can be quite a hassle, especially if they happen unexpectedly. Let's face it, despite your best efforts and impeccable maintenance, these items do wear out over time.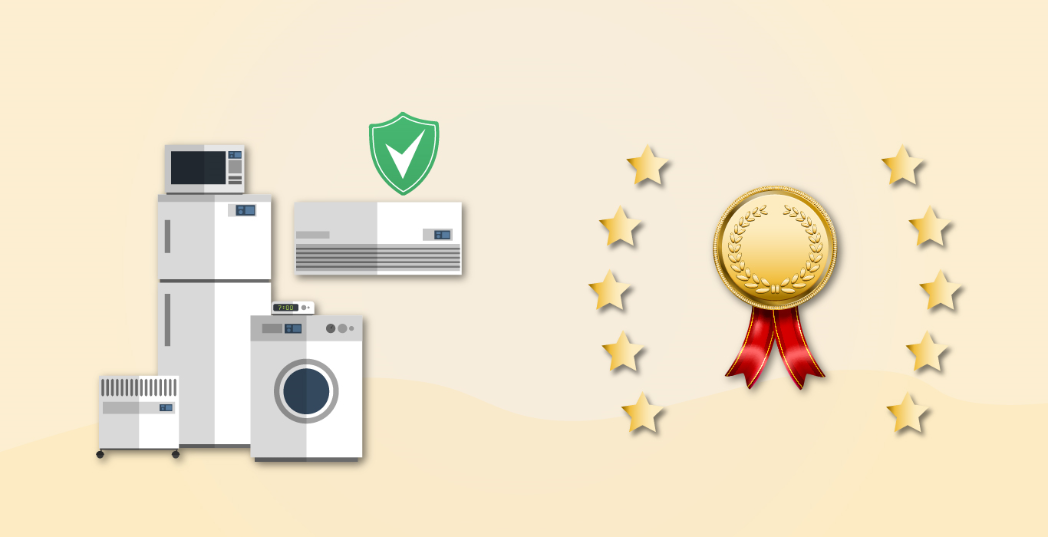 Home appliance insurance or home appliance warranty plans can help you out with this dilemma. Home warranties offer repair and replacement services at affordable prices. They also help you save money and time, and having them in place gives you peace of mind. If you are looking to buy one, we are here to help! In this article, we have listed the top appliance insurance companies in the market, their coverage, prices, limits, and more to help you pick the best.
Best Home Appliance Protection Companies and their Plans
Who Can Benefit From An Appliance Insurance Plan?
Since appliance insurance plans extend protection to household appliances, they can provide a sense of security to their users. The following groups of people may find this service to be quite useful-
Homeowners
No matter how careful you are with your appliances and how well you maintain them, they fall into disrepair eventually. Having an appliance insurance plan in place can save you thousands of dollars in potential repairs or replacement. It assists in the smooth functioning of your home.
Home Sellers
For home sellers, having a home warranty in place will increase the market value of the home. These plans also instill trust in potential buyers about the condition of your home, making them more likely to buy from you. You can get the vulnerable items in your home repaired or replaced at a reduced price, and even sell the plan to your buyer.
Home Buyers
If you are planning to buy a pre-owned home, we reiterate the importance of having a home warranty in place. After such a significant purchase in your life, sparing a thousand dollars or so for an unforeseen repair may not be possible. Buying a protection plan, along with the house, can help you prepare for any sudden breakdowns.
Landlords
As a landlord, you may end up having to take care of repairs in your rental properties. However, getting such repairs done is difficult when you live far away. It can also be hard if you are not familiar with any reliable repair contractors in the surrounding area. A home protection plan can help you circumvent these problems as they generally have vast local contractor networks.
What Does A Home Appliance Warranty Cover?
Home appliance warranties cover the major appliances in your home. However, coverage varies, depending on the company and the plan you choose. A typical appliance warranty plan covers the following –
Refrigerators
Washing Machine
Dishwashers
Garbage Disposal
Microwave
Cooktop
Dryers
Oven
Trash Compactor
Water Dispenser
Apart from these common appliances, home warranty plans cover your home's major systems and several non-critical items as optional add-ons. Check out our guide on home warranty coverage to learn more.
How Much Does A Home Appliance Plan Cost?
The cost of a home appliance plan depends on the company and plan you choose, where you live, size of your dwelling, and other factors. On average, a typical home appliance plan may cost you $30-$60 per month and $400-$700 per year.
You will also have to pay a service fee, which may range from $60-$125 per visit. Some companies offer multiple deductible options that may affect your plan's overall pricing.
How To Choose The Best Appliance Insurance Plan?
It is natural to want to buy the best plan from the best company to serve your home maintenance needs. We know that choosing one company from a selection of many can be difficult. Follow the steps below to make your selection and buying process easier –
Make a list
This first step will help you decide which kind of plan you want to buy. Note down all of your home appliances that are old, vulnerable, and prone to breakdowns. You can also list items whose manufacturers' warranties have expired. This list will come in handy when you are checking out warranty plans.
Research
We recommend educating yourself about the ins and outs of a home warranty – how they work, what they cover, their availability, coverage limits and exclusions, the claims process, and customer service, and more. You can find this information on our website and in sample contracts of various companies.
Next, ask your friends and family about any recommendations they might have. The next obvious step is to check out top companies and their customer reviews. Reviews will help you discern the quality of services that home warranty companies offer.
Compare
Now that you have a pretty good idea of how home appliance insurance works, select a few positively-reviewed companies, and start comparing their plans and services. Note which ones that offer the kind of coverage you want.
Get Free Quotes
The price of a home protection plan is usually the deciding factor when it comes to purchasing it. When we say price, we don't just mean the affordability element, it should also offer a good return on your investment. So choose plans that offer comprehensive coverage at reasonable prices.
Get exact pricing and coverage details by submitting a free quote request.
Does Home Appliance Insurance Have Any Exclusions Or Limitations?
In essence, home appliance insurance plans are service contracts that come with detailed information about their services. All companies specify a set of exclusions and limitations in these contracts. While these service exceptions may differ for each company, there are some common limitations and exclusions followed by most.
Limitations
Although home appliance insurance covers many appliances, it does not mean that this coverage is exhaustive. You should note that some parts of covered items are not eligible for repairs or replacement. You can find the breakdown of covered and uncovered parts in the service agreement or sample contract.
Another important limitation is the extent of the dollar limit. Every company has an upper limit on the amount designated to cover items. If any repair or replacement cost exceeds this limit, you will have to pay the extra amount out of pocket.
Exclusions
Home appliance warranties only cover items that break down due to normal wear and tear. They won't cover items that fall into disrepair due to –
Willful neglect, misuse, or lack of maintenance
Damage caused by accidents, or natural disasters
Missing parts, components, or equipment
Manufacturer defects, improper design, etc.
A thorough reading and understanding of the terms and conditions of your service agreement is necessary to make full use of your home appliance protection plan. If you file a service request without prior knowledge of these clauses, your claim may be denied.
Is Appliance Insurance Worth Buying?
Appliance insurance will definitely offer you peace of mind, since it will keep any worries about a broken appliance to a minimum. You won't have to go to the trouble of finding a reliable repair service or spend excessive amounts of money. The home warranty provider will take care of everything. However, there are drawbacks, like coverage exclusions and limitations. It would be wise to make a decision after taking everything into consideration. If you are still unsure, check our guide to figure out if home warranties are worth it.
FAQs
Q.
What is the best home appliance insurance?
A.
There are many companies in the market that offer extensive coverage for a wide range of appliances at reasonable prices. All of our top picks in this article can offer you comprehensive coverage and quality service. However, we don't believe in a one-size-fits-all approach, and instead encourage you to go for a company that checks all of your requirements. After all, the best home appliance insurance is the one that best suits your needs.
Q.
Are extended warranties a waste of money?
A.
With repair costs increasing across the country, extended warranties may not be a waste of money. The cost of these warranties ranges between $20-$170, and services are offered across the nation. However, consider your needs and budget before purchasing one.
Q.
Where can I buy appliance insurance?
A.
There are numerous ways to purchase a home appliance insurance policy. The most common approach is to place your purchase order on the respective company's website. You can also place quote requests here and wait for a company representative to get in touch with you. This approach may be helpful, as you can get any and all of your concerns addressed directly from the source.
Q.
Will home appliance insurance cover old appliances?
A.
Yes, a home warranty, or home appliance insurance, covers old appliances, provided they are in proper working order at the time of purchase.
Q.
How much will a home warranty charge to repair one appliance?
A.
Home warranty policies cover a group of appliances, as opposed to just one, but they have a coverage cap that can vary from $200-$2000 for each appliance. You can get repair and replacement services by paying an annual or monthly premium. Apart from that, the only payment you will have to make is a trade call fee to the service technician who will visit your home to fix the problem. On the rare occasion a repair cost exceeds the dollar limit amount, you will incur the remaining expenses.
Q.
Can I insure my kitchen appliances?
A.
Yes, you can get coverage for your kitchen appliances through appliance insurance plans.
Q.
Does homeowners insurance cover appliances?
A.
No, homeowners insurance, though often confused with home warranty, does not cover appliances. Home insurance and home warranties mainly differ in the kind of coverage they offer. While home insurance provides protection for the structural aspects of your property, home warranties protect the interior elements of your home. You can learn more about these differences in our Home Warranty vs Home Insurance guide.
Q.
What is the difference between a home warranty and a manufacturer's warranty?
A.
Manufacturer's warranties, or OEM warranties, offer repair, replacement, or service for a specific item or product. These kinds of warranties last for one year from the date of purchase.
Home warranties, on the other hand, come into play after the manufacturer's warranty expires, and cover a range of major appliances and systems in a home. They offer repair and replacement services at budget-friendly prices.
Q.
Do I need a home warranty if I have an extended warranty?
A.
Extended warranties can be purchased after the manufacturer's warranty expires, in a sense, to extend it. They offer repair and replacement services for a product but only for a fixed period of time, typically for one year.
You can get a home warranty, despite having an extended warranty, as the latter only protects one item, whereas the former can protect many vulnerable items.
Q.
Do home warranties cover systems?
A.
Yes, home warranties generally cover both home appliances and systems. Some commonly covered items are plumbing, electrical, and air conditioning and heating systems. Items like garage door openers, water heaters, water dispensers, ceiling and attic fans, etc. are also included in the systems coverage.