Should Your Tenant Pay For Appliance Repairs?
PUBLISHED: July 9, 2020
•
5 MINS READ
Since living in a rented house is temporary, not many Americans buy expensive appliances as they keep moving from one place to another. It is only when an individual owns a house will they buy appliances for their homes. In rented spaces, landlords provide the basic appliances and home systems to tenants. In the course of time, if any of the appliances were to malfunction during the tenure of the tenant, are they liable for the damages? In this post, we will answer your question of "Should your tenant pay for appliance repairs in case of malfunction?"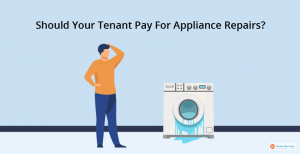 So, Should Your tenant Pay For Appliance Repairs?
Most landlords provide basic amenities and facilities to tenants to make their temporary living quarters habitable. They have to provide heating and air conditioning systems to maintain comfortable temperatures, plumbing systems and water heater facilities to carry on daily activities, bathroom amenities, and the like.
In return, the tenant pays rent to the landlord to use these amenities, appliances, and facilities provided. But regarding damages to these appliances, the tenant is not liable to bear the appliance repairs cost, if they malfunctioned as a result of normal wear and tear.
On the flipside, if the appliances and home systems stopped working due to the negligent behaviour of the tenant regarding regular maintenance of appliances and home systems, then the tenant is fully responsible to bear the cost of appliance repair and services.
Moreover, if the tenant maliciously and willfully destroys any property provided by the landlord like appliances and systems, the tenant is liable to compensate him for the damage intentionally created.
For example, if the tenant neglects to clean the plumbing fixtures and as a result issues have arisen, then he should pay up for the consequent damages that have been incurred. But if the appliance, say a refrigerator, malfunctioned due to age and normal wear and tear, then it is the responsibility of the landlord to look after it.
Sometimes, landlords do not charge rent for the appliances and home systems provided by them to the tenants. In such conditions, the landlords make a clause in the rental agreement stating that since rent is not charged to the tenant for the appliances provided, the tenant is obligated to take responsibility for the appliance repairs that have occurred during his stay.
So, in such cases, read the terms and conditions of the rental agreements before moving into the rental space.
Home Warranty For Appliance Repairs
Repairs costs, no matter who is paying for them, are very expensive and unexpected. It can exert a financial burden on the landlord and extreme inconvenience to the tenant. Landlords usually rent their houses to different individuals over a long period of time.
Overtime, the appliances and home systems would deteriorate due to continuous use, age, and normal wear and tear. As time passes, many of the home devices would start failing, making it extremely difficult for the landlord to bear the mounting expenses.
At times like these, a home warranty for appliance repairs would prove to be extremely beneficial to the homeowner as he can save a lot of money and time as well. The amount of expenses for repairs is comparatively lower with a home warranty at hand than without one.
Long-time landowners can opt for a comprehensive coverage to protect their different aging appliances. Usually, when home devices belonging to a landowner are rented to tenants, the responsibility to purchase a home warranty coverage falls on the landlord and not the tenant.
So, it is the landlord who purchases home warranty coverage for appliance repairs at the rented property and pays monthly premiums and deductibles to continue the validity of the home warranty coverage for the set tenure. Upon the sale of the rented accommodation, he can also transfer the home warranty plan to the new homebuyer.
Whenever a rented appliance gets broken, the landlord can place a claims request and seek home warranty services from his home warranty company. This ensures that no matter how many tenants come and go, the landowner would not face any financial burden when there is an appliance malfunction. Here, if the tenant is paying for the rented appliances, then he is not obligated to pay for the deductible and premiums.
Apart from the benefit of lower expenses, the landlord can also expect high-quality repair work provided by professional technicians, timely delivery of services, supportive customer care system, immediate reimbursement facilities, if required, and friendly service.
Top Home Warranty Companies For Appliance Repairs
Here is a list of some of the best home warranty companies in America. Each company has designed different home warranty plans to cater to varying home warranty needs.
American Home Shield: American Home Shield provides Systems Plan (coverage for 11 critical home systems), Appliances Plan (coverage for 10 essential appliances), and Combo Plan (coverage for 21 appliances and systems).
Choice Home Warranty: Choice Home Warranty provides home warranty converge to homeowners, buyers, sellers, and real estate professionals. Some of the appliances that they provide coverage on are refrigerators, plumbing systems, ceiling fans, etc.
ServicePlus Home Warranty: ServicePlus Home Warranty provides Gold, Platinum, and optional plans. They provide home warranty services irrespective of the make, model or age of your home appliances and systems.
Select Home Warranty: Select Home Warranty offers Gold Care Plan, Bronze Care Plan, and Platinum Care Plan. All three plans provide $100 off and free roof coverage at $99.
Conclusion
To answer your question, "Should your tenant pay for appliance repairs in case of malfunction?", no the tenant need not pay for repair expenses if the appliances malfunctioned due to the normal wear and tear process. But if it was because of regular maintenance negligence, then he is obligated to bear the appliance repair expenses.
Home warranty plans help you to get repair and component replacement services at lower costs. They come in a variety of plans that suit the customers' various requirements. To buy the best home warranty plan, start your search at HomeWarrantyReviews.com.