What Types Of Air Conditioning Units Does A Home Warranty Cover?
PUBLISHED: October 30, 2020
•
6 MINS READ
There are several different types of air conditioning units available in the market today. Some of the most popular units are ducted systems, geothermal units, split systems, portable systems, and electrical wall units. If they get damaged due to normal wear and tear, a home warranty policy is your best bet.  
Home warranty plans offer to repair or replace these systems at affordable rates. Plus, homeowners are assured that trained technicians will come in to get the unit up and running in no time. However, it is important to note that not all units may be covered under home warranty policies. This post will dig deeper and help homeowners understand the different units covered under a home warranty contract.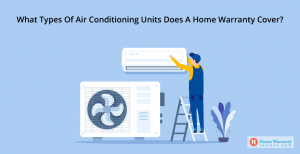 Types of Air Conditioner Units Covered Under A Home Warranty
Numerous home warranty companies operating in the market cover several different types of air conditioning units. Some of the popular types of AC units covered by warranty companies are as follows:
Geothermal units
These systems pick up energy stocked underground to keep your home cool. Since no fuel is getting burnt in the cooling process and no toxic gases get released into the environment, these systems are environmentally friendly.
Ducted systems
The unit treats air at a centrally located spot. Different fans then send the air to various ducts where cooling is required. Larger homes that need uniform air temperature can opt for a ducted unit.  
Wall air conditioners
This AC is designed to cool a single room only. These units are not very expensive and are also easy to maintain for any homeowner.
Mini-split units
The system requires an outdoor compressor and an indoor unit to function smoothly. The mini-split AC is a popular option if you want to switch between temperatures easily and receive optimal results.
Water source air conditioners
The unit needs a very minimal amount of electricity to function. Heat readily available in water is used for this system to operate efficiently. Also, these systems last longer as compared to traditional air conditioning systems.
Note- These are the popular types of air conditioner systems covered by home warranties. Depending on the company you opt for, many more units may be covered under the company's policy. Make sure to read your contract's fine print to know what units are protected and what components of these systems are covered.   
Top Home Warranty Companies Covering Air Conditioner Units
Due to the high demand for air conditioners repairs and replacements, several top home warranty companies protect these units at affordable rates. Check out the best home warranty companies below to know what units do they cover and lots more.
American Home Shield – Covers different types of air conditioner systems under its Systems Plan. The several different air conditioners covered under the company's plans are stated below:
Geothermal units

Wall air conditioning units

Mini-split air conditioners

Ducted air conditioners (electric and split units)
Choice Home Warranty– Homeowners can opt to protect their air conditioners under the company's total plan. CHW will only protect the devices if they match the company's Seer rating guidelines. Check your contract to know the exact figure stated. The units covered under the company's plans are as follows:
Ducted electric central air conditioning

Ducted electric wall air conditioning 
ServicePlus Home Warranty – The company covers air conditioning systems under its Platinum plan option. Air conditioning units up to a capacity of five tons gets covered under the company's policy. The air conditioning system covered by the company is mentioned below:
Ducted electrical air conditioning 
2-10 Home Buyers Warranty– Offers comprehensive coverage for AC units under its plans. The company covers several different types of air conditioning systems that are mentioned below:
Ducted systems (central) 

Geothermal units

Electric wall units (built-in)

Water source units

Evaporative units
How To Choose The Best Warranty Company For Your AC?
Now that you are aware of the top companies covering various air conditioning units, you must also know how to choose the perfect company. Picking the ideal company requires research and understanding of particular requirements in your home. Reading other homeowner's experiences with warranty companies will help you thoroughly analyze their experience and choose the best company of your choice.
On the other hand, if you analyze the age of your AC, whether it holds pre-existing conditions, and its general condition, you will be able to pick the ideal company based on your requirements. The perfect balance between research and understanding your AC's needs will help you choose the best home warranty policy for your air conditioner.  
The Benefits of A Home warranty Policy For Your Air Conditioner
There are several advantages you receive if you opt for a plan that covers your air conditioning unit. We've mentioned the main benefits that you will obtain below:
If your AC is malfunctioning, you can file your home warranty claim by reaching out to customer care. Top warranty companies do provide patrons with the 24/7 customer support option.  

You rest assured that a top service professional will come to fix your air conditioner when you file your claim.

If you are not happy with the repair technician's service fixing your AC, you can cancel your policy and, at times, even receive a refund (depending on the company).  

Home warranty plans are cost-effective. The premium amount ranges from $300-$700, respectively. Simultaneously, the service call fee may vary between $50-$200, based on the plan and company you pick.

When you pick a plan to cover your air conditioning unit, not only will it get covered, but several other devices will also get protected under the plan.

If your air conditioning unit carries pre-existing conditions, it may get covered. However, this depends on the company's terms and conditions.

The peace of mind knowing that your device will be repaired or replaced by a top professional.   
The Final Word
Several different types of types of air conditioning units do get covered under home warranty contracts. You must make sure to choose the right plan and company so that your unit gets repaired quickly when it starts malfunctioning.