American Home Shield vs Select Home Warranty
PUBLISHED: May 15, 2019
•
6 MINS READ
Select Home Warranty and American Home Shield are among the biggest home warranty companies in America. Both companies have a large number of independent contractors and technicians that work with them and provide 24/7 customer service. So, which company is ideal for you? Read through to know more about American Home Shield vs Select Home Warranty.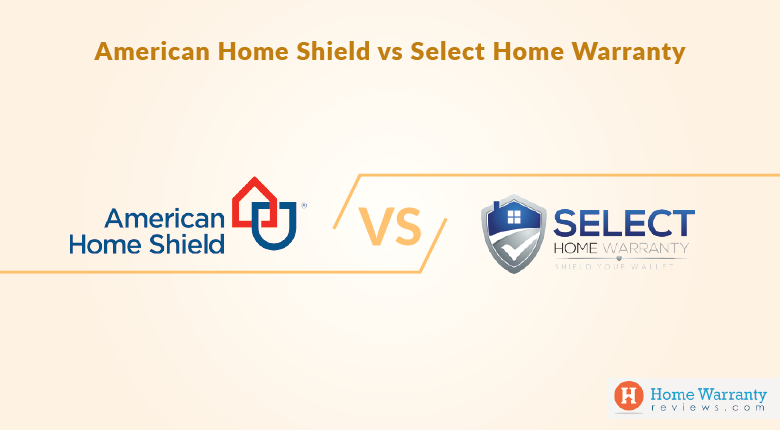 Comparison of AHS vs Select Home Warranty
American Home Shield
Select Home Warranty

Deductible

$75 – $125

$60

Plans available

Appliances plan

Systems Plan

Combo Plan

Build-your-own plan

Basic plan

Total plan

Service recall period

60 Days

N/A

Availability

All states except Alaska

All states

Support

24/7 Claims Department

24/7 Claims Department

Customer satisfaction

Read American Home Shield Reviews to see what customers say about their services.
Read Select Home Warranty Reviews to see what customers feel about their product.
Home Warranty Coverage – AHS vs Select Home Warranty
In this section, we compare the best plan of American Home Shield and Select Home Warranty. AHS' Combo Plan provides coverage for more items than Select's Platinum Care plan. Since 2013, AHS has made over $2 billion in claims paid.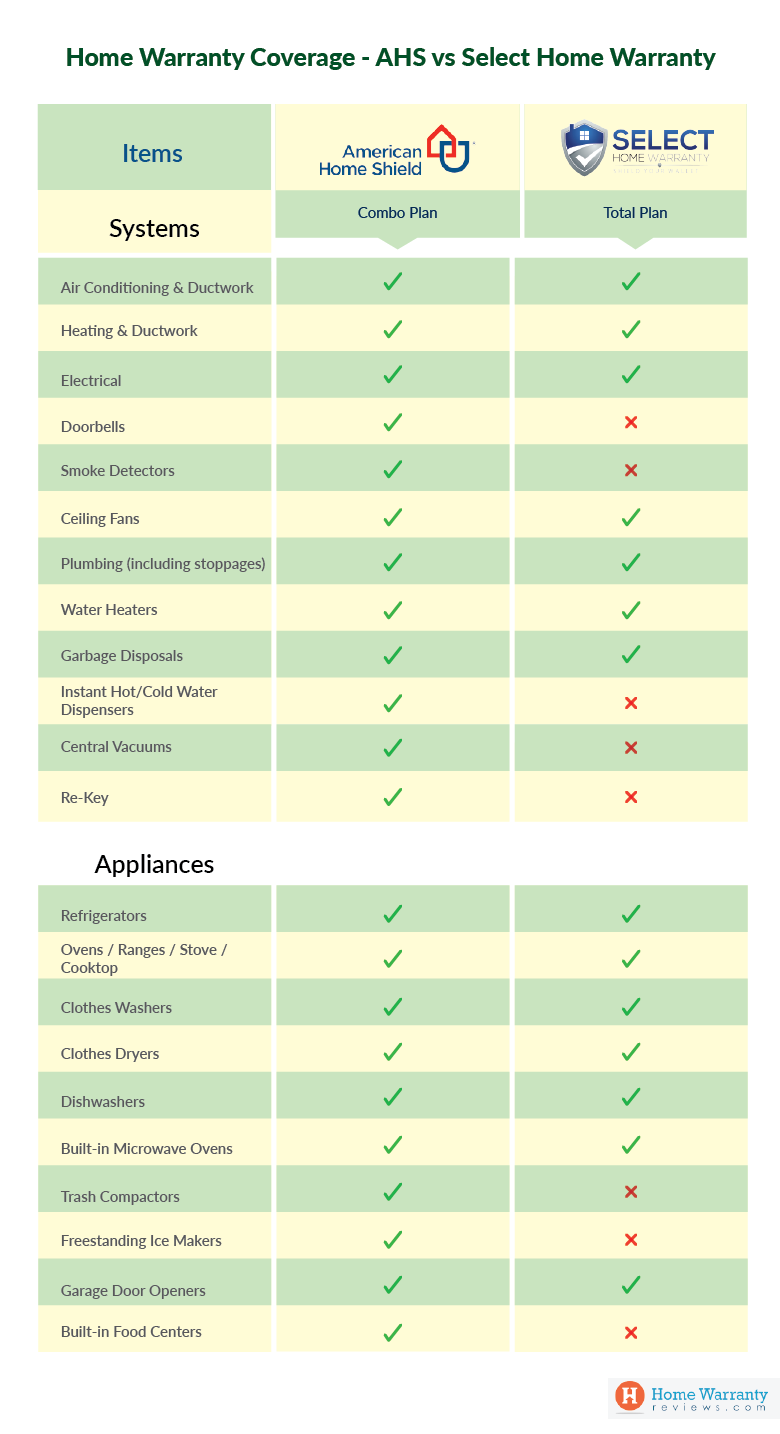 American Home Shield coverage: AHS covers more items than Select Home Warranty. Items like built-in food centers, freestanding ice makers, trash compactors, re-key, central vacuums, exhaust fan, instant water dispensers, smoke detectors and doorbells which are not covered by Select and are part of the Combo plan. Also, AHS gives you coverage for guest units which are under 750 square feet.
Select Home Warranty coverage: It includes protection for 13 appliance and system options. Some of the major systems include air conditioning and heating, electrical and plumbing and the main appliances are refrigerators, ovens, clothes washers and dryers.
Select Home Warranty vs American Home Shield – Cost Comparison
We have collected data on average premiums and deductibles from various home warranty companies. We found that American Home Shield averages at $622.52 while Select Home Warranty averages at $545.32. Get a free quote to know the exact pricing details.

| | | |
| --- | --- | --- |
| | American Home Shield | Select Home Warranty |
| Average yearly cost | $622.52 | $545.32 |
| Service call fees | $75 – $125 | $60 |
| Appliance benefit limit | $1.5K to $3K | $500 |
| Systems benefit limit | $1.5K to $3K | Up to $2K |
Good vs Bad of Select Home Warranty
Advantages
Disadvantages

Coverage across three-tier cities

The customer service is 24/7/365

Won the "Best in Service" Award

Known for fast and efficient service

Unlike other home warranties, the monthly costs are higher

Pre-existing conditions are not covered.
Good vs Bad of American Home Shield
Advantages
Disadvantages

Choose from several plans

24/7 customer support

Easy monthly pricing

Founded the home warranty industry

15,000 contractors nationwide

Few contractors have serviced inadequately

Contractors work only within business hours

Certain contractors have negative reviews
How Does American Home Shield Work?
AHS home warranty has a 12-month contract. You can choose from the 4 plans which are the Systems Plan, Appliances Plan, Combo Plan and Build Your Own Plan. Then you start when you select the plan and determine the service call fee that you would pay. After you pay the first month's premium, you would have to wait for 30 days before you can use the home warranty.
After the home warranty is active, if a covered appliance or system breaks down, you then call or submit a claim online at any time. The contractor will only connect with you during business hours.
NOTE: AHS allows you to transfer your policy to your new home after you move in.
Once the contractor arrives, you will have to pay the service fee on their arrival and this fee is based on what you agreed when you signed up. The contractor will diagnose the problem and they will have to contact AHS to verify that the policy covers the identified problem and only after this step gets approved will the contractor start working on it.
How Does Select Home Warranty Work?
Before you get down to choosing a home warranty, you should opt for FREE home warranty quote. Once you are certain that you want to go ahead with Select Home Warranty then you should select a particular plan. Also, you need to consider whether you need additional coverage. Taking this into consideration, you should pay for the premium and pick your deductible options.
Initially, you would have a 30 day wait period before the policy becomes effective. In case you find that there are issues with any of your systems or appliances then you should submit a claim online or call Select Home Warranty's claim number. A contractor will drop by at the scheduled time and determine whether they should repair or replace the appliance or system. You would have to pay for the service call and all other details will be taken care of.
What Makes American Home Shield Stand Out?
American Home Shield was founded in 1971 and was the first to provide home warranty plans in America. They provide services to all states except Alaska. AHS has a huge contractor network. There is a short waiting period after the first payment is made and there is no requirement of inspection for the policy to be approved.
What Makes Select Home Warranty Stand Out?
Select Home Warranty ensures that you get a contractor to your location within a 2 day period if the claim is submitted during business hours. Claims submitted on weekends, at night or public holidays may take 4 days for a service appointment. Select Home Warranty only uses qualified, licensed contractors and there should be qualified technicians in your area to handle your problem. If they authorize you to work with a qualified contractor, they will reimburse you up to the dollar limit in your contract within a period of 30 days.
Final Word – AHS or Select Home Warranty
If you are looking for a home warranty that will give you peace of mind then you can opt for any of the two home warranties. But, you should make an informed decision based on what you have read and that the most that you would get for your money. We hope you make the right choice.
While AHS provides in-depth coverage, Select Home Warranty offers you a slightly affordable home warranty plan. Additionally, AHS offers you a "Build Your Own Plan' to ensure that you choose only those appliances and systems that you feel are problematic. But, you should probably not opt for Select Home Warranty if you are buying an older home. There are also a few caps and limits on payouts and coverage for the first few months.