Home Warranty and Homeowners Insurance
Ever wondered what is the difference between home warranty and homeowners insurance ? Are they not same? Let's find answers for these questions.
While home warranty and home insurance products may come across as same, they are totally different. The coverage, cost, terms and conditions vary greatly. Home insurance is compulsory in some cases whereas home warranty is a recommended choice.
Difference Between Home Insurance And Home Warranty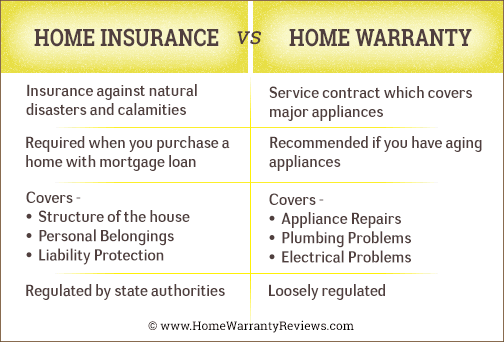 Home warranty offers protection for your major appliances, as well as plumbing and electrical units. It covers the cost of repairing or replacing major household appliances in case they break down, provided they meet the terms and conditions of the home service contract.
Home insurance covers your home in the event of damage due to natural calamity or man-made disasters and offers you liability protection from lawsuits in case of a third party involvement. If your neighbor came visiting you and accidentally fell and got injured and decides to sue you, then home insurance will take care of the claims. Home insurance is mandatory if you have a mortgage on your home.
What Does A Home Warranty Contract Cover?
Items covered by a home warranty may vary by company and plan, but typically includes the following items:
Heating, ventilation and air conditioning system (HVAC)
Electrical system
Plumbing system
Water heater
Kitchen appliances such as refrigerator, stove/oven/range, built-in dishwasher, built-in microwave, garbage disposal, built-in trash compactor
Clothes washer and dryer
Garage door opener
Coverage for pools, spas, well pumps and other items may be available for an additional fee.
Benefits Of Home Warranty Coverage
To The Homeowner
Placing a claim and getting your appliance repaired is lot more easier.
Helps save up huge costs.
You can get repaired as many appliances you want provided they are covered.
To The Seller
Home may sell faster and at a higher price.
Protection from after-sale legal disputes.
Increases marketability of home.
To The Buyer
Warranty coverage on major systems and built-in appliances.
Protects your cash flow.
Access to network of qualified service technicians at your fingertips.
Home Insurance
In case of an uncertain event like fire, theft, vandalism, or certain natural disasters, the cost of damages are covered. It also covers your personal items and gives you liability protection. Liability insurance will protect you from lawsuits in the event that someone is injured on your property. Home insurance will only insure your personal items in case they are stolen or ruined in a disaster. Repairs and replacements due to wear and tear are not covered.
What Does A Home Insurance Policy Cover?
The insurance policy varies depending on your state of residence and type of policy, but generally it will cover the following.
Structure and contents of the house.
Personal property such as indoor and outdoor furniture, clothes and home electronics such as computer, TV, stereo, etc.
Jewelry may be covered up to a certain value, or itemized for its full value, or excluded entirely.
Living expenses if your home is uninhabitable as a result of a natural disaster.
Events like theft, vandalism, fire, windstorm, lightning, hail, falling objects such as a tree.
Liability claims such as someone got hurt while in your property and decided to sue you. The policy will take care of it.
Benefits Of Home Insurance
Home is the most prized and cherished possession any individual can have and nobody anticipates damages to this, therefore a home insurance provides you the following benefits when you cover your home.
Covers accidental damages to your interiors and exteriors as well.
Easy to renew all you have to do is pay the premium on time.
Processions are covered regardless of new or old.
Assures you peace of mind and gives you a feeling of safety and security.
Pays for loss and minor damages like broken glass of a window.
Cost/Pricing For Both
A standard warranty runs $300 to $500 for a year of protection, which covers the cost of repairing or replacing a home's major systems and appliances. Home sellers typically pick up the tab for the first year of coverage. Extended coverage plans for pools, spas and washers and dryers can be purchased at an extra cost.
Insurance cost varies from state to state and depends on the extent of coverage and the location of the property but a standard insurance can cost any homeowners insurance is between $300 and $1,000.
How To Choose A Home Warranty?
When you are planning to buy a home warranty, make sure that you do some research. Check our home warranty reviews section that provides pricing, comparison, quotes and consumer reviews of all major companies. When you are getting price quotes, inquire to look over a sample policy. Bear in mind to understand the entire policy, together with the fine print.
Another advantage of home warranty policy is that it is transferable. That means when you sell the house the warranty would be passed to the new owner. This has proved to be a well-liked feature amongst home buyers as homes having home warranties are selling at increased prices and in much shorter times. This in itself could make it sensible to get a home warranty policy.
How To Make A Claim?
When a covered appliance breaks down you need to contact your warranty company. A warranty company already has business ties with different service vendors. They will in turn contact a service repairman to come to your home and repair the appliance. The repairman will fix the item or recommend replacing it. The service repairman will bill your warranty company directly, but you have to pay a service charge when the repair person visits your home.
How To Choose Home Insurance?
With any kind of insurance, it is always a good idea to shop around and evaluate benefits and prices as most insurance companies will provide you a policy discount. Ensure you read the policy before writing a check and ask any queries that you have in mind.
So, the conclusion is that home warranty and insurance are complementary to each other. You can choose to protect everything you own, provided you can afford to. Keep in mind that these insurance products do cost a bit more, but compared to the benefits they provide and the peace of mind you get, it seems like a very small amount. Insure your home as well as buy a home warranty all within your budget.
---