Frontdoor Completes Spin-off, Goes Public
PUBLISHED: October 8, 2018
•
4 MINS READ
ServiceMaster is a leading provider of essential residential and commercial services. They have announced that the successful spin-off of Frontdoor which is the parent of American Home Shield business. It will function as an independent public company trading on Nasdaq under the symbol "FTDR". Moreover, ServiceMaster will continue to trade on the NYSE under the symbol "SERV."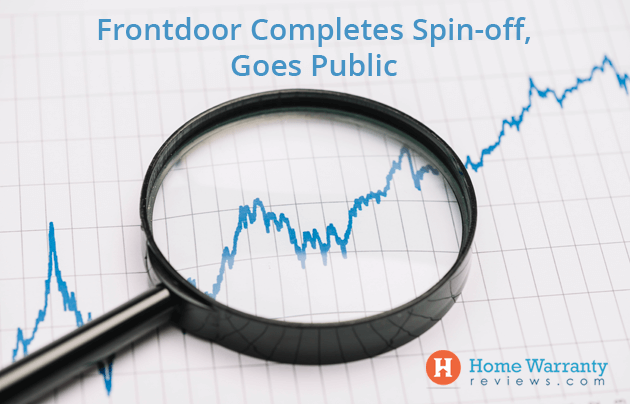 Dave Quandt is the Vice President of Field Operations of American Home Shield and was in New York City for a major announcement. Subsequently, he says a lot of market research and thought went into the new name.
The brand, American Home Shield will be the forefront of the home warranty services and its name will remain unchanged. There could, however, be changes in the future at the Carroll location. For more than a year, a deal was struck in Carroll and at the corporate offices in Memphis to separate from ServiceMaster.
This would mean that there was a need for new information technology, a new board of directors, new systems and new human resources executives and much more.
According to Quandt, technology is going to play a major role as they head into the future. President and CEO, Rex Tibbens has a background which aligns with these latest changes.
With six new board members of Frontdoor that will reside in different areas of the country, they will provide a vision for the company's president for the future. This group will assemble in Carroll for a tour of the operation in the next six weeks.
About ServiceMaster
ServiceMaster is a well-known service business which has decided to split its pest and termite control solutions business Terminix and the business which focuses on servicing homeowners. SERV is the listed name for ServiceMaster on the NASDAQ.
The spin-off named Frontdoor will be the parent company for its home warranty companies. However, spin-offs are good for businesses as they incentivize the management team which can control its own destiny and not just in terms of freedom of actions which include controlling the capital allocation decisions which is a very powerful tool.
This results in higher valuations and opportunities for investors. Currently, this might not be the case for Frontdoor as the business seems to have peaked which makes it quite cautious despite the growing revenues.
About Frontdoor
Frontdoor contains a collective which includes home services brands like American Home Shield, HSA Home Warranty, Landmark Home Warranty, and OneGuard. The basis of the business is to make home services hassle-free.
Usually, information about houses and appliances are buried in manuals and finding service providers can be difficult too. There would be a problem diagnosis, problem resolution and price gauging which would lead to a friction in such transactions. 
It's not just the consumers that would suffer but there would be a lot of uncertainty. Subcontractors will have the same issue when fixing issues as a emergency, maintenance issues or on a one-by-one basis. Moreover, this middleman function has been a success for the company for over 45 years. 2 million homes are matched up with 15,000 contractors.
About HomeWarrantyReviews.com
HomeWarrantyReviews.com is a platform which is the #1 in consumer research for home warranties. They help in assisting the common man in comparing and selecting the best home warranty plan in their home. Moreover, this company has been collecting reviews from home warranty users from across the United States for the last 11 years. However, once you compare plans, you can choose the best policy in your city based on reviews on the website. Subsequently, you can get yourself a free home warranty quote. Let a home warranty company get in touch with you.