Top 5 Home Warranties in South Carolina
PUBLISHED: August 15, 2019
•
4 MINS READ
Are you scrambling to pay several repairs and replacement bills for home appliances and systems? We've got just the solution you need to save big on out-of-pocket expenses and bills that eat into your savings.
So, what really is a home warranty?
A home warranty is a service contract that for a period of time that ensures that your covered appliances and systems are well maintained during the period of the contract. It takes care of all breakdowns and repairs caused due to wear and tear over a period of time.
Depending upon the company and the plan you choose, a home warranty policy may cost you around $300 to $500 annually. 
Simply start with a free home warranty quote, read and compare home warranty companies and learn about the best plans and pricing. This will help you get your money's worth and as a bonus, you can read over 70,000 reviews to learn about customer experiences.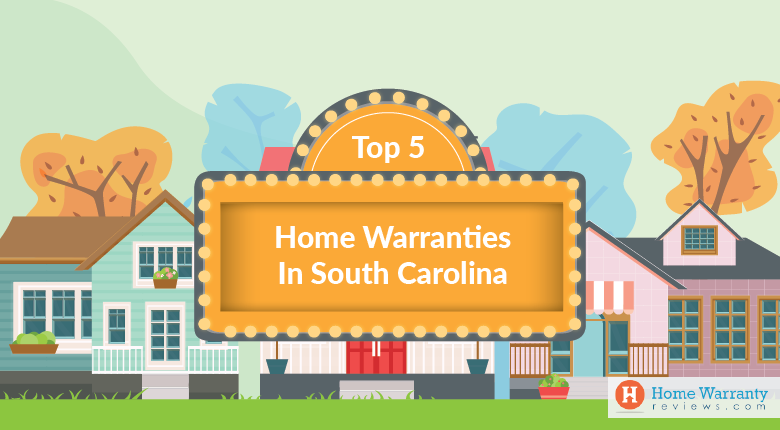 Best Home Warranties in South Carolina
As a resident of South Carolina, we have created a list of best home warranties in South Carolina as well as listed the top companies in major cities. Some of these cities include Charleston, Columbia, Goose Creek, Greenville, Mount Pleasant, North Charleston, Rock Hill, Spartanburg, and Summerville. While there are several companies to review, we've handpicked the top 5 home warranty companies in South Carolina:
Rating –  4.8 / 5
Established in 2008, HSC broadly offers two kinds of plans namely; Standard Plan and Comprehensive Plan. Their Standard Plan protects against most common household breakdowns such as HVAC, water heaters, refrigerators, plumbing & electrical systems, and much more.
You can also opt to pay an additional fee a Comprehensive Plan which covers several additional appliances and systems which you will not find in the Standard Plan.
HSC's policy takes effect in 10 days with the longest offered service recall period of 90 days.
With customers rating of 4.5 / 5, American Residential Home Warranty is also rated as A+ by BBB. 
Keeping the comfort of their customers in mind, American Residential Home Warranty offers 4 kinds of home warranty plans along with bundles of 4-in-1 and 3-in-1 plans. Their average deductible for a contract is $53.03 per month. 
AR policy takes effect in 30 days with a service recall period of 60 days. 
With customers rating of 4.7 / 5, America's Preferred Home Warranty is rated as A+ by BBB. They are also awarded as Best Regional Home Warranty by Home Warranty Reviews. 
APHW are first and only of their kind, who let you choose your own contractor for all covered repair work. With an average deductible amount of $ 76.33, APHW offers 5 types of Home Warranty Plans that are pocket-friendly and flexible:
Townhouse Warranty

New-Construction Warranty

Single-Family Home Warranty

Multi-Family Units Warranty
Rating – 4.5
Serving their customers for over 45 years now, American Home Shield offers varied Home Warranty Plans, with an average deductible amount of $85.12 for a contract. 
Types of Home Warranty Plans Offered by AHS:

System Plan: Covers 11 critical Home Systems.

Appliance Plan: 10 essential appliances covered. 

Combo Plan: Covers all 21 systems and appliances.  

Build your own Plan: Their most flexible plan lets you cover the systems and appliances that are most important to you.
AHS not only lets you build your own plan but also allows you to set your own service call fee too.
With just 3 years in service, ServicePlus Home Warranty has ranked among the top 10 home warranty companies in South Carolina with a customers' rating of 3.9 / 5. Providing services in 50 states now, they offer 30 days service recall period.
With a minimum contract period of 13 months and the deductible amount of $40 – $60, SPHW offers three types of Home Warranty Plan:

Gold Plan: Offers coverage for basic appliances and system

Platinum Plan: Covers almost every appliance and system

Optional Plan: Opt to add on your pool, spa or roof repair and more.
Final Word
Maintaining your home and its appliances is much easier with a home warranty and you need not worry about sudden repairs. All you have to do is call your home warranty company and they will take care of the rest. Make sure to check out the best home warranties in South Carolina before buying a plan.
Make sure you go through all the details before signing a contract with any company. You must know the offered terms and conditions, list of the appliances covered or not-covered in your chosen plan, customers reviews and much more.
So what are you waiting for? Get a free home warranty quote with the #1 customer research platform for home warranties in America.