Top 5 Home Warranty Companies in North Carolina
PUBLISHED: July 23, 2019
•
4 MINS READ
As a homeowner, there are several things to pay like your mortgage, utilities and several other payments. Most payments seem to pile on and come unexpectedly. Wouldn't it be significantly worse if you had to make several out of pocket payments for home repairs and replacement that proved expensive? This is where a home warranty comes into play. In this article, we have listed best home warranties in North Carolina for you to choose from!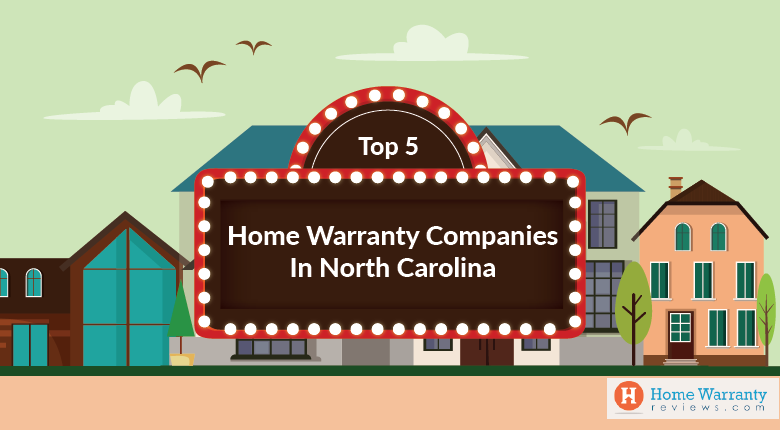 Best Home Warranties in North Carolina
When it comes to home warranties, there are several in the market. Some companies can persuade you based on their low pricing and several discounts. But, it's always good to have a home warranty that can provide services right through the year in your locale.

Also, you should look at some of the reviews on our website to get an understanding of customers' experiences. This is supplemented by the ratings that each company is given based on customer reviews.
Here are the top 5 Home Warranties in North Carolina:
When it comes to home warranties, AHS has one of the largest home warranty coverage options across America. They provide coverage to 49 states and they have over 15,000 technicians that are licensed and will ensure that all your repairs and replacements are taken care of based on the terms and conditions. Get a free quote for details about pricing and much more.
HSC started offering home warranties recently and they have received a lot of praise for their commendable service and customer support. They are one of the few home warranties that have a service recall period of 90 days. They provide an amazing coverage limit of $6K to $9K for covered items.
Choice Home Warranty is known especially for the comprehensive home warranty services. Their basic plan offers roof coverage. This company was nominated for the Editor's Choice Award in 2018 and 2019. With a simple deductible of $60, they provide appliance and system coverage of about $1500. You should know that they request for your maintenance records at the time of buying a home warranty.
APHW has been providing services since 1999. The best part of APHW is that it allows you to choose your own contractor. The policy usually takes effect in 30 days. The coverage limit for covered items is up to $25,000. America's Preferred Home Warranty has won the award for the Best Regional Home Warranty Company in 2017 and 2018.
Established in 2012, Select Home Warranty has made a name for itself and is among the top 10 ranked companies. This company has won the annual home warranty awards for three years in a row. The policy usually takes 30 days to take effect. It has a coverage limit of $1,500 for covered items and like most companies in the top 10 list, it participates in the Complaint Resolution Program.
Final Say
You should opt for a home warranty when you are given the chance to save on the long run repairs and unwanted issues. You need to ensure that you pick a home warranty that gives you the peace of mind that all your covered items' issues will be resolved. Do go through the list of home warranty companies before making your choice.
It's always important to choose a home warranty that your friends and neighbors suggest that provide great services in the same locale. All you have to do is ensure that you read up on home warranty companies and opt for a Free home warranty quote and ensure that someone calls you to sign up for a new home warranty plan.