Make Your Home Warranty Work For You
PUBLISHED: January 22, 2018
•
6 MINS READ
Home warranty policies cover the cost of repairs and replacements of home systems and appliances that are caused due to everyday wear and tear. But, if you know how to make your home warranty work for you, you can earn a lot of benefits from it.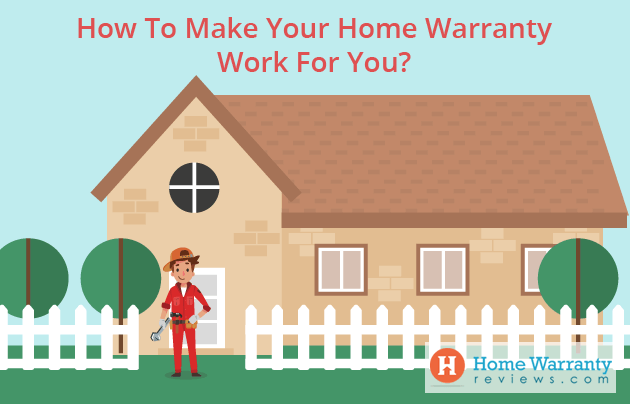 When you buy a home warranty policy, there are more than two parties involved – you, the salesperson who sells you the home warranty, the serviceman, and the customer service representative. Since there are so many parties involved, it requires a little bit of effort from you to make the most out of your home warranty policy.
Homeowner
As a homeowner, you need to put in some effort and take precautions to ensure that you will make the most out of your home warranty policy. Diligently follow these steps and they will turn into hacks to make your home warranty work in your favor.
Older Appliances Coverage
All new appliances come with a manufacturer's warranty. Manufacturer's warranties usually last up to 4 years from the date of purchase, a few warranties extend up to 6 years as well. Manufacturer's warranties offer service, repair, and replacement of the appliance or system that it covers. Whereas home warranties cover the repair and replacement of systems and appliances that fall under its coverage. It does not make sense to pay and cover systems and appliances that are still under the manufacturer's warranty.
You should look for a home warranty that covers older appliances that no longer have a manufacturer's warranty. This way you can have the maximum number of your home systems and appliances covered at the minimum cost.
Appliances are Installed Properly
Make sure your home systems and appliances are installed properly. Home warranty companies sometimes deny claims if an appliance is installed, repaired or handled by an unauthorized person. Make sure that all your appliances are installed and serviced by licensed technicians so that it becomes easier for your claims to be granted.
Appliances Have Parts Missing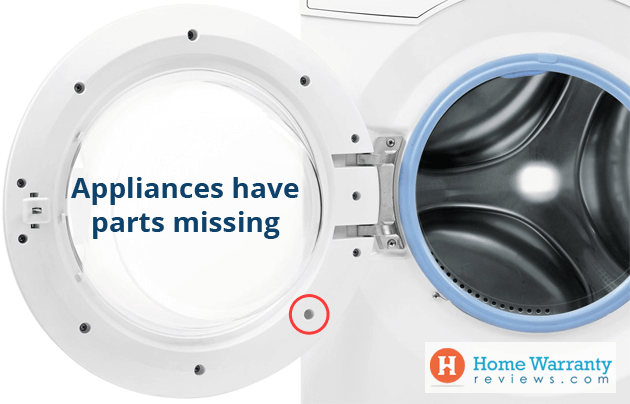 Sometimes appliances have missing parts like screws. This is likely to happen when the repair company called to service/repair the appliances do not have competent technicians. Home warranty companies do not cover the repairs of appliances that have missing parts. Hence, it is essential to get a home inspection done before purchasing the home.
DIY Preventive Maintenance
Home warranty policies only cover damages that are caused by everyday wear and tear. It does not include the cost of repairs if the appliances or systems malfunction due to lack of maintenance. Hence, it is essential to take preventive maintenance measures regularly to make your appliances have a long life and also to ensure that the home warranty company pays for the cost of repairs or replacement of the appliance.
Do Not Overwork/Overload
Claims that are related to appliances that break down due to overworking or overloading are not covered by home warranty policies. Make sure that you don't overwork your appliances or run them at a long stretch without a break. Do not overload your appliances like washers or dryers. As the appliances get older a slight overload could cause it to malfunction.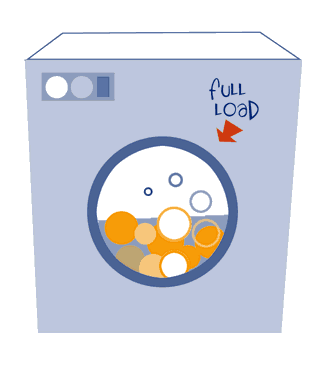 Quarterly, Half Yearly, and Annual Maintenance
Regular maintenance like quarterly, half-yearly, and annual maintenance is not mandatory. A refrigerator on an average is expected to last 14 to 17 years, but a well-maintained refrigerator can go on up to 20 years. A little care and effort on your behalf can really increase the life of your appliances and make them last a lot longer.
Home Warranty Company
There are numerous home warranty companies out there, not all of which are reliable and known for providing quality service to their customers. It's important to run a check on the home warranty company and their policies in order to make the most out of your home warranty plan.
Research on Home Warranty Companies
It is essential to research a home warranty company before you decide to invest in it. Read reviews about the experiences that current customers of the company have had. You can find reviews of 80+ home warranty companies on our website.
Here are some buyer tips on how to select a home warranty company.
Contractors
Once you file a claim and the home warranty company assigns a contractor, make sure to check the ratings and read reviews about the contractor assigned to you. If the contractor assigned has low-ratings, request the home warranty company to change the contractor and assign one who has better ratings.
Complaint Resolution Program
Find out whether the company offers a Complaint Resolution Program. You can do this by finding the company profile on HomeWarrantyReviews.com and checking whether it says 'Yes' to Complaint Resolution. This program gives the home warranty company access to negative reviews by their customers before they are published on the site. This provides a chance to the concerned company to rectify the error within a stipulated period of time. If the company does not solve the issue, the review will be published on the website.
Service Calls & Repairs
When it comes to service calls and repairs, it requires a little more effort on your part. A little knowledge, persistence, and a few small hacks can help you out a great deal when it comes to spending the least on your home warranty service calls.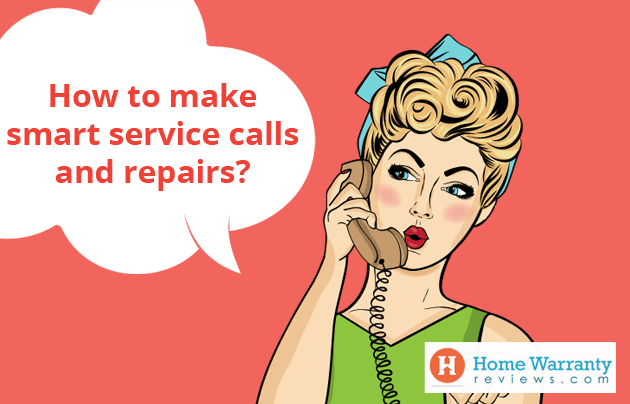 Do Not Call for Uncovered Repairs
The home warranty company charges you a service call fee that ranges from $50-125 depending on the company and plan you have selected. The home warranty company collects this service charge regardless of whether or not the technician fixes anything. So it doesn't make sense to call your home warranty company to make a repair that is not covered by your plan. It could be an appliance that is not covered or a repair that you know is not covered under the home warranty policy.
Be Persistent with Agents and Repair Technicians
You need to be persistent with your home warranty claims. In cases where your home warranty company tells you that they will get back to you regarding reimbursement in a day or two and they don't. Or when your home warranty company says that a claim is not covered but you are unsure, continue to follow up with them. For example, let's say your home warranty denies your claim to cover food spoilage because of your refrigerators breaks down, and you are unsure whether it is covered or not. Call your home warranty company, write to them, fax them, follow up on the claim.
Steve says, "when my refrigerator broke down in August, we had a lot of meat stacked up. The cost of food lost estimated to at least $500. I constantly contacted my home warranty company asking to be reimbursed for the cost of food lost. After calling for 3 weeks, I received a cheque worth $300."
Bottom line: If a claim is denied, don't take no for an answer.
Contact the Warranty Company First
Always consult your home warranty company before you call a repairman home. Sometimes you may find yourself in a tough spot where your furnace breaks down in the middle of winter and you are unable to get in touch with your home warranty company. The long wait time on the phone and what's at stake could cost more than what the home warranty company covers. In a case where you may have to deal with frozen pipes and the damages that come with it, it would be better to go ahead and call a repairman yourself before the situation gets adverse.
Other General Pointers
There are a few other general pointers that could help you:
Know Your Policy
It's always good to know the terms of your policy. It helps you make the most out of it. If your claim has been denied and you are on a call with a customer service representative from the home warranty company, knowing your policy will help you explain why your claim is valid. It saves you a lot of time especially with the call wait time for some home warranty companies being pretty long.
Keep a Close Watch on Old Appliances
Watch your older appliances carefully when the policy is coming to an end. If you notice any of your older appliances that are making odd noises or working unusually, it might be worth spending the service call fee and getting the appliance checked. The noise could indicate a problem that might worsen and cause the appliance to fail just after your home warranty policy expires.
Check If Cash Payment Is an Option
Some warranty companies are open to offering cash payouts instead of replacing the appliance. Though the cash payout may not actually cover the cost of the appliance, it gives you the liberty to pick the model, color, and company of the unit.
About HomeWarrantyReviews.com
HomeWarrantyReviews.com is the #1 consumer research site for a home warranty. Since the past 11 years, we have been offering our readers a platform to research and review home warranty companies thus helping them to choose the right home warranty company for their homes. We also present awards to the best home warranty companies so as to recognize them for the quality service they provide. Make sure to check out American Home Shield, The Home Service Club, Select Home Warranty, and Choice Home Warranty as they are some of the best home warranty companies in the business today. 
The site also extends its support to its customers by developing tools like the Home Maintenance Calculator, Mortgage Calculator, and the Complaint Resolution Program. The Home Maintenance Calculator helps homeowners get a rough estimate of the cost of their home maintenance expenses for the year and offers them home warranty policies that would cost lesser. The Mortgage Calculator helps homeowners compare the cost of different mortgages before finalizing on one.
Home warranty cost is a big factor in deciding if a home warranty is worth buying is its cost. Basic coverage can start at about $300 and go up to $600 or more. Some home warranties charge for a service call, such as $75 or so, while others allow unlimited service calls.
They can purchase it through a real estate transaction where they will get a discount if they purchase the home warranty within 30 days of closing. A current homeowner. They can purchase a home warranty at any time on a house of any age, no matter how long they have lived in it.
For basic home warranty coverage, plans average from $350 to $600 per year. For extended coverage, warranties add an additional $100 to $500 per year, depending on the number and types of items added