Why Should You Consider Buying A Home Warranty In North Carolina?
PUBLISHED: June 22, 2020
•
4 MINS READ
Buying a home in North Carolina is quite an expensive prospect, and also requires one to scout around a lot, due to the varying nature of properties available in the market. Depending on your budget and requirement, you could opt for a townhouse, cottage, bungalow, ranch, or an environmentally friendly home.
It is vital that your new home is a comfortable place to live, and all its systems and appliances function smoothly. This assures a healthy transition for all your family members to adjust seamlessly into the property. To make sure all the devices are working smoothly, you must consider buying a home warranty package. This detailed post will list the reasons you must purchase a home warranty while buying a new home in North Carolina.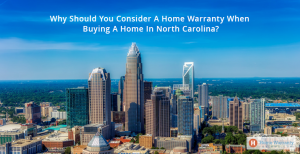 Reasons Why New Home Owners Must Buy a Home Warranty
Home warranty plans protect all your systems and appliances if they get damaged due to normal wear and tear. These plans last for one year and cost around $300-$600 annually. The deductibles or service call fee is anywhere between $50-$125. Customers should know that the prices of warranties vary from company to company but usually does not exceed the amount mentioned.
1. Comprehensive Coverage
Home warranty plans in North Carolina protect a range of systems and appliances. These include your refrigerators, dishwashers, smoke detectors, garage door openers, doorbells, ceiling fans, water heaters, etc. Several devices are protected under one single home warranty plan, making it extremely convenient to protect numerous systems and appliances at affordable rates.
2. Hassle-Free Repairs
Repairing a single device in your new North Carolina home is a costly prospect. A single device can cost thousands of dollars to get fixed due to the high standard of living in the state. But if you buy a warranty for your new home, you can file an unlimited number of claims (depending on the company) all year long without any inconvenience. All you got to do is pay the service call fee, which is not at all expensive.
It is also necessary to know that a home warranty company only sends trained technicians to fix your devices. They do a thorough job so that you don't face any problems any time soon.
3. Peace Of Mind
Moving into a new home in the state is an exciting and challenging time. There is a lot of running around that must be done to make sure everything is in order before transitioning in. One must look into several aspects such as location, mortgage, budget, taxes, security, protection of the devices, etc.
A vital aspect of any new home is the protection of its systems and appliances. Home warranties do just that and make sure your mind is at peace since everything ranging from repairs and replacement is taken care of by the company single-handedly.
4. Guaranteed Money-Saving
It is a known fact that there are several hidden expenses new homeowners need to undergo in North Carolina. Things like purchasing new gadgets for your kid's education, buying a new car, and getting your kitchen redone are all expensive prospects.
One way where you can save money when it comes to the systems and appliances in your residence are home warranties. They are incredibly affordable, and you only pay for the necessary devices that you want coverage for in your contract. Customers should know that there are no hidden expenses that need to be made when it comes to home warranties.
5. Quick Turnaround Time
With a home warranty plan in place, all your devices can get repaired in an extremely timely manner. You can file a claim at any time of the day since, most warranty companies operate with a 24/7 customer support team.
Any questions or problems you want answers for, be it regarding the experience of the technician, or any of your devices will be taken care of by the customer support team. This ensures timely repairs and a smooth process of filing your claims at any given time.
Top Home Warranties in North Carolina
Several top-rated companies are operating in the Tar Heel State. Some of these companies are American Home Shield, Choice Home Warranty, and ServicePlus Home Warranty. You can compare and analyze plans from these top home warranty companies to make an informed decision before you go ahead with your purchase.
Conclusion
Make sure to take your budget into proper consideration before selecting a home warranty plan. Since you are moving into a new home, purchasing a fairly basic coverage option is a good idea. As the years go by, you could opt for a much more comprehensive plan.