How Much Does a Home Warranty Cost in California?
PUBLISHED: April 24, 2020
•
4 MINS READ
California is known for its warm climate with hot summers and mild winters, though the northern region of the state experiences snow in the winters. Protecting your devices, such as your air conditioners, HVACs, and water heaters are vital in such conditions. The Golden State has a wide range of top-class home warranty companies that offers services in the region. Thus, choosing a home warranty company to protect these devices can be an arduous task. This detailed post examines how much does a home warranty cost and several other important features of a home warranty package.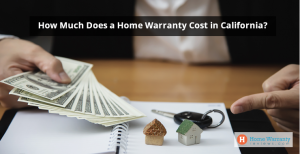 Let's Take a Closer Look at These Companies
Here are some of the top home warranty companies in California, plans offered, their cost, coverage, and lots more.
The annual premium for an AHS contract is anywhere between $299 – $500+ depending on the plan chosen. The company offers customers in California a range of plans to choose from – The Systems Plan, Appliances Plan, Combo Plan, and Build Your Own Plan.
These plans cover systems and appliances such as air conditioning & ductwork, doorbells, smoke detectors, ceiling fans, refrigerators, dishwashers, built-in-microwave ovens, and more. Customers will need to pay a deductible of $75-$125 depending on the device that needs to be repaired or replaced. On average, a deductible will cost customers $85.15.
HSC offers Californian customers two plans – Standard Coverage & Comprehensive Coverage. They offer protection to systems and appliances such as refrigerators, clothes washer, clothes dryer, plumbing systems, garbage disposals, and more.
The Annual cost for an HSC home warranty starts at $400 and can vary depending on the size of your home and plans chosen. Deductibles will cost customers $95 each time they request a repair or replacement of a product. Customers can also opt for HSC add-on coverage where they get to include systems and appliances of their choice.
SHW annually costs customers between $299-$499 depending on the plan they choose. SHW has three plans to choose from in California – Gold Care, Platinium Care, and Bronze Care. These plans cover your regular systems and appliances, and the Platinum plan offers comprehensive coverage. Customers in California are required to pay a $60 trade service call fee or deductible, each time a technician comes in to check a system or appliance that needs repair or replacement.
FAHW provides customers in California, three plans to choose from – the Basic Plan, Premier Plan, and Add on Plan. They cover the regular systems and appliances found in any home and charge customers between $336-$534+ annually. A trade service call fee of $75 is payable each time a technician comes in to look at the devices that need a repair.
How to Buy A Home Warranty in California?
Customers can buy a home warranty online or through realtors selling them. Though realtors may charge a higher price, you should research and read reviews of other customers' experiences with home warranties in California.
How To Use A Home Warranty in California?
Using a home warranty is simple. When a system or appliance breaks down in your home, all you need to do is call the home warranty company. They will immediately send a technician to take a look at the issue. Once the technician makes a diagnosis, the device is either repaired or replaced. Each time a technician pays a visit to your home, you are required to pay a deductible or service call fee whose amount varies from company to company.
What Is The Best Home Warranty Company in California?
AHS is one of the best home warranty companies in California. It offers comprehensive coverage at a  reasonable price. Many homeowners across the US have vouched for AHS over the years.
Closing Thoughts
Purchasing home warranty plans in California increases the value of your property if you are looking to rent it out or sell. Not to mention, the high costs of repairing or replacing items can really throw you off the hook. Purchasing a home warranty plan in California will save you from expensive repairs and replacements and guarantee you peace of mind.