How To Find A Really Good Home Warranty Company Nearby?
PUBLISHED: May 27, 2020
•
4 MINS READ
There are several home warranty companies operating in the market today, which makes it quite difficult for customers to choose the perfect one, particularly if it's their first time. While choosing a company, customers should look into different aspects of home warranties such as the number of contractors, the reputation of the company, and whether the company operates in their state. Only if the warranty company meets all requirements, should it be chosen? This detailed post will decipher how you can find a good home warranty company nearby.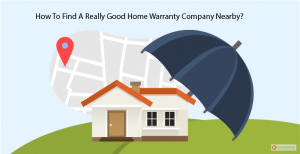 Let Us Take a Closer Look at How to Find The Best Company
 How Do You Choose the Perfect Company?
While looking for a home warranty company always check up whether the company operates in your state or city that you reside in. If the company does not provide services in your place of residence, there is no point in going ahead with the services of that particular company. We have listed out a few points you can consider before choosing a company:
If the company operates in your locale you must compare the annual premiums and deductibles of competing companies before selecting it. Choose a company that fits your budget and requirements.

 Many

home warranty companies

charge a higher annual premium and a lower service call fee. You must decide whether you are willing to spend a little more on the annual premium, and a little less on deductibles offered, or vice versa.

Always compare plans of different companies before choosing one. You could opt for basic plans if you are a new homeowner and save a lot of money in the long run. Good home warranty companies will also let you build a plan according to your needs.  

Check whether the company has tied up with good contractors since they are going to be the most important people you interact with when your appliances breakdown.

Reading other customer's

experiences will help you get a better understanding of the service quality of the technicians a particular company offers. 

Examine whether the company offers 24/7 customer service. This is a really important aspect so that you can reach out to the company whenever you need them.

A lot of home warranty companies may charge a hidden fee at the time of an appliance repair. Make sure to read the fine print of your contract before signing up for a plan, and avoid such complications. It is also important to check if the company you opt for has a cancellation and refund policy applicable.

If you are about to buy a home warranty for the first time, check whether the company offers pre-existing conditions coverage. Many good home warranty companies do cover some pre-existing conditions.
 Now that you know a lot more about choosing a really good home warranty company, let's take a look at some of the top companies operating in the industry.
AHS has a huge contractor network, and also was the pioneering company in the industry. They provide services in almost all the states across the country and provide plans for the various needs of homeowners. 
THP offers some amazing plans at very competitive rates, and the company is also known for charging a very low trade service call fee. THP offers coverage in all states except California, Washington, New York, and Nevada.
HSC was established in 2008 is one of the highly-rated home warranty companies. The company offers coverage across forty-nine states across the country.
CHW is one of the very few companies in the industry that offers coverage for your roof. The company has been in existence for over eleven years now. CHW provides services in nearly all states across the country.
Conclusion
Take your time and do your research thoroughly before choosing a home warranty company. Talking to your friends and neighbors will also help you in understanding more about the different intricacies of home warranty companies. You can also get your free home warranty quote from your favorite company today on Home Warranty Reviews.