Top Home Warranty Companies in Utah
PUBLISHED: December 9, 2015
•
6 MINS READ
Here's an article to give you a clue about the best home warranty companies in Utah. The state that is defined by vast expanses of deserts and the Wasatch mountain ranges. Utah needs no further introduction. Its capital city, Salt City Lake, attracts many swimmers to its buoyant waters. Read this blog post to know the top home warranty companies in Utah.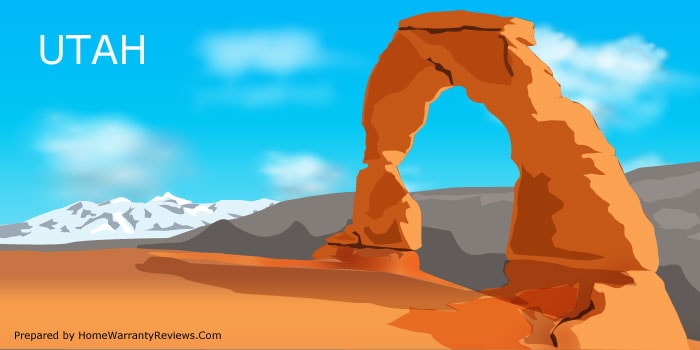 If you are a resident of this beautiful state or if you are planning to move to this state, then glancing at a list of the finest home warranty companies operating there is a must! This is what we intend to provide you through this article.
As you may know, we rate companies on the basis of user feedback received from actual customers. So in the order of ratings, here is a list of top warranty providers in Utah –
American Home Shield

The Home Service Club

Select Home Warranty

Landmark Home Warranty

HSA Home Warranty
Let's take a look at the top home warranty companies in Utah in more detail, shall we?
Also called as AHS, American Home Shield is one of the most popular home warranty providers in America. They are also the founders of the home warranty industry which means that there are few companies out there that have more experience than AHS. Over the years, they've developed plans and products which cater to the needs of buyers, sellers, homeowners and real estate agents alike.
The company offers a wide range of plans suited for most homeowners. All plans are reasonably priced and the annual premiums often range between $249 – $500+ and the deductible per service visit ranges between $65 – $125. The fact that the company is not just backed by experience but also by immensely positive user feedback, makes it one of the top competitors in Utah and the rest of America. This is one of the top home warranty companies in Utah.


Considered as an innovator and people friendly company, The Home Service Club (HSC) is yet another popular choice among Utah residents for their home warranty needs. They serve 48 states across the country and have been in business for a very long time. HSC claims that the constant surveys and feedback they collect from customers helps them improve their products and services for the better.
Standard plans offered by HSC are designed to cover major household appliances and systems and are priced competitively. Customers are also free to customize their plans and add items from a list of pre-selected add-ons, enabling them to extend coverage as per their wish. Plans are priced around $400 on average and the deductibles are charged between $65 – $125. This is one of the top home warranty companies in Utah.


With plans designed to prevent any homeowner from losing hair over unexpected repair and replacement costs, Select Home Warranty (SHW), has been a strong player in the home warranty scene of Utah for quite a bit of time. SHW also has a nationwide footprint so their services are not limited for Utah alone. All warranty products offered by SHW are highly praised by their customers and this has led to them being a popular choice among Utah residents.
SHW offers three main plans to their customers each based on different levels of coverage. Annual premiums range between $299 – $499 and all plans have a deductible of $45. Like most other companies on the list, SHW too has a round the clock customer service facility and also an online claims submission feature. All of this along with many, many positive reviews makes SHW a strong choice for home warranty products in Utah. This is one of the top home warranty companies in Utah.

Landmark Home Warranty (LHW) is a company which has services in the states of Utah, Arizona, Idaho, Oregon and Texas. Customers have often praised their services to be extremely user friendly. The primary goal of LHW is to provide exceptionally good services to all its customers.
LHW has 4 main plans to offer to their customers, each priced differently and having different levels of coverage. All plans come at a service call fee of $65 charged for each service visit. LHW also offers support to real estate agents to help with their clients. Apart from home warranty services, LHW offers re-keying and heater tune-up services too. The strong feedback from customers and their compelling plans makes Landmark a very sound choice for your home warranty needs. Connect with lhw insurance today.
HSA is a company with over 30 years experience in the home warranty industry. Headquartered in Wisconsin, HSA has quite an extensive coverage across USA. The company has claimed that their primary focus is on nothing other than providing great services to their customers. This is a company that has a wide range of products to offer. From agent programs, E&O insurance policies to live tools like seminars, HSA has more than home warranty plans to sell.
HSA's primary product, home warranty plan comes in two variants, where the primary difference lies in the extend of coverage offered. Annual premiums range between $589 – $619 and the deductibles are charged between $75 – $100. HSA also has an online claims facility in addition to the 24/7 customer service wing which takes complaints no matter what time it is. This is one of the top home warranty companies in Utah.

Do Your Research
What we have provided you is a list of companies based on user reviews on our site. We urge our readers to go through some of the reviews and even take a list of Award Winning Home Warranty Companies. It is advisable that you do some extensive research on our website before making a choice.
Should you have any concerns, feel free to holler at us. Cheers!