Top 5 Home Warranty Companies in Nevada
Any homeowner who lives in Nevada and is shopping for a home warranty, also called a home service contract, will want to read this article. Why?  Well, for one reason, HomeWarrantyReviews.com is one of the most established sources of reviews for home warranty companies in the U.S. And thanks to the thousands and thousands of reviews we've compiled on our website, we can offer you fair and objective input regarding the home warranty companies in Nevada that are doing the best job serving their customers needs.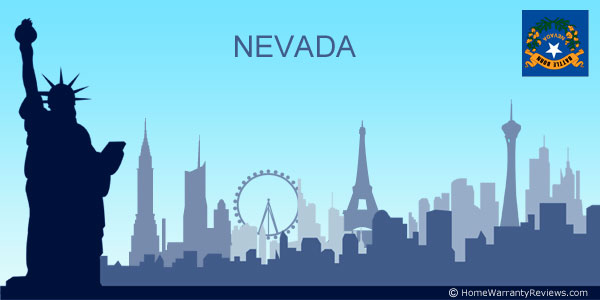 So, which home warranty companies are the best in the state of Nevada? Let's find out!
Nevada is a state with extreme temperatures.
Nevada is famous for its desert areas, Las Vegas in particular. And with desert days you can expect several months of daily average temperatures above one hundred degrees Fahrenheit. As if the desert days are not challenging enough, desert nights can be a bit extreme too, temperatures plummeting from the daytime highs. When you push your heating and cooling systems to their limits you increase wear and tear and increase the chance of encountering frequent problems. With this in mind, Nevada homeowners should carefully consider their choices of home warranty companies, assuming the heating and cooling systems will be covered items.
All of the top companies listed in this article have something in common. That common thread is quality service. No matter what appliances and systems you want covered, you primarily want to know that when something breaks down it will be fixed quickly and correctly. And for that reason you can compare one common aspect of every home warranty company, that being the performance of the company when claims are filed by customers. To do that though you need real, accurate, fair feedback from homeowners like you. Luckily, you're at the right place for that.
Ranking Nevada's top companies requires real, honest consumer testimonials and ratings.
HomeWarrantyReviews.com ranks companies based on user feedback, not based on how much companies pay for advertising. You will find that some other websites that rank home warranty companies do not do the same thing. If you trust a website that ranks companies arbitrarily then you may not be happy with the end result. What we can offer you below is a list of top companies that service the state of Nevada, a list that is only influenced by consumers just like you, people with direct experience filing claims with these companies. So get out your paper and pen. Here is the list of top companies servicing Nevada, based on the current standings on our website.
A great home warranty company needs an outstanding repair contractor network.
You may be familiar with these companies. All of these companies advertise their services widely. But what makes them so successful in Nevada? As is the case with nearly any home warranty company, a great repair contractor can make the customer experience much better than it would have been if the home warranty company didn't have a good network of qualified contractors in the area. Home warranty companies have to work very hard to make sure they have enough contractors in each area they service. The companies also must maintain records of customer satisfaction in order to ensure that the contractors are making their customers happy with each service call. So how do these companies do with regard to customer satisfaction if you focus on the contractors doing the work? Read on to find out.
1. American Home Shield (AHS)
When you have as many customers as American Home Shield does it becomes a challenge to keep them all happy. But AHS has clearly made a good impression on its customers in recent months. Just scanning through the top ten reviews we found nine of ten reviews with very high ratings and very positive comments specifically mentioned the great service from the repair contractors. In several reviews the comments referred to AHS's consistent delivery of timely, high quality repair services via the company's contractor network. And that network is one of the strongest reasons for choosing a top rated company like AHS.
2. The Home Service Club (HSC)
In eight of ten recent reviews we examined we found specific praise for the repair technicians that The Home Service Club sent to their customers' homes. Though there were two negative reviews in the group we looked at, overall the customer reviews were consistently positive, particularly with regard to the time it took to receive repair services and the accuracy and cleanliness of the work performed. HSC appears to have good contractors working with them in most areas they service and appears to have a very efficient process for dispatching contractors when claims come in.
3. Select Home Warranty
In the case of Select Home Warranty we found that nearly all of the recent reviews had extremely positive things to say about the claims process, from start to finish. One reviewer contacted Select after 11:00 pm to report an air conditioning problem and had a contractor at his home within five hours. Another reviewer wrote that Select Home Warranty authorized the use of a repair contractor the homeowner picked, instead of asking the homeowner to wait for a network technician to be available. Stories like this are not altogether unheard of in the home warranty industry, but when you see consistently high praise for the timeliness of repair contractors arriving after claims are filed you know you are looking at an exceptional company. And that is the type of company that every homeowner wants to do business with.
4. Landmark Home Warranty
Landmark Home Warranty has some very happy customers. Looking through the company's recent reviews we noticed that all are positive and nearly every one gives specific credit to the customer service representatives and the repair contractors. This sort of applause from customers is important, because when you see that most reviewers are happy with the entire claims process, end to end, you can expect that the company will deliver similar results to any of its customers.
5. Home Warranty of America
Home Warranty of America, like the other companies listed here, has a very high rate of great review comments and ratings. With only a handful of negative reviews among the many that we examined it's not surprising that HWA consistently ranks among the top companies on our website in most of the areas the company services. Many of the reviewers indicated that they were introduced to HWA's services by a real estate professional. In some cases real estate professionals themselves took the time to write reviews. So it's possible that many of our Nevada readers can learn first hand about HWA from the professionals helping them list or purchase their houses.
Now we see why these companies are tops in Nevada.
Being great in any business means being great consistently. What our readers can take away from this article is the benefit of thousands of consumers' personal experiences. Knowing that so many customers in Nevada have been pleased with the service from these companies, readers can be much more confident in considering any one of these companies for a home service contract. But don't just take our word for it. While you're on our website we encourage you to read reviews about home warranty companies, not only for these ones but for any others you may be considering.
---