The Best Home Warranty Companies For Plumbing
PUBLISHED: September 10, 2020
•
5 MINS READ
The plumbing system is a critical component that ensures the water reserve, heating, and sanitation run effectively in your home. Your plumbing comprises a set of fittings, tanks, and pipes designed for the smooth flow of water for your home's essential items. But what happens if the plumbing in your home starts acting cranky? For timely fixes, at an affordable cost, opting for the best home warranty companies are your best bet!
Home warranties come with several benefits adding to the coverage offered for your plumbing. Some of the top features of the best home warranty companies are 24/7 customer support, top-class technicians, affordable deductibles, etc. 
Now comes the question of what parts of your plumbing systems are covered under home warranty policies? This post will help you with that, and also makes sure you get the best home warranty company to serve you.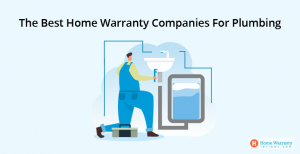 WHAT DOES
HOME WARRANTIES FOR PLUMBING
SYSTEMS COVER?
Customers who avail of a home warranty company's services for plumbing must understand that not all components of the system get covered under the policy. Buyers should also note that home warranties will only repair or replace the plumbing system if they are damaged due to normal wear and tear. 
The home warranty technician will conduct a thorough analysis and then decide what course of action needs to be taken. Some of the standard plumbing components covered under home warranty policies are the following.
Showerheads

Shower valves

Time-worn valves

Faucets

Pumps 

Motors

Air switches

Gate valves

Pressure regulators

Obstructions in the sink, tub, toilet or shower 
Home warranty customers opting for plumbing coverage must note that many other components also get covered under the policy. However, the parts covered under the policy may vary depending on the company you pick.
But to get exact coverage details, you must read the fine print of your home warranty contract. Not that you are well-versed with plumbing coverage's intricacies, but you must know how to choose a home warranty company, to serve you. 
Does Home Warranty Cover Pre-Existing Conditions For Plumbing?
Coverage on pre-existing conditions depends on the home warranty company. While some companies do cover undetected pre-existing conditions, others don't. To determine if they are covered, homeowners should read the service contract or contact customer support representatives. 
How To Choose the Best Home Warranty Company?
Due to the influx of several warranty companies operating in the market today, it can be challenging to choose the best one. We've listed some essential points you should follow to select the best home warranty company to take care of your plumbing needs. 
Read reviews of other people's experiences with home warranty companies and how they fix plumbing issues

Compare plans, prices, and the deductibles of companies before opting for a company

Check what components in your plumbing systems get covered under the policy

Make sure to check if there is a pre-existing condition in your plumbing systems

Determine which company covers pre-existing conditions 

Check out whether the company offers services in your state of residence 

Finally, get your free home warranty quote when all the boxes are checked
The Best Home Warranty Coverage For Plumbing
American Home Shield (AHS) – Several company's customers have written positive reviews of its services. The company also offers affordable plans to suit every homeowner's needs. Customers can opt for the AHS Systems Plan to get coverage for plumbing issues. 
What's more, the systems plan covers a range of other items also such as your doorbells, ceiling fans, smoke detectors, etc. Some of the advantages that customers receive if they opt for AHS are as follows:
Top class technicians

Excellent customer service

Affordable deductibles    
Total Home Protection (THP) – THP is another top warranty company offering services to customers. Numerous reviews dropped by the company's customers state that the best in class service is provided to all customers. Homeowners opting for plumbing coverage must opt for the Gold or the Platinum Plan. Both these plans cover plumbing systems and plumbing stoppages. The other benefits you will receive if you choose THP plans are mentioned below:
Comprehensive coverage for all your essential devices in the plan you opt for

Exciting discounts available

Experienced local technicians
Select Home Warranty (SHW)-  Plans for this company are incredibly affordable and come with the best service possible. Customers opting for plumbing coverage can choose any of the three plans that are Gold Care, Platinum Care, or Bronze Care Plan. Depending on your needs, requirements, and budget, choose a plan that best suits your needs. Here are some advantages that you will receive if you opt for SHW:
File a claim 24/7

A vast network of technicians

Affordable plans
Is Plumbing Coverage Worth It?
Every home across the country will have essential items that need the plumbing systems to function smoothly. Even a slight disruption to any of these systems or appliances can cause real trouble for family members. The important points mentioned below will help you understand why opting for plumbing coverage is necessary.
If any of your systems or appliances that require a plumbing system suddenly stops working, it can be a hassle to find a technician. But with a home warranty plan, all you need to do is file a claim, and any experienced technician comes over to fix the item.

With a home warranty plan, your plumbing systems are covered for a minimum period of one year. If you are happy with the services of the company, you can extend your coverage easily.

All customers opting for home warranty plumbing coverage receive peace of mind and convenience, making a warranty all the more worth it. 
Conclusion 
Maintaining a home is no easy task for any homeowner. Nowadays, several difficulties arise in some form or the other. To make your life easier, you can purchase a warranty to ensure your plumbing systems and other essential items are protected at affordable costs. Plus the ease and quality of service that warranty companies provide make them a worthy buy.