A Guide To The Cost And Effectiveness Of Home Warranties In 2021
PUBLISHED: October 15, 2020
•
6 MINS READ
With the home warranty market increasing in size, new companies are opening up every year. Home warranties are a popular service contract to save money on repairs and replacements of home appliances and systems undergoing regular wear and tear. As saving money is a priority this year due to the global slowdown, here is a guide to home warranty costs and effectiveness in 2021.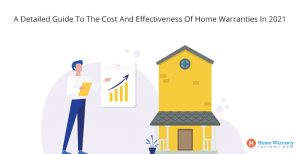 Understanding How The Home Warranty Industry Changed In 2021
Like every other sector that had to grapple with adapting to the new normal induced by the Corona viral lockdowns, the home warranty industry quickly changed some best practices. The home warranty companies have requested the service contractors stay updated with all the CDC rules to minimize exposure to customers and themselves.
The technicians maintain the social distancing rules and stay 6 feet away from the customers at all times. They practice regular hand washing and wear appropriate protective gear such as gloves, masks, etc.
The face-to-face visits have been minimized as much as possible for the safety of homeowners, agents, service contractors, etc. If a contractor has to quarantine themselves, their service visits are reassigned.
However, the top home warranty companies are striving to provide dependable services. They report more calls during the lockdown as people are staying home and continually running systems and appliances. Many users prefer the home warranty companies to supervise that adequate safety precautions are being taken, unlike unknown service technicians advertising in the market.
Home Warranty Costs In 2021
The cost of home warranty plans is the top reason why people invest in these products. Repairing worn-out appliances or getting parts replaced can be expensive if it's another a quick fix. For instance, a condenser coil replacement could cost between $1800-2200 out of pocket. Still, with a home warranty policy, the expense would include the deductible and any amount that exceeds the upper ceiling of liability. This provision potentially saves over $1000.
Generally, home warranty costs per year come out to be less than $1000. You can opt for a monthly or annual payment plan based on your budget. The deductible generally costs between $65-125. Some companies offer flexibility in choosing premium prices and deductibles. The amounts cover a large number of systems and appliances, as mentioned in the plans.
You can opt for basic coverage plus add-on options if you want to save money or choose customizable plans. American Home Shield is well-known for its Build-Your-Own-Plan option that can cost up to $55 per month, while First American Home Warranty has good budget offerings at the lowest option of $28 per month. Make a home warranty costs comparison with our free quotes before you settle on a company.
Further reading: Home warranty coverage and more
How To Find Out The Effectiveness Of A Home Warranty?
Some of the criteria we have shortlisted to evaluate the effectiveness of a home warranty policy include:
The ratio of favourable to negative reviews
Most frequent grievances
Turnaround time after the claim filing
Quality of repairs
Responsiveness of home warranty customer service team
Cost of home warranty coverage
Variety of plans and coverage
The legitimacy of the company
Participation in the CRP system
You can also use these criteria. It is virtually impossible for a home warranty company to have only positive reviews, but you should figure out what the negative reviewers have to complain about. We find that most claim denial cases stem from an inadequate reading of the terms and nuances of the home warranty contract document. People do not read the exclusions before signing the contract and are left shocked if an uncovered part fails.
To get the most effective home warranty policy, make sure that you compare the agent's word with writing on the contract. Avoid companies that sell you on lies and that have overly pushy agents. Read the positive and negative reviews in detail to understand the service quality. If possible, try to determine who the service contractors in your city are and their general rating.
The top companies we will tell you about below have won their place in this post due to the nature of reviews they have received during the pandemic. People have reported prompt service after scheduling the service calls. There have been slight delays in replacements, on the supplier end, due to the virus-induced logistical restrictions.
These companies are also regular in responding to grievances via HomeWarrantyReviews.com's exclusive CRP system.
The Most Popular Home Warranty Companies 2021
American Home Shield
The home warranty pioneer has continued to wow customers in 2021 by quickly adapting to provide safe services to consumers. The AHS home warranty plans range from $49.99-54.99, while one can choose deductibles from $75, $100, and $125. The cost of home warranties varies as per deductible choice.
American Home Shield is the largest home warranty provider and therefore pays out the highest volume of claims. Reviews mostly rate the company as pleasant to work with, and the contractor network has been widely recognized as competent and prompt.
Choice Home Warranty
This home warranty company is so popular that many of our users have gone on to sign 3-year contracts! Choice Home Warranty plans cost between $370-450 annually with a deductible of $85. They have two plans and offer roof repair services as an add-on item. You can also get a free month of coverage.
They have been generally rated well by HomeWarrantyReviews.com users for their prompt scheduling and well-trained technicians. Choice Home Warranty won our People's Choice Award 2020 for its reliability and quality services.
Total Home Protection
Another dependable home warranty company, Total Home Protection, has the advantage of low deductibles as compared to competitors. Their two home warranty plans cost a premium of $450-599 and a deductible of $65-70. They also offer discounts for HomeWarrantyReviews.com users that you can avail of here.
Users are largely satisfied with their services, as indicated by the detailed positive reviews submitted. They have been reported as providing temporary parts until the new ones arrive. Customers have also recommended Total Home Protection to friends and family.
Conclusion
A home warranty plan can bring you peace of mind, especially if you have an older home with many aging systems and appliances. Especially considering the state of the economy in 2021, we must try to save money as much as we can; prolonging the life of our home systems and appliances with care and maintenance will not only do that but also help in successful claim filing.
Use this guide to the cost and effectiveness of home warranties in 2021 to pick the best home warranty plan to suit your needs.