Are home warranty plans worth it?
PUBLISHED: March 30, 2020
•
5 MINS READ
Imagine that a month after moving into your new home, you turn on your HVAC system, and it doesn't work. Or you turn on your microwave oven and it doesn't respond. These events can be inconvenient, stressful, and above all, expensive. After investing in a new home, the last thing you want is to spend money on repairs and replacements. That is when the home warranty comes to your aid and protects you from expensive repairs. But are home warranty plans worth it?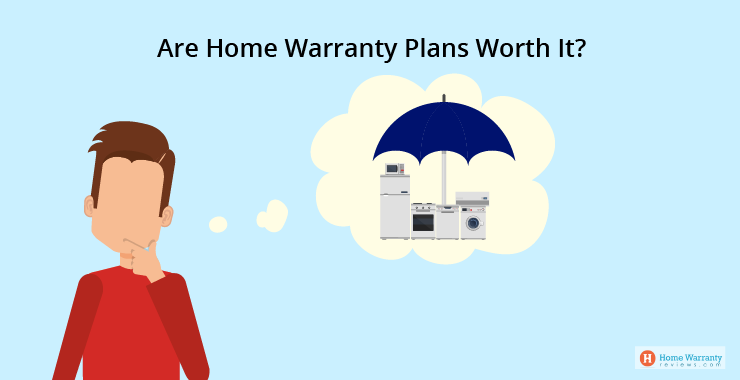 What does a home warranty cover?
A home warranty is a service contract that covers major home appliances and systems. It pays for their repairs and replacements. The coverage varies with the provider and plans. 
Generally, a home warranty shields appliances such as refrigerator, built-in microwave oven, dishwasher, clothes dryer, etc. and systems like garbage disposal, water heater, central vacuum, air conditioning, etc. 
While some home warranty companies cover only a few components of the appliances & systems listed, and others may include entire appliances & systems. In addition to the appliances & systems, the majority of the home warranty companies also give  their customers the option to cover additional items such as well pump, pool/spa, septic pump, HVAC tune-up, etc. at additional cost. 
Home warranties do not cover structural damages due to fire break-in, or any other natural calamities. If you want to cover your entire home, make sure you get homeowners' insurance in addition to home warranty plans.
How much home warranty plans cost?
Home warranty costs vary depending on the provider and the number of appliances & systems covered. Generally, home warranty plans include 11-20 appliances & systems, and the prices range from $350 to $600 per year. If you want enhanced coverage for items such as pools, spa, septic pumps, etc., $100 to $500 would add up to the annual cost of your warranty. Also, on filing a claim, you may have to pay a $50 to $100 service call fee per visit. 
If your warranty provider offers you to build your customized plan, the prices will differ as you have the liberty to choose only those appliances & systems you wish to protect.
Are home warranty plans worth it?
Without a home warranty, you may spend thousands of dollars on repairs or replacements. For instance, air conditioning repair costs can range from $160 to $500 depending on the size and the complexity of the problem, and replacement prices can vary from $2000 to $5000. 
With a home warranty, you can save hundreds of dollars on air conditioning repairs, and also cover appliances & systems worth up to $20,000. 
Pros of home warranty 
Home warranties are a boon, especially if you own an older home. Some of the significant advantages of home warranty plans are: 
1. Peace of Mind 
Peace of mind is one of the major benefits of buying a warranty plan. With a home warranty, you need not worry about the breakdown of appliances & systems and their repair or replacement costs. 
2. Service from a licensed technician
With a home warranty, you need not search high and low for a licensed and insured technician. Warranty providers will have a vast network of contractors. When you file a claim, your warranty provider will assign only a licensed technician to fix your faulty appliance or system. 
3. Increases home value
Many buyers refuse to purchase a home without a warranty as they don't want to spend money on repairing or replacing appliances and systems. If you have a home warranty, you can easily attract buyers and have a competitive advantage in the market. 
4. Continuous protection 
Manufacturers' warranty for new appliances and systems lasts for a few years. Home warranty lets you safeguard your home even after the expiry of manufacturers' warranty. The home warranty plans are renewable, as well as cancelable. 
5. 24/7 claiming process 
You need not worry if your appliance or system breaks down at midnight or during public holidays. You can file  a claim anytime, as the home warranty providers offer 24/7 services. If required, you can also request emergency help.
Cons of home warranty plans 
Home warranties are beneficial, but they do have certain disadvantages such as:
1. Policy exclusions
Often, the home warranty does not cover wall air conditioners, humidifiers, plumbing blockage due to tree roots, etc. 
2. Denied claims 
Home warranty providers may deny the claim if your appliance or system had pre-existing conditions, or broke down due to improper installation or maintenance, unless specified otherwise in the contract. 
3. Partial coverage
Not all warranty companies provide complete coverage. They may only protect certain parts of an appliance or system. If the uncovered component breaks down, you cannot file a claim. 
4. Cancellation policy 
Many companies allow you to cancel the contract within 30 days from your plan beginning date. If you want to cancel the plan after 30 days and have availed their service, you may be liable to pay a considerable cancellation fee.  
Home warranty plans are worth it, when you invest in a plan that covers your core systems and appliances well. Go through the fine print before signing a service contract to avoid investing in a fruitless plan or fraudulent company.