Find Out The Right Home Warranty Plan For You!
PUBLISHED: September 19, 2016
•
4 MINS READ
For homeowners who have aging homes, a home warranty plan is often the best bet for budget protection against unexpected repair expenses. Such plans also have the added advantage of eliminating the hassles of having to find a repair technician for your broken appliance. It is undeniable that home warranty plans have many benefits which are probably why a good percentage of American homeowners purchase them. That said, the market today is filling up with appliance warranty companies and several types of plans which leave an average homeowner confused about whether they are using the right plan. That is the question this article aims to address.
Features Of A Good Home Warranty Plan
A home warranty plan is only as good as the company selling it. Hence, the first question to ask would be this – is your home warranty sold by a reputable warranty provider? If yes, half your worries should be put to rest. For a home warranty plan to benefit you the most, here are two important features that you must look for –
Pricing:

Most appliance warranty plans are affordably priced. This means that it would not be too difficult to find one that suits your budget. However, what you must look for is whether you are getting adequate coverage and quality of service for the premium you pay. Also, the deductible charged per visit should not be very high.

Coverage:

Appliance warranties sometimes come in several categories – basic coverage, kitchen appliance plans, HVAC plans, outdoor appliances plan etc. Most basic plans are designed to include major systems and appliances in your household. Ideally, a good warranty plan will provide maximum coverage with very little exclusions.
If you are only contemplating about getting a home warranty for yourself, we recommend that you read our ultimate home warranty guide before you proceed.
Is Your Current Home Warranty Plan Good Enough?
If you are worried that you are using the wrong appliance warranty plan, you are probably right. While there is no fixed way of finding an answer to this question, customers agree that Internet research might help. A better way would be to make use of a feature available on HomeWarrantyReviews.com to compare your plan with others available in your locality.
For those unaware of this feature, here's a description. HomeWarrantyReviews.com offers a 'Free Quote' tool to help new customers find a good company in their neighborhood and get estimates from them. The user simply needs to enter the zip code of his residence into the field provided and the website will run a search to come up with free quotes from companies that conduct business in the zip code provided.
This feature also offers the opportunity for existing home warranty customers to compare premium prices with others available in their area.
How To Use The Free Quote Tool To Find New Company?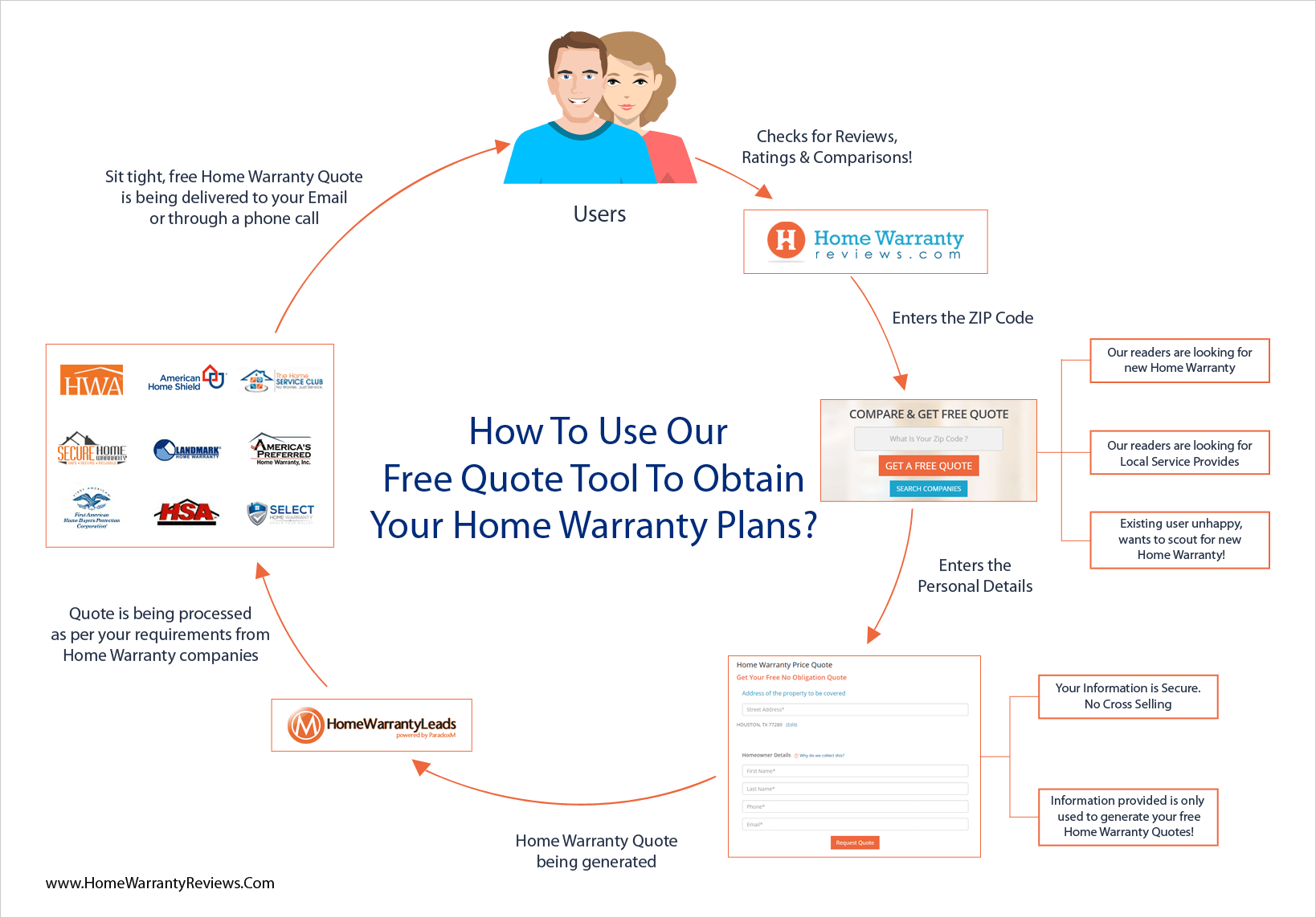 Like we said before, you simply need to provide your zip code. HomeWarrantyReviews.com has partnered with another service website called HomeWarrantyLeads.com to help customers find the best appliance warranty company in their region. When you enter your zip code and other relevant information, your details and requirements are communicated to companies in your region via HomeWarrantyLeads. The companies that do conduct business in your region will contact you with a price estimate and other details. This saves you the hassle of having to contact all listed companies to dig for details. Companies in your region will contact you via email or phone and give you the description of their plans and products.
This has been quite a popular feature on HomeWarrantyReviews.com for some time now. Potential and existing customers find this very useful to keep themselves informed about new and improved home warranty plans available in the market by just providing their details. No more chasing companies for quotes!
Your Personal Information Is Safe With Us
This is an uncommon question but if you still worry about the protection of your personal information given to us, here's what we have to say. It is safe. Period. We only communicate your details to legitimate and reputable companies in your neighborhood so that companies can contact you to discuss their products. We do not sell or share your personal information with any source that may compromise your safety and security.
Hence, if you are someone who wants to know more about appliance warranty providers in your region, we urge you to try our free quote tool. And even if you are not looking for a change of company, we'd still recommend that you try our tool. So that you are better informed to make intelligent buying decisions in the future.